As expected the Tampa Bay Rays optioned left handed pitching phenom David Price to their AAA affiliate, the Durham Bulls. The move was not a surprise and had very little to do with his otherwise competitive Spring training showing. Rays management has stated that it is a developmental situation and they are focusing on getting the big lefty to refine his changeup to add to his "plus" fastball and also recapture his "plus" slider - which seemed a little 'off' this Spring - in order to give him a repetoire to dominate and not just compete with Major League hitters.
Some people think the move was necessetated by frugality as the Rays might be trying to stifle the timetable of Price's next contract which would indeed be a hefty payout. But a simple analysis of the Rays' roster suggests that the move was made with benefits in the threefold variety:
1) Yes, they want Price to develop and they want him to be strong at the end of the season as they are anticipating being once again in the playoff race (Having pitched only 139 1/3 innings across all levels from A to the World Series during Price's first full season last year, they certainly would be foolish to expect/risk more than 160-175 IP from him this season, anyway)
2) The Rays would save less than $60,000 in salary this season by keeping Price in Durham all season - the disparity between his Minor and Major league salary. One would easily surmise that Price's inclusion on the 25 man roster would generate enough interest that he singularly would make up that difference in ticket sales AND/OR hype-inspired licensed paraphernalia sales. He already has his bonus money and unlike Evan Longoria last year, Price's contract is not of the "Bonus Baby" variety. Price's contract after getting selected #1 overall was very cut and dry and without the same arbitration stipulations.
3) The other two pitchers whom were competing for that fifth starter's role - Jason Hammel and Jeff Niemann are both out of options. Meaning that if either of them were to not make the 25 man roster and be sent down to Durham they could be claimed by any of the other 29 teams and the Rays would lose them without compensation. Price still has options. While it is obvious the Rays would like to move Hammel or Niemann (they seem to regard Neimann with more regard, yet Hammel has clearly outperformed Niemann this Spring), every team in baseball understands the Rays position and knows the Rays have no cards in which to bluff to get a deal done. One of the pitchers is likely to be released or relegated to the already-crowded bullpen (forcing out the poor performing yet well-seasoned Jason Isringhausen) and the other is pretty much guaranteed to not be the 5th starter by the time the end of May comes around, when Price demonstrates his command of his third (and possibly a fourth) pitch.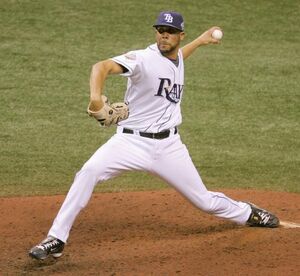 So while the company line has held - "We want him to develop" - and by Price's own mature admission, it's the right thing to do - "Yeah, it's a business. They have to look out for their best interest. If I was the owner of the team, I would be doing the same thing." - speculation will continue to abound as people continue to live far in the past and treat the organization unfairly for the misdeeds of a prior management and ownership. Rays management knows that presenting the competitive, determined and mentally tough lefty with a challenge will pay off. Price has continued to demonstrate a vicious work ethic and willingness to overcome adversity that led them to choose him with the Number One overall pick in 2007.
The Rays have a plan and they are wisely sticking to it. Decisions need to be made all over the field before the season begins - will CF B.J. Upton start the season on the DL? Who will be on the bench; Adam Kennedy, Ben Zobrist, Morgan Ensberg or Matt Joyce? And without a doubt, General Manager Andrew Friedman will be poised to make some deals mid-season and the roster will take on a new appearance for the stretch run. We can only wait and see if their plan to ripen the young fruits more tenderly will help them in September or October or hamper them in April and May.
Ad blocker interference detected!
Wikia is a free-to-use site that makes money from advertising. We have a modified experience for viewers using ad blockers

Wikia is not accessible if you've made further modifications. Remove the custom ad blocker rule(s) and the page will load as expected.