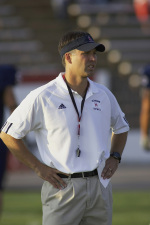 It looks like Richmond head football coach Dave Clawson (pronounced just like Casey and Rick Clausen) will be the new offensive coordinator at Tennessee. Yesterday's reports were that it was a two-man race between Clawson and Michigan offensive coordinator Mike DeBord and that Vols AD Mike Hamilton told an audience that it would know who the next coordinator would be sometime today. Today, reports are the Clawson has told Richmond folks that he is gone.
I cannot pretend to know anything about the Richmond Spiders, but it is hard to find a blemish on Clawson's resume. He coached Brian Westbrook at Villanova and Brian Finneran at Fordham before moving to Richmond. The Spiders were eliminated in the semifinals of the FCS playoffs by eventual champion Appalachian State. His offenses have racked up big numbers over the past few years on the ground and through the air. Clawson himself has been named Coach of the Year of his conference twice in the last three years.
Why would Clawson move from head coach to coordinator? It appears that he is under the impression that being a coordinator at a big-time school will accelerate his move into a head coaching position at one of those schools more than continuing to win at Richmond. The bad news, as far as that goes, is that Clawson is probably going to be sending out his resume every year for greener pastures. Of course, in 2008, that is the story at every school in the country.
The other potential bad news about the hire is the future of Ryan Mallett. Was Mallett hoping to follow Coach DeBord to Knoxville? We don't know the answer to that and it might not persuade/dissuade Mallett from transferring to Tennessee. Vols fans also have bad memories of the last time the university hired a coach to get the package deal of a great player (that would be the Wade Houston era of Tennessee basketball).
Frankly, it is hard to get overly excited about an unknown, but I am intrigued by the pick of Clawson as new coordinator. Will he be groomed to become the next head coach at Tennessee? Can he recruit? What will the offense look like?
Here is what intrigues me the most - Clawson seems like the tough pick between the two. If Debord wanted the job, it would have been easy to hire him. A former Michigan coordinator who runs a pro-style offense and might bring along a top-tier quarterback would have been a simple sell to the Tennessee faithful. The fact that Fulmer turned to Clawson instead makes me think he might be something special.
Ad blocker interference detected!
Wikia is a free-to-use site that makes money from advertising. We have a modified experience for viewers using ad blockers

Wikia is not accessible if you've made further modifications. Remove the custom ad blocker rule(s) and the page will load as expected.