Danica Patrick is not a happy little girl.
Patrick, who won her first race in Japan a few months ago, collided with Ryan Briscoe in pit lane this afternoon at the Indianapolis 500. And who can blame her? Patrick, who spent the afternoon grousing about her car, then appeared to be looking for a fight after a crash ended her disappointing day at the Indianapolis 500. She was and looked hot under the collar and annoyed with Briscoe.
She collided with Briscoe while trying to leave pit lane late in Sunday's race, and her car came to a halt. But that's where the fun really begins.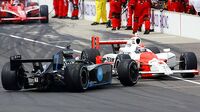 A furious Patrick then got out of her car and purposefully strided toward Briscoe's pit for what was shaping up as a confrontation with his crew, but track security personnel directed her back to her own pit area. So much for a cat fight.
She was already having a disappointing day in Sunday's Indianapolis 500 when Briscoe ran into her on pit road late in the race, causing her car to rumble to a halt at the end of pit road. A bad finish to a day where she just couldn't get anything going. It would have been nice to see her win at the Brickyard. It just wasn't to be and the racing gods didn't exactly smile on her today. The car she was driving wasn't doing as well as she hoped, even telling her crew, "I am slow." She wasn't even consider a favorite to win but if she had won Indy, it could have catapulted her even further into mainstream sports stardom - and helped the IndyCar series in its ongoing attempts to steal fan attention back from NASCAR. She would finish 22nd in the race, which was won by Scott Dixon.
At least she's no longer being compared to Anna Kournakova. It would have been great for for Indy Racing, who just kissed and made up with CART, ending that 14-year breakup. But some things were never meant to be. Young Briscoe, if I were you, I would stay as far away from her as possible. She showed some fight last year in a incident off track and right now, she's not to be messed with. Danica could break you like a twig and given what you did, she could probably do it and get away with it. Run. For your health.
Hell hath no fury like a Danica scorned.
Ad blocker interference detected!
Wikia is a free-to-use site that makes money from advertising. We have a modified experience for viewers using ad blockers

Wikia is not accessible if you've made further modifications. Remove the custom ad blocker rule(s) and the page will load as expected.