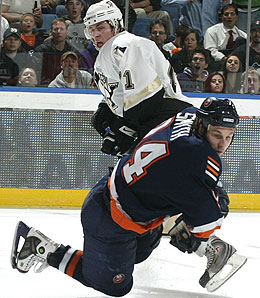 After Sidney Crosby got hurt it is almost as the league has put a protection on the other Penguin superstar, Evgeni Malkin.
Last night was another prime example in the game against the Boston Bruins, which the Bruins won 2-1. Early in the third Malkin was breaking in and Bruins defenseman Dennis Wideman step up to take him off the puck. Then Malkin jumped to try and get around Wideman. Wideman followed through and clipped a piece of Malkin and he fell to the ice. The referee's arm shot up. Kneeing was the official call, however as far as I could see the Wideman's knee didn't come close to touching Malkin.
Then a few nights ago against the Flyers, Scott Hartnell hit Malkin. Not the cleanest hit but there I have seen much dirtier hits not be called. The result, one of the most skilled players in the game sets up a power play goal.
I understand that they don't want guys to get hurt, but call it for everyone, I didn't see Sergei Gonchar's high hit on Aaron Ward that sent Ward to the Hospital get called. Just call the games fair.
Ad blocker interference detected!
Wikia is a free-to-use site that makes money from advertising. We have a modified experience for viewers using ad blockers

Wikia is not accessible if you've made further modifications. Remove the custom ad blocker rule(s) and the page will load as expected.