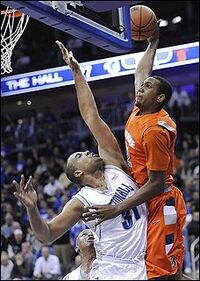 When the undefeated Syracuse Orange came down to the Rock in Newark NJ to face one of the hardest working teams in college basketball you knew you were in for a battle and that's exactly what we got.
I got an opportunity to sit in press row to take in the game and wanted to share a bit of the experience with you.
The crowd appeared a little late arriving especially in the expensive seats but it's probably because they were enjoying the great amenities at Rock, which really is a first class arena. Waiting for the game I got to enjoy(?) the Seton Hall band. Their ensemble seemed a little small quite possibly because its holiday break, however their bass drummer didn't seem to realize that fact and was wailing away. Unfortunate for me as I was about 10 feet away from him.
The crowd despite being in NJ had a heavy component of Syracuse fans as games played by the Orange in the NY/NJ area always do. It was probably a 60-40 split Seton Hall to Syracuse fans with plenty of Orange shirts sitting next to "Juice the Orange" shirts.
Some interesting people in the crowd included a scout for the Knicks as well as Leon Washington of the Jets. Have to wonder if the Knicks are planning on making some trades since Zeke traded away their first round pick this year (sorry Knicks fans).
The game got started and it was a sloppy contest throughout with Syracuse turning it over 24 times during the game. Seton Hall jumped out to a 12 point first half lead with 4:35 to go. The Orange were able to go to their bench and got a great contribution from little used Mookie Jones as well as Scoop Jardine to tie the score at the half. Seton Hall wasn't discouraged and again jumped out to a lead behind the effort of Herb Pope and Jeremy Hazell. However after being read the riot act by Beoheim in a timeout with 12:54 to go in the half SU came out with some fire and a few Sportscenter worthy dunks by Kris Josephs and Wes Johnson later the Orange would take the lead for good.
After the game I assumed Beoheim would be more upset about the sloppy play of his team, but he said every game in the league is going to be tough and this is what you expect. Similarly I expected Bobby Gonzalez to be more upset that only Pope and Hazell had been able to contribute anything but instead he was more worried about missed opportunities on touches inside and overall shooting percentage.
Overall it was a great time. Syracuse is clearly a top 5 team in the country and arguably top 3. Seton hall after tough losses to the #5 and #6 teams in the country within 3 days should be able to give every team they face hell this year. It was the largest crowd to see college basketball at The Rock and hopefully Seton Hall fans will continue to come out to support their tough, energetic team throughout the season.
Ad blocker interference detected!
Wikia is a free-to-use site that makes money from advertising. We have a modified experience for viewers using ad blockers

Wikia is not accessible if you've made further modifications. Remove the custom ad blocker rule(s) and the page will load as expected.