The Chicago Cubs announced today that they will retire the uniform number worn by former Cub greats Greg Maddux and Fergie Jenkins. The ceremony will be held on field before the May 3rd game at Wrigley.
It will be the fifth number retired by the Cubs, joining No. 14 (Ernie Banks), No. 26 (Billy Williams), No. 10 (Ron Santo), and No. 23 (Ryne Sandberg); Jackie Robinson's number 42 has been retired by Major League Baseball for every team.
"I remember walking down the stairs there at the clubhouse. I got called up in September from Des Moines and it was just right there in my locker," Maddux said of his new uniform number. "Being 20 years old at the time the last thing I was going to do was complain about my number. I was just happy to be there."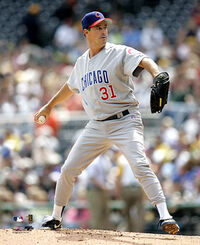 Maddux pitched for the Cubs from 1986 until 1992 when he signed with the Braves. He returned to the Cubs in 2004 and pitched 2005 and part of 2006 before being traded to the Dodgers.
Jenkins was with the Cubs from part of 1966 until 1973. He then returned to the Cubs for 1982 and 1983.

www.CubScore.com
Ad blocker interference detected!
Wikia is a free-to-use site that makes money from advertising. We have a modified experience for viewers using ad blockers

Wikia is not accessible if you've made further modifications. Remove the custom ad blocker rule(s) and the page will load as expected.