So just in time for the NCAA Basketball Tournament, and the possible run of the Memphis Tigers to the National Championship I bring you Michael "Wild Thing" Wilson.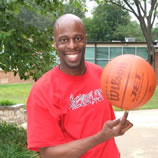 Michael Wilson was a guard/forward on the 1995 Memphis team that went to the Sweet Sixteen. He is the world record holder for the highest dunk at 12' (see photo and video below). He currently resides in Washington DC, with his wife.
I interviewed "Wild Thing" this afternoon on his playing days, his record and other current topics.
Do you still keep in touch with any former college teammates or coaches?
When I played for the Globetrotters, I would always see Lorenzen on the road, David had a brief stint with the 'Trotters. Chris Garner and I keep touch via email. Summertime (in Memphis) I would see everyone, but since I've been here it's difficult.
You were a member of the 1995 Memphis team that went to the Sweet 16, with Tournament time rapidly approaching does this time of year bring back any memories?
It's funny you ask that… I recently played ball with Jr. Burrows he played on the team that we were supposed to play in the Elite 8 if it wasn't for a bad hand checking call. I tell all my kids that I coach that out of all my years playing basketball that was the most exciting time.
Are you a fan of the current Memphis team? If so what are your thoughts on the team? And do you have a prediction on how the Tigers will do in this year's tournament?
Of course, once a Tiger always a Tiger. It's hard for me to watch them play because I get too emotional during the games, but they are VERY deep and should do well in the tournament.                                                                                                                                                     
You became a Harlem Globetrotter in fall of 1996, describe if you will the feelings you had becoming a member of such a world known organization.
I didn't realize how much hard work it took to become a globetrotter. Not only do you have to be a good basketball player, but you really love basketball. There is no other team like them in the world, because you spend so much time with one another. I've formed bonds that will last a lifetime.
While a member of the Globetrotters you set the world record for the highest dunk at 12', what type of training went into this feat? Because I seem to remember you trying to dunk 11'8" while at Memphis and coming up short. (I saw it on ESPN.)
I didn't really train at all. My technique wasn't right and my mind was going crazy when I first attempted the record.
Describe what you where thinking before, during, and after "The Dunk".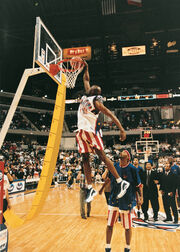 For me the hardest thing about dunking 12' feet was to not get intimidated by the height of the basket. I don't even look at the basket until the last possible second. I was thinking: "I know you can do this just do what you do best".
Of all the places you traveled as a Globetrotter which place do you have the fondest memories of?
Playing in Djibouti, Africa for military troops was my fondest memory; we played in the middle of the desert and slept in tents!
You are currently the Director of Basketball for Headfirst, how did you get involved with Headfirst?
I was planning my transition from the 'Trotters and my wife searched the web for summer coaching jobs. I joined the staff for what was supposed to be just summer camp, I talked to one of the founders at the end of the summer about doing basketball full time…………. and here I am!
What is Headfirst?
Headfirst is the biggest youth sports organization in the DC area. I could have worked with anybody and got paid, but Headfirst reminded me of playing with the 'Trotters because they want to make sure every kid has the best experience possible at their programs.
What is your best basketball memory?
Dunking the 12' basket.  
If we can ask who are you voting for in November?
You can ask, but I can only tell you that I will vote.
Anything you would like to leave your Memphis, Globetrotter or otherwise fans with?
Play smart…..Get Dirty
Ad blocker interference detected!
Wikia is a free-to-use site that makes money from advertising. We have a modified experience for viewers using ad blockers

Wikia is not accessible if you've made further modifications. Remove the custom ad blocker rule(s) and the page will load as expected.