Instead of pretending to know what I'm talking about in regards to baseball, I've decided to stick to my guns, no matter how different and un-gun like they may seem. That's right; I'm throwing myself into the AFL to satisfy my withdrawal from the NFL. Sure, I love baseball and I have an eagle eye for talent fantasy wise (be forewarned), I just don't feel myself qualified to write whole articles about it. At least not right now, with the season still a ways away.

Due to outside forces, I was going to adopt a CFL team but I have decided that the AFL will be a more worthy endeavor to write about in place of my brilliant NFL ramblings. This is due to the fact that AFL games are on ESPN and they start in March. Game, set, match. This should tide me over until the NFL season (along with baseball of course), at least and honestly, that's all I'm looking for. So to all the AFL die-hards out there (all 23 of you) I apologize if I'm whoring myself out to your beloved sport in order to satisfy my selfish, whore like needs.
The AFL has 17 teams for its 2008 season. I will be choosing a team to adopt based solely on the nickname, my gut feeling and the fact that they are not a juggernaut if you will. I would like to root for an underdog AFL team and hope that they have a great season. Even if they don't, it's the fact that they could that makes this so much fun.
Since it's not physically possible for me to support a New York team, the New York Dragons are immediately taken out of the equation. The San Jose Saber Cats and Columbus Destroyers are also thrown out the window since they both made the 2007 championship game, formally known as the Arena Bowl (San Jose won 55-33).
The Tampa Bay Storm has 5 titles since the AFL's inception thus making them similar to the Dallas Cowboys and Pittsburgh Steelers of the NFL. So they, too, are out of the question.
Not only do I want a team with a cool nickname and who is not too popular of a team in the league, I want a team that will fit my football personality. I like a strong running game and a tough defense. Yes, I know these are rarities in the AFL, but why not take a look at the top rushing teams and top defensive teams shall we?
2007 Top 3 AFL Rushers
1.) Dan Alexander from the Chicago Rush - 426 yards
2.) Adrian McPherson from the Grand Rapids Rampage 360 yards (is actually a QB)
3.) Josh White from the Dallas Desperadoes 278 yards
If you're a rabid NFL fan like I am, these stats are hard to comprehend. I knew the AFL was pass-happy, but I didn't know it was this bad.
Even though Josh White was third in rushing in the league last year, I'm leaning towards picking the Dallas Desperadoes as my team based solely on his picture: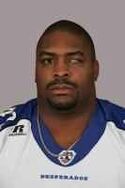 I'm not sure if it's a picture error or what, but it appears as Mr. White has a fake eye not to mention he looks like the biggest badass in the entire universe. Also, he plays linebacker too! I could get to see him destroy people on BOTH sides of the ball? Hmm…
Since one of the top 3 rushers in the AFL last year was a QB, I felt I needed to take into account the top 5 rushing teams overall instead. This is where it gets complicated. First off, let's take a look at the top 5 rushing teams in the AFL. That's right, five, you'll see why in a second:
1.) Nashville Kats 470 yards rushing
2.) Austin Wranglers 444 yards rushing
3.) Kansas City Brigade 393 yards rushing
4.) Columbus Destroyers 367 yards rushing
5.) Grand Rapids Rampage 354 yards rushing
Now, you may be asking yourself, why five? Well, that's because the Nashville Kats are no longer in the AFL (and a good thing, they spelled the word cat wrong). In AFL terms, they 'folded' which apparently means although they may have been a good football team, whoever was running the business side of things behind the scenes just did not do a very good job.
The Austin Wranglers were demoted to the newly formed minor league branch of the AFL, the AF2, which is perhaps the most retarded name for a league or branch of a league in the history of sports.
Now taking these two teams departure from the league into account, the actual top 3 rushing teams would be K.C., Columbus and then the Grand Rapids. After seeing the sorry state of rushing in the AFL, I decided to abandon my hope of a good rushing game and instead focus on a fantastic defense. This may also be a false hope since it is not uncommon for an AFL team to put up 70 points on any given day.
Top 5 AFL Defensive Units in terms of Opponents QB Rating
1.) Chicago Rush – Opponents QB rating: 91.4
2.) Dallas Desperadoes – Opponents QB rating: 98.1
3.) Kansas City Brigade – Opponents QB rating: 98.8
4.) San Jose Saber Cats – Opponents QB rating: 99.1
5.) Orlando Predators – Opponents QB rating: 107.1
I felt it better to take a look at the defenses rating compared to the opponents QB rating since every defense gives up so much passing yards, it's incredibly difficult to decide who is good and who is not. At least with the opponents QB rating you can factor in turnovers and the like.
Top 5 AFL Defensive Units in Terms of Rushing yards per game
1.) Arizona Rattlers – 164 yards per game
2.) Georgia Force – 187 yards per game
3.) New Orleans Voodoo – 207 yards per game
4.) Dallas Desperadoes – 212 yards per game
5.) Los Angeles Avengers – 231 yards per game
My favorite team going into this information, the Dallas Desperadoes did nothing to hurt their status with these stats, showing they have a great defense (at least by AFL standards). Not to mention, they have a beast of a running back/linebacker who is already my favorite AFL player, and I haven't even see him play yet!
It's been a long journey filled with a lot of ups and downs but I now have my team: the Dallas Desperadoes! I from this point on will be hopping on the bandwagon and have absolutely no intentions of getting off, unless the team 'folds' in which case, I'll be extremely pissed.
Ad blocker interference detected!
Wikia is a free-to-use site that makes money from advertising. We have a modified experience for viewers using ad blockers

Wikia is not accessible if you've made further modifications. Remove the custom ad blocker rule(s) and the page will load as expected.