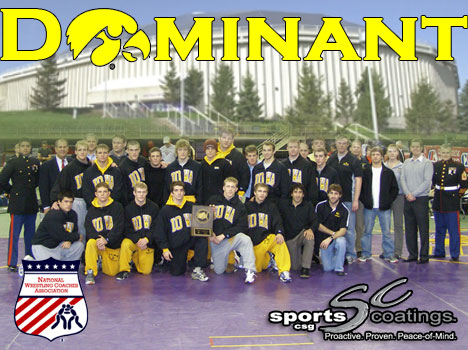 If the national polls were shaken up last week, you ain't seen nothin' yet.

It'd been 12 years since Iowa last hoisted the championship trophy at the NWCA/Cliff Keen National Duals, but coach Tom Brands and his Hawkeyes dominated the field in the 2007 event hosted again by the University of Northern Iowa.

After dispensing with Cornell and Missouri on Saturday, the Hawkeyes powered past Big Ten rival Michigan before spanking upstart Nebraska in the finals 24-6.

Iowa would win the first five weights and lose only two – 165 and 197 – en route to the title and improve to 11-1.

"We came here to win, we had a team performance to win and the individuals were coming through over and over again," said Brands. "We lost some matches, but we didn't lose very many matches. It's a lot easier to move forward doing what we did today than doing what we were doing a week ago."

In the final, the Hawks would set the tone immediately as Charlie Falck upset defending national champion Paul Donahoe at 125 pounds and beat ranked wrestlers in three of the next four weight classes.

Joey Slaton shook off a Saturday loss to dominate Kenny Jordan at 133 before Dan LeClere topped Mike Rowe at 141. Brent Metcalf followed with a solid victory over Jordan Burroughs, the second victory this season over the Nebraska sophomore. Metcalf finished 4-0 on the tournament and was named the Division I Outstanding Wrestler.

Brands had nothing but praise for his 149-pounder.

"Brent Metcalf is everything you could ask for," said Brands. "He has a high standard, he was raised right. He does everything you ask for. He has a lot of energy; He trains like a madman. He's very driven. He will work hard in his areas always."

After a Ryan Morningstar victory over Chris Oliver at 157, Nebraska would score its first points as Stephen Dwyer edged reserve Aaron Janssen 8-6 at 165. It was the only dual of the weekend which saw Mark Perry sit out.

"He (Perry) took back, what he lost, but bottom line, he's not wrestling his best," said Brands.

Brands pointed to his wins over Mack Lewnes, Nick Marable and Eric Tannenbaum as motivation.

"He's back to being #1 in the country again," said Brands.

Phil Keddy quashed any momentum that Nebraska and 184-pounder Vince Jones might have had with a resounding 8-1 victory. Earlier in the day, Jones had pinned Roger Kish, but Keddy was dominant in all aspects in his victory.

"He has a good attitude, he works hard and he's starting to realize he can win," said Iowa assistant Wes Hand of Keddy. "He's more confident, he went 2-2 this weekend, but the two matches he lost, he knew he could win or he knows he can win now."

Craig Brester topped Chad Beatty at 197 to give Nebraska its only other individual win as Matt Fields closed out the Iowa championship with a 1-0 victory over John May at heavyweight.

In Division II, it was a much different outcome as Minnesota State-Mankato heavyweight Brady Wilson scored a takedown in overtime to give Coach Jim Makovsky's squad the championship 19-17 over another set of Mavericks from Nebraska-Omaha.

Makovsky, hoarse after nail-biters in both the final and the semi would have preferred and Iowa type of win in the final rather than an overtime match in the final bout of the tournament.

"I would have rather won at 165 and a couple of other places and have it done with, but it was pretty exciting from a fans perspective," said Makovsky. "Coming down to heavyweight, it draws everyone's attention."

Mankato won four of the first five weights, but UNO reeled off four straight wins from 165 to 197 to force the winner-take-all heavyweight bout between Wilson and Tony Lewis, which Wilson ultimately won.

Makovsky noted some similarities in the Division II tournament as compared to the Division I.

"It came down to matchups, I don't know why it comes down to heavyweight … but it does," said Makovsky, whose team came in as the #4 seed.

Minnesota State-Moorhead 141-pounder Derek Bomstad was named the D-2 Outstanding Wrestler.

In Division III, it's been Wartburg vs. Augsburg every year in the final since the tournament expanded to include all wrestling divisions, but Wisconsin-La Crosse broke that streak by defeating Augsburg in the semis to earn the right to face coach Jim Miller's team.

Wartburg led 15-8 after 174, but the Knights closed off the dual with three straight victories from Romeo Djoumessi, T.J. Miller and Brian Borchers to close out the championship with a 25-8 victory. It was Wartburg's fourth title at the National Duals.

Coe College freshman Clayton Rush was dominant at 125 pounds and for his efforts, garnered the Outstanding Wrestler Award in Division III.

Some new blood is emerging in the NAIA, but it was top-seeded Lindenwood that topped Great Falls 19-18 in the finals to claim the title in the NAIA championship final. Lindenwood led 19-9 going into the final three weights, but Great Falls didn't earn any bonus points in the final three matches and fell one point short of forcing criteria.

McKendree's Josh Bryant won the OW award in the NAIA.

Iowa Central bested top-seed Meramec 35-14 in the finals in the Junior College tournament, but the Magic did take home the individual honor of outstanding wrestler with 184-pounder Deron Winn.

The Tritons won the first six weights and cruised to the championship.

Oklahoma City coach Archie Randall has been pulling double-duty on the NAIA men's side and the women's freestyle side this season. Randall is the head coach of both the second-year men's program at OCU and the first-year women's program.

The men finished fifth in the NAIA, while his female squad won the women's championship, avenging an early-season loss to the University of the Cumberlands.

Randall didn't have to calm his first-year squad down, since they were wrestling in arguably the sports' most broad-based showcase event.

 "This venue, with all the different teams and the different divisions – it's a great experience for the girls," said Randall. "

OCU bested Cumberlands 22-18 to reverse the outcome last month.

"The girls weren't very happy about losing the first time out. They felt they had a better team and they proved it today," said Randall about his women's team title.

While much, if not all, of the focus was on the team races facing the bigger programs, Randall was gracious for the chance to coach one of his teams along side the other.

Randall's most experienced wrestler – Ashley Sword at 67kg – picked up the OW award for the women's division. Sword didn't lose a single period and only surrendered one point in three bouts – all of which ended in two periods.

"I don't know about the other girls programs, but I'm thankful the National Wrestling Coaches Association allows us to come here and be a part of this showcase. Even if the fans in the stands really weren't watching them, they were looking at them."

"Our goal is one of these days to have both championships – to win the NAIA championship and the women's one, that is one of our goals," said Randall.

Perhaps the most prophetic statement issued by any coach about the importance of the National Duals also came from Randall.

"If I was a spectator, this is the tournament I would go watch. Duals are more exciting than tournaments. Tournaments are great, but duals are exciting," he said.

Grand Valley State claimed the final title, besting Newman University 31-21 in the final in the National Collegiate Wrestling Association Division.

Ad blocker interference detected!
Wikia is a free-to-use site that makes money from advertising. We have a modified experience for viewers using ad blockers

Wikia is not accessible if you've made further modifications. Remove the custom ad blocker rule(s) and the page will load as expected.