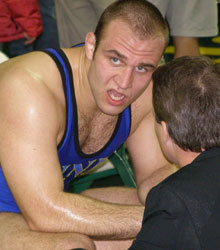 One thing the NCAA Division II tournament will always bring to the fans is a true qualification method. And while the 160 qualifiers came through their four respective regions, they all wrestled their way into the tournament.
This can be both good and bad for teams trying to challenge for the NCAA championship, but as a whole, the top teams still get the top guys in, making the tournament race that much more fun to watch.
The Cinderella story still exists in Division II. The kid who catches fire in the regional and wins a spot in the tournament becomes the sentimental favorite. His stay in the tournament might be short-lived, but much college basketball, you win, you go.
That being said, there will be a handful of teams looking to bring home the championship in Division II this weekend as the U.S. Cellular Center in Cedar Rapids, Iowa hosts its second straight wrestling championship in as many weeks.
Last week, Wartburg claimed the championship at the Division III championships in the U.S. Cellular Center, and this weekend, Central Oklahoma, Minnesota State-Mankato, Nebraska-Kearney and Nebraska-Omaha appear to be poised to challenge.
Kearney and Omaha both qualified nine wrestlers, the only two teams to do so, while Central Missouri, Mankato, Newberry, and Western State each qualified eight.
Adams State, Pitt-Johnstown and St. Cloud State will each bring seven wrestlers to Cedar Rapids.
125 pounds The top returning placewinner from last year is Adams State's Arsenia Barksdale, but making a return trip to the 2008 championships is 2006 champion Cody Garcia of UNO. Garcia comes in 21-4 this season and won the North Central Region. Barksdale won the West Region and is a dangerous, but the draw on the top half of the bracket is loaded, as Barksdale will draw returning All-American Chris Neidermeier of Belmont Abbey in the opening round. Awaiting the winner will be another returning All-American, Tyler Mumbulo (29-5) from Upper Iowa. That's just to get to the semifinals. Up top, UNC Pembroke's Joe Mavins (32-4) will see Eddie Lopez of Western in the first round, with the winner facing former All-American Nick Smith (20-5) of Mankato or Robert Nahlik (26-9) of Truman State. Garcia's down low, opening up with 29-match winner Kody Pierson of Carson-Newman. The winner will await a very good first round tilt between San Francisco State's Curtis Schurkamp and West Liberty's Lucas Huffman. Newberry's Matt Oliver could come through the top half of the bottom bracket and await the quadrant down on the bottom half. It's brutal just to get to the semis in three of the four quadrants. The winner here will definitely be beaten up.
133 pounds The weight returns three All-Americans from a year ago, with the highest being Kearney's Brett Allgood. Third a year ago, Allgood returned just before the Regional tournament and qualifies with a 3-1 record. He'll be in the bottom bracket and will draw Omaha's Mario Morgan in the opening round. The two other returning All-Americans are up top, as Brandon Reasy of Pitt-Johnstown sits atop the bracket. But Reasy, a two-time All-American already, could have a potential quarterfinal with 2005 All-American Raymond Dunning of Adams State. In the bottom half of the top bracket is Shane Perkey of Indianapolis. Perkey's finished fourth three straight years at the tournament and is looking to make his first final. He's a favorite to reach the semis, where Reasy or Dunning will likely await. You can never count out anyone from Central Oklahoma, as Tim Elliott comes in 19-3 and will face 18-6 Matt Mossor of West Liberty in the opening round, with the winner getting the Allgood-Morgan winner. With three All-Americans from 2007 and another from 2005, this could get interesting.
141 pounds Someone has to be scratching their heads with the draw at 141 pounds. Five returning All-Americans from 2007, it would make sense to balance it out, right? Well, that's not the case as four of the five are in the bottom half of the bracket. Last year's national champion Kyle Evans of UCO is joined by 2007 fourth-placer Doug Surra of West Liberty, fifth-placer Jeff Rutledge of Kearney and eighth-place Yasiim Bribieseca of Omaha. Up top, it's last year's runner-up Steve Fittery of Shippensburg. The biggest hurdle in Fittery's way is likely Mankato's Travis Elg. He and Fittery are the only two wrestlers in the top bracket that have single digits in the loss column. So look for a Rutledge-Bribieseca quarter, and an Evans-Surra quarter down low with Fittery the likely favorite to come out of the top.
149 pounds This is a pretty balanced weight in terms of the draw, highlighted by returning champion Todd Meneely of Omaha. He'll be down low with Joey Deaguero of Adams State. An All-American last year at 141 pounds, Deaguero will have to navigate past the athletic Latra Collick of Newberry in the opening round where he'll have either Augustana's Mike Long or Ashland's Marcus Gordon. Meneely will face Sean Dong of Findlay before facing the winner of the Zack McKendree-Ryan Etherton bout. McKendree comes in 21-11 for Gannon, while Etherton's 34-14 for Kearney. One of the two wrestlers this season to beat Meneely, Mercyhurst's Brian Pogel, is at the top of the bracket. Pogel beat out former All-American Don Cummings for the starting spot and having that type of workout partner will help him come tournament time. Pogel's a heavy favorite in his opening round match against San Francisco State's Josh Nolan and he'll await the winner of the match between Colby Robinson of Central Oklahoma and Tee Adams of Upper Iowa. A solid quarterfinal is expected with Western State's Camille DuPont, a crafty wrestler with a 22-1 record, and Tommy Abbott, a talented true freshman from Delaware who comes in 21-3. Meneely's the heavy favorite in the weight, but if it's Pogel, he'll seek revenge.
157 pounds A very balanced weight, but the odds-on favorite is Findlay's two-time returning champion Antonio Guerra. Yes, he's got nine losses on the year, but he comes to compete when nationals roll around. Kearney's Joe Ellenberger was third last year and is in the bottom bracket along with Ashland's Muhammad Abdur-Rahman. Also down low is Jason Rhoten of Mankato, an All-American last season at 149 pounds. Rhoten will face talented Danny Grater of Fort Hays State in the opening round and will await the winner of the bout between Phil Bliss of Belmont Abbey and Vince Bertucci of Central Missouri. Guerra sits up top and draws Dave Zeek of Kutztown in the opening round and then either John Sundgren of St. Cloud State or Noomis Jones of Adams. Returning All-American Anthony Lamancusa of Mercyhust has a tough first round opponent in SIU-Edwardsville freshman Eric Pretto. The winner will face either Travis Eggers of Upper Iowa or Neil Samples of Western. Guerra and Lamancusa will be a solid semi, should the two meet. Guerra won during the regular season 2-1. If Rhoten and Ellenberger each get through to the semis, Rhoten's the favorite, picking up two wins already this season over the Loper.
165 pounds Four returning All-Americans and again, an unbalanced bracket. Returning champion Brett Hunter of Chadron State is up top, along with the wrestler he beat in last year's finals, Mankato's Andy Pickar. Returning fifth-placer Blake Peterson of Truman State is also up top with a likely quarterfinal with Pickar looming. Down low, Western State's Zachary Lee placed sixth a year ago and his top competition should come from Pembroke's J.J. Davis, UW-Parkside's Kyle Becker or Mercyhurst's Hudson Harrison. Mesa State's first NCAA qualifier since the program was reinstated is Cole Johnson, who draws Becker in the opening round. The draw here is going to leave someone with a quarterfinal loss blistering through the consolations, feasting on losers from the visibly weaker bottom bracket.
174 pounds Evan Copeland of Adams State was an All-American last year at 165 and is one of the favorites down low, but in his way will be an opening round bout with Newberry's Bryant Blanton and then a quarterfinal with 2006 All-American Ross Taplin of Omaha. Tough quad to say the least. Albert Miles of Pitt-Johnstown sits at the top of the bracket and looks to return to the podium after placing fifth in 2006. One of the Cinderella stories as mentioned earlier is Findlay's Jeff Havelka. He reached the finals of the Midwest Region after coming in with a 9-22 record. He won two bouts, made the final and qualified. For his trouble, he gets Tim Matheson of Mankato, with the winner likely facing Miles. In the bottom half of the top bracket, it appears to be fairly balanced with Tyler Tubbs of Minnesota State-Moorhead coming in with the best record at 20-4. He'll face Travis Barbarick of Central Missouri to open with the winner facing either Marty Usman of Kearney or Chris Gibbs of West Liberty.
184 pounds Making a blistering run into the nationals at 184 pounds is Limestone's Dan Scanlan. The sophomore from Leesburg, Va., missed out on the chance to wrestle at the nationals last year after suffering a season-ending injury. The powerful Scanlan comes in 36-2 and is the East Region Champion. Up top, Scanlan can anticipate a quarter with Western State's Lars Lueders. The bottom half of the top bracket features the Division II leader in falls, Pino Scavella of Gannon, Heath Jolley of Central Oklahoma, Paul Sutton of Kearney and Tyler Johnson of Southwest Minnesota State. Down low is where the power is, with returning national champion Jared Deaguero of Adams State and Mike Corcetti of UPJ. Brad Padgett of St. Cloud State has had a solid season, coming in 31-6 and should face Corcetti in the quarterfinals. Deaguero will face either Hiram Smith of Findlay or Keeno Griffin of Newberry in the quarters. The top four finishers here are very solid.
197 pounds Coming into the regionals, Jacob Marrs of Omaha was ranked second in the nation. Then he had to win a true-fourth match just to qualify. For his troubles, he gets fourth-ranked Kelly Anundson of Newberry right off the bat. It's the better of the first round matches. Top-ranked Josh Majerus of Chadron State is the man to beat down low. The returning runner-up is 33-3 this year. He should get somewhat of a battle from UPJ's Patrick Walsh or St. Cloud's Nick Wilkes, whoever wins that opening round match. Josh Ohl from Ashland is 26-2 and could pose a threat in the semifinals.
285 pounds Of the 160 wrestlers entered in the Division II tournament, only one comes in undefeated. The one, as should come to no surprise to even Division I fans, is the nation's top heavyweight Tervel Dlagnev of Kearney. The returning national champion has been dominant and comes in 34-0 despite missing some of the season after an injury at the Cliff Keen Las Vegas Invitational. Dlagnev should cruise to the championship, but the best hopes to knock off Dlagnev could come from potential semifinal opponent Cy Wainwright of Newberry or Jesse Laber of Mary. There are several solid heavies down low, with the best first round match coming up in the top of the bottom bracket as Dustin Finn of UCO will face Tony Lewis of UNO in the opener. Grand Canyon University in Arizona gets its first NCAA qualifier in the program's history with Jed Jobe. The first-year program only had five wrestlers eligible this year for one reason or another and coach R.C. LaHaye's wrestler will face Zach Majocha of Pitt-Johnstown, one of D2's most storied programs. Brady Wilson of Mankato should see Trey Moss of Limestone in the quarters in the bottom half of the bottom bracket. Dlagnev and Wilson are the only returning All-Americans at the weight.
Ad blocker interference detected!
Wikia is a free-to-use site that makes money from advertising. We have a modified experience for viewers using ad blockers

Wikia is not accessible if you've made further modifications. Remove the custom ad blocker rule(s) and the page will load as expected.