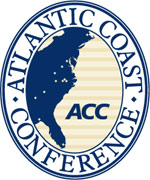 One conference that is eagerly awaiting the removal of historical data to determine qualifiers to the NCAA Championships is the ACC. With only 14 bids this year, the ACC will be leaving some very good wrestlers home. The only way to avoid it, is to avoid upsets, which is like Darrion Caldwell trying to avoid pinning someone.
According to the InterMat/NWMA/NWCA National Rankings, the ACC has only nine wrestlers ranked in the Top 20, but several more that have either been ranked or have been knocking on the door.
Maryland and head coach Pat Santoro won a second straight ACC Dual Meet Championship and goes in as the tournament favorite in what's still expected to be a close race. Virginia has a solid squad top-to-bottom and North Carolina and N.C. State have wrestlers that are good in tournament scoring situations.
Virginia Tech, starting a predominantly freshman team, could sneak a few in and Duke has a wrestler or two that can shake things up, all that depending on the draws, of course.
Maryland also made a wise move in terms of recruiting, coordinating the tournament in College Park around the Maryland High School state championships, giving ACC coaches a good look at Maryland's top kids without having to skip key rounds due to tournament competition. Back when the ACC was a part of the MatJam at VMI, both the SoCon and ACC tournaments conflicted with the Virginia AA and A state tournaments less than an hour down the road.
With 14 bids, it'll be a dogfight (pardon the cliché) to determine those wildcards.
125 pounds Usually a conference that could demand more than one bid at the weight, the ACC has solid individuals, but none have been consistent. Former ACC champions Taylor Cummings of N.C. State and Justin Staylor of Virginia Tech have struggled this season and North Carolina's Drew Forshey, another former ACC champion, was upset in the first round last year. Forshey has been riddled with a nagging injury the later part of the year. Duke's Kellon McKeon was the guy who picked off Forshey last year and has a solid base. Maryland's Brendan Byrne has been up and down but does find himself ranked by Amateur Wrestling News, while Blair Academy product Ross Gitomer is in every match, but despite the depth – and relative mediocrity – of the weight, it might end up being a one-bid weight. Gitomer ended the regular season with overtime losses to McKeon and Byrne and has an overtime win over Staylor and a regulation win over Forshey. Byrne's lost to Forshey, beaten Gitomer, majored Staylor and beaten McKeon. So that's basically a mess in terms of seeding and qualifying allocation.
133 pounds Virginia's Eric Albright and Maryland's Steve Bell are the top two challengers at 133 pounds. Albright started the year ranked highly, but was in a bit of a rut in January. Albright beat Bell in a tie-breaker in their only head-to-head meeting this season. Virginia Tech's Jared Jones has actually wrestled solid since filling in as the starter after Nick Murray moved up to 149. He's only 5-5 but has wins over UTC's Steve Hromada and has two wins in the ACC. North Carolina's Danny Lopes comes in 15-13, N.C. State's Darius Little enters at 9-10. Albright and Bell are safe bets to go if they both finish 1-2 and avoid any upsets. Of note, North Carolina has won the weight the last three years, with Evan Sola having won twice and Jared Royer winning in 2006.
141 pounds A balanced weight loaded overall, but Joe Caramanica is the top gun. The sophomore has made a successful drop to 141 and brings a 23-2 mark into the ACC tournament. Caramanica's top challengers include three scrappy freshmen – Chris Diaz of Virginia Tech, Nick Stabile of North Carolina and either Nick Nelson of Virginia or sophomore Kellon Balum. The battle for second should be a good one, as Duke's Bryan Gibson has done well since moving up to 141 and that's complimented by Maryland's Jon Kohler, another veteran with a solid resume. With the depth of the conference concentrated at other weights, the balance might be the drawback for a wildcard. Caramanica's a sure thing, unless he totally falls off the wagon.
149 pounds Division I falls leader Darrion Caldwell of N.C. State is an extreme favorite after picking up 19 falls this year – 18 coming in the first period. Expected to challenge could be Virginia's Shawn Harris, Maryland's Eric Medina and North Carolina's Vincent Ramirez. Harris and Medina were highly-touted coming out of high school and have been up and down in their first years in the respective starting lineups. Medina and Ramirez, both ranked at times during the year, don't have the stellar records that could merit a wild-card selection. Their best hopes are as dragon slayer and hoping to take out probably the most dangerous wrestler in Division I.
157 pounds The most unpredictable and wide-open of the weight classes with no one standing out as a true favorite. North Carolina redshirt freshman Thomas Scotton is the likely #1 after having run through the conference at 4-0. True freshman Brian Letters of Maryland is 4-1 in conference, but Duke's Voris Tejada has a modestly good chance at qualifying, as does Drew DiPasquale of Virginia. Colton Palmer of N.C. State has emerged as the guy for N.C. State, while Matt Rosen of Virginia Tech wrestles here just two years after wrestling 119 as a senior in high school. Only one wrestler will likely go at this weight and it's pretty much anyone's title to win or lose.
165 pounds After being upset in last year's tournament, North Carolina's Keegan Mueller has truly been on a mission to qualify for the NCAA Championships. Ranked ninth in the country, Mueller has run through the conference unbeaten including impressive victories over top challengers Michael Chaires of Virginia and Addison Nuddig of Duke. Maryland could go with either Mike McGill or Ryan Kennett, while Virginia Tech is hoping to get Matt Epperly back in time for this weekend. If Epperly doesn't go, you could see undersized Andre Johnson tossed into the draw. A wildcard remains a possibility here, especially if Mueller is upset in the finals.
174 pounds Sophomore Mike Letts came into last year's NCAA Championships as a winner in the ACC and the 12th seed overall. Letts is trying to build off a solid freshman campaign and will be the top seed in the tournament. His top competition includes returning NCAA qualifier Eric Decker of Virginia Tech and true freshman Chris Henrich of Virginia. N.C. State has Ray Ward and Randy Goodman as two that have seen time in the lineup at 174 pounds, with Ward getting the most recent starts. A wildcard is a possibility here based on the top three in credentials alone.
184 pounds Probably the deepest weight in terms of ability with five wrestlers all having legitimate chances at qualifying. While it's rare for a conference with less than 15 bids to take three wrestlers at a weight, Rocco Caponi (Virginia), Josh Haines (Maryland) and Ryan Goodman (N.C. State) have had solid seasons. Haines has been slowed by injuries historically, while Goodman has been out of the lineup recently after moving down from 197 pounds. Duke's John Barone is among the nation's leaders in wins and does have a win or two over nationally-ranked wrestlers. True freshman Tommy Spellman has battled back and forth with Barone and is 4-1 in conference. Haines is 2-2 in conference, while Goodman is 2-0, but backup Dane Coffee is 0-3. North Carolina's Nick Tenpenny can play spoiler and end the tournament hopes of someone. Definitely two bids here, maybe three depending on upsets in the other weights.
197 pounds Three wrestlers can contend for a title here, but the realistic expectation is for Maryland's Hudson Taylor to dominate on the way to the ACC championship. The rush will be for wildcards by Brent Jones of Virginia and Dennis Drury of North Carolina. Jones might have caught a break with Virginia Tech's entry being D.J. Bruce. Jones lost to Hokie Kevin O'Connor in one of the biggest upsets in conference this season, beating Jones in the dual meet. Now, it would appear that Jones and Drury will battle for the finalist berth opposite of Taylor. Drury beat Jones 7-2 in the dual meet. Two bids, if it's Jones, but Drury will have an argument, since he doesn't have a bad loss since, ironically, a 7-5 loss to O'Connor.
285 pounds North Carolina's Justin Dobies is the odds-on favorite after going 5-0 this season in the ACC and spending the latter part of the year in the national rankings. Don't expect a wildcard here, even if Dobies is upset, due to the lack of a dominant figure behind the Tar Heel in conference. N.C. State's Bobby Isola and Virginia Tech's David Marone are both 3-2 in conference but have both lost to Dobies. Pat Gilmore of Maryland could be a potential finalist, depending on his draw. The lanky former 197-pounder can actually put some points on the board against heavyweights. But serious discussion should center around Dobies.
Ad blocker interference detected!
Wikia is a free-to-use site that makes money from advertising. We have a modified experience for viewers using ad blockers

Wikia is not accessible if you've made further modifications. Remove the custom ad blocker rule(s) and the page will load as expected.