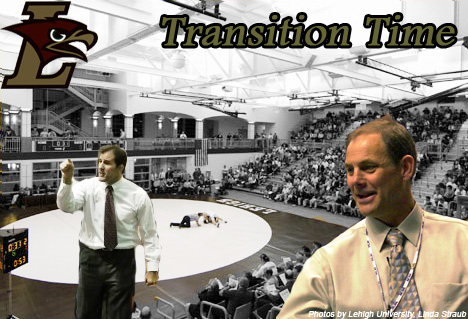 The future is bright for the University of Maryland wrestling program.
The Terps, champions in the ACC for the first time in 35 years, will return six NCAA qualifiers, five conference champions and one All-American to College Park next season.
But the person most responsible for making Maryland a winner – Pat Santoro – won't be there to witness any more progress.
In a 6 p.m. teleconference on Tuesday, Lehigh Dean of Athletics Joe Sterrett announced the hiring of the former Lehigh assistant as the storied program's new head wrestling coach and also announced current coach Greg Strobel would be moving to an administrative position within the athletic department.
"Greg Strobel was ready for a new assignment outside of coaching and he is very well skilled and suited for working with our camps program and in our athletics alumni relations and fund raising areas," said Sterrett in a Lehigh-issued press release. "Pat Santoro was an outstanding assistant coach at Lehigh for nine years, and has done a magnificent job in developing the Maryland program. He will bring a deep affection for the institution, the educational values we prioritize, and the ability to make the transition seamless."
Santoro spent the last five seasons taking Maryland from the cellar of the ACC, to getting more funding for the program, better recruits and most importantly, more support from the athletic department.
Santoro's 48-41-1 record as a head coach is misleading, mainly because Maryland hadn't lost an ACC dual meet in two years and went 33-9 in the last two seasons, breaking into the Top 25 in November and staying ranked in the polls all season long.
Santoro's biggest win came at the Journeymen/Brute Northeast Duals where the Terps knocked off then-#5 Michigan.
But Santoro, a native of the Lehigh Valley, always had it in his mind he wanted to go home.
"A lot of contracts and you have clauses in them," said Santoro of his Maryland contract. "This was one of them. I didn't think it would be happening this soon."
"I always wanted that (Lehigh) option," said Santoro, a coach with the Brown & White for nine years prior to taking the head job in College Park.
Maryland A.D. Debbie Yow issued a statement to friends the school's wrestling community.
"We are also excited to wish Pat, along with his wife Julie and daughter Leah, the best in his return home to his native Lehigh Valley," said Yow in her letter sent out shortly before the official Lehigh teleconference. "Please join us in wishing Pat success in his new position and extending our sincere appreciation for returning our wrestling program back into the national rankings and the top of the ACC…where we belong."
Santoro had nothing but praise for his former boss.
"She's been amazing through the whole thing," said Santoro.
But as with any coaching change, there are always the wrestlers that get left behind and the emotions run deep and somber.
"It was the most difficult thing I've had to do as a professional," said Santoro. "It was pretty emotional. It's a great group of kids, they work very hard, and they're going to be fine."
For Strobel, who is currently in Indianapolis at the NCAA Rules Committee meetings, jumped at the opportunity to move into an administrative role.
"My decision sounded like the easiest one to make," said Strobel with a chuckle. "I've kind of wanted to get into something administrative and get out of coaching … eventually."
"Not if, but when," he said. "I just really felt this was a good time in terms of the opportunity that Joe presented."
Strobel gets to stay involved with a program he led for 13 seasons, led to 189 dual meet victories, six EIWA championships and five of those in a row from 2002-06.
With the option presented, it was hard for Strobel to resist.
"Wow, this could actually happen and it could happen right away," Strobel explained. "My first emotion or feeling when Joe mentioned this was literally, my heart leaped inside me and said wow, this is what I want to do."
But there was a catch.
"This move couldn't really happen unless both of us were really comfortable with a successor as head wrestling coach at Lehigh," said Sterrett. "Greg's strong preference as well as my own was to see if Pat Santoro was interested in coming back to Lehigh."
Strobel's looking forward to returning to an administrative role. Prior to coming to Lehigh as head coach, Strobel spent nearly eight years at USA Wrestling National Teams Director.
But it wasn't just about greener pastures; in fact, Santoro takes over a team that his former squad beat handily this season. It was about coming home.
"I've very excited to be returning to the Lehigh Valley," said Santoro. "My father wrestled here, my brother wrestled here."
Santoro hasn't even thought about any staff positions, although Brad Dillon, one of his assistant coaches at Maryland, is a Lehigh alum.
"The decision was made last night and the next few days, I'll have to start putting a game plan together," said Santoro. "(First thing), I probably need to re-recruit the athletes that are there now. I have to recruit them first and get hold of the Lehigh recruits and make sure they are comfortable with the situation."
With an ACC job now open, Santoro leaves high regard for the school and wrestling team he's leaving.
"This is one of the best programs in the country to take over," said Santoro of his former Terps squad. "We have great administrative support, nine freshmen and sophomores in the starting lineup, six returning qualifiers, five ACC champs … you're going to be walking into a fun situation."
Ad blocker interference detected!
Wikia is a free-to-use site that makes money from advertising. We have a modified experience for viewers using ad blockers

Wikia is not accessible if you've made further modifications. Remove the custom ad blocker rule(s) and the page will load as expected.