Reports have surfaced that the Chinese Grand Prix may be in jeopardy after 2010. Poor ticket sales and sponsorship uncertainty may force F1 to leave Shanghai for the foreseeable future.
Shifting away from GPs with certain audiences (Canada, France) to places that can give a huge fee but lack racing heritage or a hardcore fanbase has lined Bernie's pockets well. There are plenty of problems with these races though. Anyone watching the newer Grands Prix, especially China,
Malaysia
and
Bahrain
can tell the attendance is poor. Whatever novelty existed in their inaugural runs has subsided, and as a result fewer fans come out. Combined this with the fact tickets for F1 races are far out of reach for the average person in many of these countries, hopes of bringing new fans to the track are doubtful. While you could argue the demographics of Brazil are similar, consider that Brazil had three native sons on the grid of its Grand Prix, one of whom nearly become World Champion.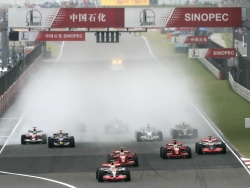 Save the Japanese Grand Prix, most of the Asian GPs exist because the organizers have been willing to dish out the money. They are hanging by a thin cord, and in China it looks ready to snap.
From a racing standpoint, I would not be so sad to see the Chinese GP go. Shanghai is yet another Hermann Tilke track with all the things you've come to expect: flat and a long straight leading into a hairpin. It never seemed like the fans that did come were very enthusiastic. The racing was not special either. In the last two years, the only interesting thing that happened was Lewis Hamilton's crash on pit in last year. On a plus side for F1, it would save money for teams to not have to go to China as well (particularly in '09 when it is not bundled with Japan).
My hope is that it causes Formula One to relook at Canada & the US for races in the future. The organizers actually made money on the events, which of course means they have the opportunity to stick around a very long time. Likewise, the brass need to think long and hard about future Asian races planned in India and Korea.
I don't think it will happen, after all this is Formula One we're talking about. Logic and F1 goes as well together sometimes as Alonso and Hamilton.
Ad blocker interference detected!
Wikia is a free-to-use site that makes money from advertising. We have a modified experience for viewers using ad blockers

Wikia is not accessible if you've made further modifications. Remove the custom ad blocker rule(s) and the page will load as expected.