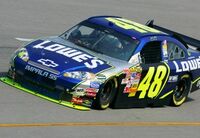 September 3, 2008
- Clint Bowyer will be looking to lock down the final Chase position on Saturday night when the Sprint Cup Series hits Richmond for the 2008 Chevy Rock & Roll 400.
Bowyer ended up 10th in the Pepsi 500 at Auto Club Speedway last weekend, which kept him in 12th place in the driver standings. David Ragan was 13th at Auto Club, and he sits 17 points behind Bowyer in the standings. Kasey Kahne was eighth in the Pepsi 500, and he trails Bowyer by 48 points with one race left before the Chase begins.
Jimmie Johnson visited victory lane at Auto Club, beating Greg Biffle and Denny Hamlin across the finish line. Kevin Harvick and Matt Kenseth rounded out the day's Top 5, while Carl Edwards, Kyle Busch, Kahne, David Reutimann, and Bowyer made up the rest of the Top 10.
Dale Earnhardt Jr. wound up in 11th place at the Pepsi 500. Jeff Gordon was 15th, Jeff Burton was 17th, and Tony Stewart had to settle for a 22nd-place result.
That win was Johnson's third of the season, and he trails just Busch (eight) and Edwards (six) on the victories list. Busch, Edwards, Johnson, Earnhardt Jr., Burton, Biffle, and Harvick have all basically locked up Chase spots. Stewart, Kenseth, Gordon, Hamlin, and Bowyer need to fend off Ragan and Kahne on the track this weekend.
Bowyer won the Crown Royal 400 at Richmond back in May, while Johnson took the checkered flag in both Richmond races last season. Earnhardt Jr. and Stewart each have three Cup wins at that track in their careers, while Gordon has two. Harvick, Kahne, Kenseth, Burton, Kurt Busch, and Ryan Newman have one win apiece.
After racing at Richmond the drivers of the Sprint Cup Series will begin their playoffs at the Sylvania 300 at New Hampshire Motor Speedway. That race will take place just after 1:00pm ET on Sunday, September 14.
Ad blocker interference detected!
Wikia is a free-to-use site that makes money from advertising. We have a modified experience for viewers using ad blockers

Wikia is not accessible if you've made further modifications. Remove the custom ad blocker rule(s) and the page will load as expected.