On Saturday, Dwain Chambers won the UK Trials for the team to take part in the IAAF European Indoor Championship. He was then selected to the team, a few days later.
However, in 2004, Chambers was banned from the sport for two years, after admitting taking performance enhancing drugs. He subsequently tried to become a Wide Reciever in NFL Europe, but two things stopped this. Firstly, he couldn't catch the ball, and secondly, he the League collapsed. In 2006 his ban was lifted, but only now is he planning his comeback.
The country, and the athletics community is at loggerheads in the UK. Some are pro-Chambers, some anti-Chambers. Kelly Holmes won two gold medals in the 800m and 1500m at the 2004 Summer Olympic Games, and has been very quick to criticise Chambers. UK Athletics were "unanimous in its desire not to select him." Chambers responded by asking the public not to treat him like a "leper". But Holmes believes "he is being treated in the way he deserves to be treated."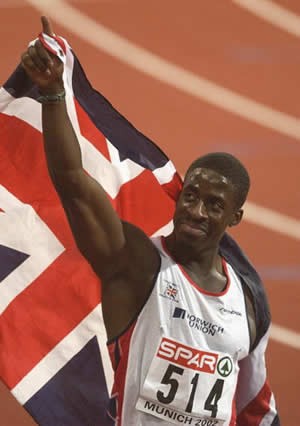 Leading European promoters of Athletics have said they are not going to invite Chambers to their meetings due to his past. He is not running in the "Grand Prix" event in Birmingham this weekend, UK Athetics and Fast Track stated that they "do not want the World's Number 1 Indoor meeting to be overshadowed by this issue."
Chambers is struggling in other ways. He is unable to find a coach, and does all of his training by himself. He also retracted his original claim to have "accidentally taken drugs", but he then admitted to doing it deliberately. As a result, leading UK athletes have turned against him.
Roger Black has joined the critics, saying that "the sport must be protected. If Chambers is not banned, it is saying that you can try it, get found out, then come back and try again." Steve Cram also is anti-Chambers.
John Regis, a British sprinter of the 1980s and 1990s is however pro-Chambers. He says that Chambers has served his time, and should be allowed to return.
British people however, do not agree with Regis. In a culture where deliberately cheating is heavily frowned upon, Chambers can only expect further negativity from the people and the media. The media have jumped on Chambers as they did during the "diving" at the 2006 FIFA World Cup. The people do not like cheats, and Chambers admitted he is a cheat.
Chambers should not have been selected for the Games in Valencia. I think it is detremental to the sport of Athletics, already a sport with a tarnished reputation. The punishment for using performance enhancing drugs should be a lifetime ban, no matter what the circumstances are. Chambers should not be allowed to compete.
Ad blocker interference detected!
Wikia is a free-to-use site that makes money from advertising. We have a modified experience for viewers using ad blockers

Wikia is not accessible if you've made further modifications. Remove the custom ad blocker rule(s) and the page will load as expected.