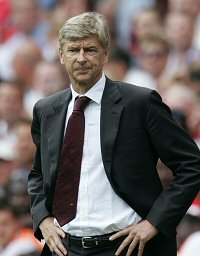 Boxing Day saw Arsenal travel to Fratton Park to face Portsmouth.  As I sat down to watch the match I had a niggling feeling that somehow the Gunners would face a very stiff challenge.  In the end my feeling proved to be correct as the Nil-Nil result bore out.
The match itself did not see Arsenal create all that much in the way of chances.  I give a doff of the cap to Pompey manager Harry Redknapp for that.  Redknapp had Pompey well organized and they defended in depth.  Of course tactically that also meant that Pompey were not going to create much themselves either but I suppose when a team goes out to purposefully only get one point then it's mission accomplished.  So a share of the points and Arsenal fall to second in the league as Manchester United defeated Sunderland.
The brightest spots for Arsenal were Tomas Rosicky and Nicklas Bendtner.  Rosicky created a few chances at goal with his shifty play but in the end nothing came from them.  Bendtner, who came on in the 82nd minute, looked to be a handful for the Pompey defenders.  I have to wonder if Arsene Wenger had started the young Dane up front with Emmanuel Adebayor that maybe, just maybe the result would have been different.  One of those questions that for now will go unanswered.
This Saturday sees the Gunners off to Goodison Park to face the blue half of Merseyside.  Another tight fixture but I am hoping that Everton do decide to actually play some football.  Given their talent I think they just may play rather than do a complete turtle on defense.  A few worrying items before the visit to the Toffees; firstly the skipper, William Gallas, may be in question.  Near the end of the first half agaisnt Pompey his foot was trodden upon by former Arsenal man Nwankwo Kanu.  It did look accidental so hopefully no lingering effects although the captain was limping quite a bit after it happened.  Robin van Persie was nowhere to be seen against Pompey, not even on the substitutes bench.  Getting van Persie back is something that the attack needs at this moment.  While the 4-4-1-1 formation may work against continental sides, and I fully expect to see it when we face AC Milan, I would much rather see a more conventional 4-4-2 against league competition.  Adebayor and van Persie did work well together earlier in the year and that relationship needs to start growing once more.
Much to my dismay I discovered that the commentary team for yesterday's match included that dried up old piece of fruit David Pleat.  If there is one voice that makes me want to drive sharpened pencils in my eyes it is his.  I did take some solace and enjoyment in that fact that as the match continued I got to continually shout one of my favorite lines from the movie Fever Pitch, "Oh shut up Pleat!"
Ad blocker interference detected!
Wikia is a free-to-use site that makes money from advertising. We have a modified experience for viewers using ad blockers

Wikia is not accessible if you've made further modifications. Remove the custom ad blocker rule(s) and the page will load as expected.