On April 9th the San Francisco Giants hosted the San Diego Padres for the third and final game of their series.  I was very excited to come home from school and watch the night game between the two.  Hopefully getting to see Jonathan Sanchez show his true potential, but I had forgotten one thing.  I had to work, ugh.  So I came home and went to ESPN to find out I had missed another great ending to a Giants game...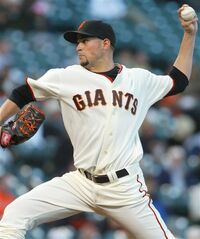 Lets start off first with the pitching stats for Sanchez.
With the looks of those stats I was guessing the Giants gave Sanchez his first victory of the year, but there were problems.  What kind of problems you ask?  Simple, the Giants have no offense.  In order for the Giants to have success, they need their pitchers to do what Sanchez did every night.  That is basically impossbile, but the bullpen came in and kept up the great pitching and just waited on the Giants to due something...anything.
The night before the Giants had gone into extra innings with the Padres, when Benjie Molina finally hit a walk-off home-run in the bottom of the eleventh.  Did the Giants have to wait that long?  Not exactly, but pretty darn close.  Yea I didn't get to watch the game, but we have this great thing called play by play that I got to read once I got home!  Anyways, we get to the bottom of the ninth with the score 0-0 and Benjie Molina is leading off.  Molina gave us some more last inning magic by leading off with a single to deep right field.  Bruce Bochy quickly made the decision to have Rajai Davis pinch run for Molina.  With Fred Lewis up to the plate, Davis stole second base.  This put the situation at zero outs and a runner on second.  Lewis proceeded with the up bat and muscled up a ground ball to the pitcher.  Uno out!
Up next came the Giants extra base hit master, Jose Castillo.  He didn't even get on base as he lined out to the second basemen.  With two outs, next up was Dan Ortmeier.  Ortmeier launched the ball over, Padres center fielder, Jim Edmonds' head driving in Davis for the walk off double!  More late inning magic for the Giants in their home opening series!  I always love a Giants victory, especially this season, but you can't overlook the negatives.  In my opinion, even with the win, the negatives out way the positives.  Hey great pitching by Sanchez, phenomenal.  That great pitching isn't going to get the job done though, us Giants fans knew we had a great rotation, but there is that one glaring issue.  Offense
You have all heard me ramble on about this everytime I talk about the Giants, so I'll keep it short and sweet.  Here is the stats for the game as a team.
Those stats are enough said.
| | | | | |
| --- | --- | --- | --- | --- |
| SF Giants(3-6) | K. Correia(0-1) | B. Zito(0-2) | M. Cain(0-1) | T. Lincecum(1-0) |
| STL Cardinals(7-2) | A. Wainwright(1-0) | K. Lohse(1-0) | T. Wellemeyer(1-0) | B. Thompson(1-0) |
Ad blocker interference detected!
Wikia is a free-to-use site that makes money from advertising. We have a modified experience for viewers using ad blockers

Wikia is not accessible if you've made further modifications. Remove the custom ad blocker rule(s) and the page will load as expected.