Well, it appears as though Jameer Nelson's "guarantee" didn't turn out as well as he hoped. The Orlando Magic were knocked out of the NBA Playoffs last night in 5 games, after falling to the Chauncey-less Detroit Pistons. Orlando struggled to help themselves, turning the ball over countless times, and shooting a devastating 57.1% at the Free Throw line. But, it's not like Orlando was flat-out outplayed by the Pistons. Orlando out-shot Detroit from the field (ORL: 48.4 FG%, DET: 36.1 FG%), and from the perimeter (ORL: 36.4 3-PT %, DET: 21.4 3-PT%). But, Detroit knew they had to hit free throws, and got to the line often. Detroit hit 28 of 32 FT's (87.5%), while Orlando hit just 16 of 28, for a percentage of 57.1.
In place of the injured Chauncey Billups, rookie SG Rodney Stuckey scored 15 points, with 3 boards, and 6 assists. But, it was SG Richard Hamilton that won the game for Detroit. Hamilton put his teammates on his shoulder, and carried them to the game 5 victory by scoring 31 points, with 4 steals. It seemed that every time he drove to the basket he was able to draw the foul. Hamilton hit all 16 of his Free Throw attempts, which accounted for nearly half his point total.
Orlando simply didn't have their heads in the game, and must've been intimidated by Detroit's home crowd. Orlando turned the ball over an astonishing 21 times (Detroit got 34 points off them), and had 3 starters with 5 personal fouls (Hedo Turkoglu, Dwight Howard, and Jameer Nelson), plus two others with 4 (Rashard Lewis, and Keith Bogans). I really thought Orlando had the chance to force a game 6 after they out-scored Detroit 27-18 in QTR number 3, but their hopes were destroyed a few minutes later. It seemed quite easy for Detroit, as they were pretty much handed the game, and series.
Look for a nice win streak from Detroit in the next round (against either Cleveland, or Boston). After seeing Detroit man-handle the Magic in five games, without Chauncey, I feel they can go all the way to the finals. If I was Stand Van Gundy, I would be pretty embarrased after that loss, despite losing by just 4 points.
Game/Series Notes:
"Rip" Hamilton is now the Pistons all-time postseason points leader (2,282 in 110 games), passing Isiah Thomas (2,261 in 111 games) in game 5. Chauncey Billups is 3rd (1,859 in 105 games).
Detroit set a record for least turnovers in a playoff game (3), in game 5.
Detroit is now 15-3 when they have the chance to advance (since 2003).
Tayshaun Prince blocked Turkoglu's dunk attempt with under 20 seconds to go to seal the win.
Detroit became the first franchise to play in six straight Conference Championships since the Lakers of the 80's.
Question: Do "Guarantees" really have an affect on teams???
Answer: I really don't think they have much of an affect, Orlando just didn't have their heads in the game last night. But, I don't know, some people seem to think they have some kind of psychological affect on the team of the player who "Guarantees" a win.
Series Recap
Game 1:
Orlando 72, Detroit 91
Billups leads Detroit with 19 points, and 7 assists in 33 minutes. Orlando turns ball over 13 times, and has 8 shots blocked by Detroit defenders.
Game 2:
Orlando 93, Detroit 100
Questions surround a Billups 3-point shot, after the clock froze for a few seconds at the end of the 3rd QTR. The shot was said to be in-time, and counted. Billups went for 28 points, and Detroit wins it by 7.
Game 3:
Detroit 86, Orlando 111
Billups goes down with a hamstring injury, and Rashard Lewis goes big for Orlando (scoring 33 points), and giving the Magic their first win of the series.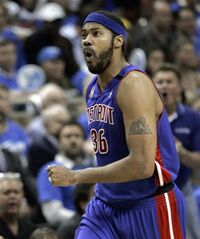 Game 4:
Detroit 90, Orlando 89
Hedo Turkoglu missed a last-second layup, and Detroit heads back to Detroit on the brink of a series win. Hamilton scores 32, and Detroit looks good even without Billups in the lineup.
Game 5:
Orlando 86, Detroit 91
Detroit closes out the series at home, as Hamilton has a second-consecutive 30+ performance (31). Orlando turns the ball over 21 times, and Tayshaun Prince seals the deal with a block of Turkoglu's layup attempt with 20 ticks remaining.
Detroit will face the winner of the Cavaliers/Celtics series in the Eastern Conference Finals. Cleveland, and Boston are currently tied at 2 wins apiece. Game 5 is tonight in Boston on TNT.
Ad blocker interference detected!
Wikia is a free-to-use site that makes money from advertising. We have a modified experience for viewers using ad blockers

Wikia is not accessible if you've made further modifications. Remove the custom ad blocker rule(s) and the page will load as expected.