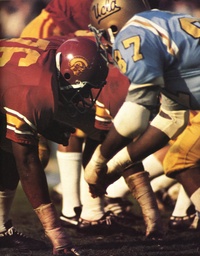 In today's world, we have witnessed a total disregard of years of tradition with the corporate sponsorship of stadium names and the relocation of sports franchises, being two of the more recent examples. Despite such a dramatic shift away from tradition, it appears that USC's Pete Carroll and UCLA's Rick Neuheisel are looking to bring back one of college football's more colorful traditions.
From 1928 to 1981, both UCLA and USC called the Los Angeles Memorial Coliseum home with the teams alternating home games every other weekend. Subsequently, when the two rivals faced off in the battle for the Victory Bell both schools would wear their home jerseys. At the time, NCAA rules only required that the uniforms be in contrasting colors, which cardinal and powder blue certainly are.
When the Rose Bowl became UCLA's permanent home in 1981, the NCAA changed its rules and the visiting teams were forced to where white, signaling an end to the schools' fifty year old tradition.
Twenty-Five years later Pete Carroll and Rick Neuheisel appear to be in agreement that reverting to the "good 'ol days" would be beneficial for both schools. Recently,  710 ESPN's Dave Dameshek  was able to get Carroll and Neuheisel on the record to support a return to the sixty year old tradition.
Unfortunately, there is more to it than just getting both coaches to agree on the change. The schools will need to ask the NCAA for a waiver, which does not boad well for supporters of the change.
Nevertheless, Dameshek and USC blogger Adam Rose of the Los Angeles Times are building support for the colorful tradition with a petition.
So, if you're like me and hundreds of other LA football fans who want to revert back to the glory days of home and home uniforms than I strongly encourage you to sign the petition here.
Photo Credit: USC Athletics
Ad blocker interference detected!
Wikia is a free-to-use site that makes money from advertising. We have a modified experience for viewers using ad blockers

Wikia is not accessible if you've made further modifications. Remove the custom ad blocker rule(s) and the page will load as expected.