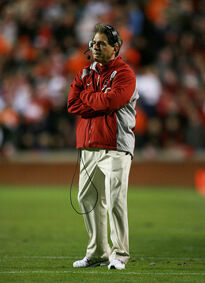 After hiring Nick Saban for $32 million dollars and starting off the season at 6-2, most Alabama fans were expecting a better finish than a 6-6 record and a trip to the Independence Bowl. However, the Tide struggled down the stretch with demoralizing losses to Sun Belt conference foe Louisiana-Monroe and heated-rival Auburn. Just like the past few seasons, this Crimson Tide team was also suspect to inconsistent play, particularly at quarterback with John Parker Wilson.
Wilson and the rest of Bama's offense has looked impressive at times, scoring 41 points against Arkansas and Tennessee, but they also failed to score more than 14 points in its final three games. Wilson put together some clutch drives early in the season, but he finished in a slump with five interceptions and one touchdown in his last three games.
Colorado quarterback Cody Hawkins has also had trouble with inconsistent play this year. After the first eight games, Hawkins had thrown 14 interceptions in his first eight games, but he did throw just one in his final four while attempting 120 passes.
The key to the game is which quarterback can make the fewest mistakes. Judging by the defenses they'll be facing, the most likely quarterback to screw up will be Hawkins. Defensively, Alabama ranks 28th in the nation and first in the SEC in tackles for loss so they should be able to rattle the young freshmen quarterback. The Tide feature three first-team All-SEC performers, defensive lineman Wallace Gilberry and defensive backs Simeon Castille and Rashad Johnson. With Nick Saban at the helm, there is no way Alabama will have a losing record in 2007. Alabama 31-24