According to Dick Ebersol, the president of NBC Sports, football announcer John Madden has decided to retire.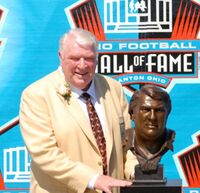 John Madden, a 73 year old pro-football Hall 0f Famer, began his broadcasting career with CBS Sports in 1979.  In 1994,  he and partner Pat Summerall moved from CBS over to Fox when Fox gained the rights to broadcast NFC football games.  Together,  Madden and Summerall called eight Super Bowls.  In 2002, Madden moved into the Monday Night Football booth to join Al Michaels.
"It's time," said Madden in a statement released by NBC Sports. "I'm 73 years old. My 50th wedding anniversary is this fall. I have two great sons and their families and my five grandchildren are at an age now when they know when I'm home and, more importantly, when I'm not."
Madden has won 16 Emmy Awards for Outstanding Sports Analyst/Personality. He also was listed as number two on David J. Halberstam's list of Top 50 All Time Network Television Sports Announcers on Yahoo! Sports.
In recent years, Madden has become less insightful than in years past, focusing more on the Booms and Bangs.  More concerned with his telestrator than the game itself.  However, in his prime, he was the best.  His insights into personnel and formations helped the more dedicated fanbase of football gain a greater insight into the game.
Tha-aanks John
Sources: cbs2chicago, wikipedia, New York Times
Ad blocker interference detected!
Wikia is a free-to-use site that makes money from advertising. We have a modified experience for viewers using ad blockers

Wikia is not accessible if you've made further modifications. Remove the custom ad blocker rule(s) and the page will load as expected.