Charlotte Bobcats 95 Boston Celtics 83
I was very shocked when I turned on Sportscenter this morning, only to find out that the NBA's best team, the Boston Celtics, lost to the 13-21 Charlotte Bobcats.  I had to double check myself, I didn't believe my own eyes.  Boston didn't just lose by a few points, they lost by 12 fackin' points.  But, hey, everyone has an off day every once in a while.  You can't expect them to go 79-3, can you???  Well, this is Boston we're talkin 'bout, they HAVE to win.  I would love to see the Celtics make history, actually, I don't care if they're a Boston team, I think it would be cool to witness a little more history.  But, I don't want them to win the Eastern Conference Championship.  They can win all they want, UNTIL they get to the Conference Finals, then I want Detroit, who is more experienced by the way, to beat the Celtics in 7 games (just to make it an exciting series).
If you ask me, I would say it really wasn't an "off" day for Boston...OK, so maybe it was, but Kevin Garnett had a pretty good day, scoring 24, while draining 8 of 13 from the floor, and 8 of 9 from the FT line.  KG added 8 rebounds, 4 assists, and 2 blocks in 34 minutes played.  Shooting Guard, Ray Allen was sidelined with a pinched nerve in his neck.
Charlotte took advantage of playing Boston without Allen, and scored 95 points, led by SG Jason Richardson.  Richardson scored 34 points, racked up 9 rebounds, 3 assists, 2 steals, and fouled just once.  In 43 minutes, Richardson made 14 of 22 from the floor.  Third-year point guard, Raymond Felton scored 16 points, making all 5 of his free throw attempts, and SF Gerald Wallace played 45 minutes, and scored 15 points.  Charlotte had little help from their weak bench, Center Nazr Mohammed scored 18 off the bench, but the rest of the bench played a total of 26 minutes, but didn't score a single point.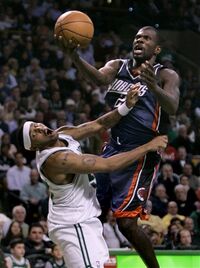 Charlotte played one hell of a game, outscoring Boston in the 2nd, 3rd, and 4th quarters.  And, Charlotte never gave up, even after falling behind early.  The team stats are very similar, which tells me that if just one of the Celtics' "Big Three" can't carry this team (although I kinda already thought that).  With Ray Allen out, and Paul Pierce having an off-day the Celtics are just an average team, unless they get an exceptional day from a few young players, i.e. Tony Allen (6 points, 1 ast, 1 stl, 1 blk, 3 TO, 4 PF in 29 minutes vs CHA), and Rajon Rondo (13 points, 4 rebounds, 3 assists, 1 stl, 4 TO, 4 PF in 34 minutes vs CHA).  It doesn't help much when your team gets in foul trouble, either.  Boston had 24 personal fouls, and six players had 3 or more personal fouls, including SF James Posey, who came off the bench, and scored 10 points.
Team Stats:
Charlotte- 95 points (18 off bench), 39 for 80 FG (48.8%), 4 for 14 3PT (28.6%), 13 for 18 FT (72.2%), 42 REB (9 Off, 33 Def), 19 AST, 7 STL, 3 BLK, 11 TO, 19 PF
Boston- 83 points (21 off bench), 30 for 72 FG (41.7%), 4 for 20 3PT (20%), 19 for 24 FT (79.2%), 40 REB (10 Off, 30 Def), 19 AST, 7 STL, 6 BLK, 17 TO, 24 PF
Ad blocker interference detected!
Wikia is a free-to-use site that makes money from advertising. We have a modified experience for viewers using ad blockers

Wikia is not accessible if you've made further modifications. Remove the custom ad blocker rule(s) and the page will load as expected.