From: The Sports Point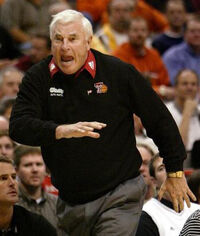 ESPN announced today that coaching legend Bob Knight will join the network as an analyst during conference and NCAA tournament coverage. Knight will be in Bristol starting Wednesday, March 12, and will finish on the set in San Antonio for the championship game April 7.
Knight resigned from Texas Tech on February 4, making way for his son to take over as head coach. This appears to be one of the the better guest analyst hires for ESPN. Knight brings with him the knowledge of the the winningest men's Division I college basketball coach and an attitude and bluntness of Charles Barkley.
"I think ESPN has been real good for college basketball and I look forward to working with some of their people who I have known a long time," said Knight.
It's not surprising that Knight will work as an analyst with ESPN due to his close friendship with analyst Digger Phelps, but it isn't expected to be a permanent plan for him. Many people expect him to return to coaching sooner rather than later. We also don't expect to run in to him eating lunch in Hartford with Jeremy Schaap.
Bob Knight joining ESPN studio team (USA Today)
Ad blocker interference detected!
Wikia is a free-to-use site that makes money from advertising. We have a modified experience for viewers using ad blockers

Wikia is not accessible if you've made further modifications. Remove the custom ad blocker rule(s) and the page will load as expected.