So I'm driving through the city of Detroit browsing through the radio, and I turn to 1270 WXYZ the Sports Station. I hear an interesting argument about some of the best head coaches in Michigan sports. The candidates ranged from Mike Babcock, Scotty Bowman, Chuck Daly and even Jim Leyland. These candidates were chosen, based upon their success as a coach in Michigan sports. Coaches like Leyland of the Detroit Tigers, and Daly who was the Pistons coach for nine years were chosen because of what they did for the franchise. Daly has arguably turned the Pistons into who they are now, and Leyland has turned the Tigers ball club into regular season, AL contenders. Basically, it was a question on who has done more for which Michigan franchise/program.
Two significant and important names came up in this conversation. Tom Izzo, the head coach for the Michigan State Spartans and Bo Schembechler, who was the head coach of the Michigan Wolverines for 20 years (1969-1989). These are two head coaches who've had tons of success in their positions. The argument was which coach has done more for their program? Many people will say Bo Schembechler automatically, but that is because he is one of the most popular head coaches in one of the most popular sports. People won't think about what Izzo has done for the Michigan State program.
Bo's 10 Rose Bowl appearances are similar to Izzo's four Final Four appearances, and four Big Ten Tournament championship appearances. But that's all. Izzo still has so much more on his resume, which can be compared to what is left on Bo's resume that I didn't mention. Bo's seventeen bowl game appearances can go a long way, but his 5-12 record can't go far, compared to Izzo's 24-9 record in the NCAA Tournament. The big game is also what counts, which is the National Title; something the Bo has never won. Izzo won it all in 2000, and he is still looking to win another won. Bo was the head coach of Michigan for twenty years, and Izzo has been coaching State for 10. So that means that Izzo has more time to add more success to his resume. Personally, I feel that Izzo has matched what Bo has done for his program. Only time will tell if Izzo can go further. So in the outcome of things, Izzo will have a higher chance of being a more successful coach than Bo. Not saying that he would be a better coach, but just the things that Izzo has done for the program has been the same to what Bo has done, maybe even more. So if you look at the big picture, Izzo may end up being the best coach in Michigan sports history.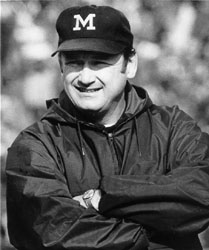 Is this a lop-sided argument?
Not really. Let's take a look at what Bo Schembechler has done for the University of Michigan program.
Schembechler may be forever known as one of the best college football coaches, ever. He's turned the Michigan program into what it is today. In his coaching career, he has won 234 games; only two other college football coaches have won 200 games in fewer tries. As the head coach of Michigan, he went 194-48-5 with a winning percentage of .796. Not one season did Bo post a losing record. He won 13 Big Ten Title's with a conference record of 143-24-3. He made 17 bowl game appearances along with 10 Rose Bowl appearances. Even though his bowl record wasn't outstanding at 5-12, he still is ninth in all-time bowl appearances as a head coach. Bo basically turned the Michigan-Ohio State rivalry into what it is now. He holds a 5-4-1 record against his rival, Woody Hayes, but an overall record of 11-9-1 against Ohio State.
Bo Schembechler's success can be compared to what George Steinbrenner has done for the New York Yankees, or what Jerry Jones has done for the Dallas Cowboys. He's turned the program into a powerhouse in college football, year in and year out. Sure, Michigan was successful before Bo came to town, but Bo popularized Michigan football worldwide. He is possibly one of the most successful head coaches in college football history. But that is only when it came to the regular season. Bowl games weren't Bo's thing. He's always been great in the regular season, but his bowl record is 5-12, including a 2-8 record in the Rose Bowl. Bo always said that his goal every year was to win the Big Ten Conference and go to the Rose Bowl. One statistic that sticks out is that Bo Schembechler never won a National Championship. It's shocking to see that Bo never won a National Title, despite his tremendous success at Michigan. This is possibly a strong reason why Bo's success can be compared to Tom Izzo's success at Michigan State.
Unlike Bo Schembechler, Tom Izzo has won a National title in his coaching tenure with the Michigan State Spartans. But just like Bo, Izzo is running one of the most successful basketball programs in NCAA history. He has taken the Spartans to four Final Four's in the past nine seasons, which is more than any program in that time span. This includes three straight Final Four appearances from 1991-2001. He has been coaching the Spartans for 10 years, and has posted 233 wins as the head coach there; that ranks him seventh all time in NCAA college basketball history. Izzo also has gone to the NCAA Tournament ten straight years, which still hasn't been snapped. Other notable stats on Izzo's resume include five National Coach of the Year awards, four Big Ten Championship appearances, and two Big Ten Tournament titles. He is successful when it comes to the NCAA Tournament, with a 24-9 record (.727 winning percentage). Not only is he a great coach, but he is also a great person. 82% of his players have left Michigan State with a degree. Every MSU player who has stayed all four years with Izzo has made it to the Final Four of the NCAA Tournament. Since 2000, ten of Izzo's players have made it to the NBA, six of them being selected into the first round. This is just showing people that Tom Izzo is no joke when it comes to his players. He loves his team and always wants them to have success in their career, no matter what field they go into. Izzo has received love from all over the state of Michigan. His style of coaching is unique, and tough. Every season, his team is among the top of the country in most defensive statistics, especially rebounding. Izzo has been responsible for bringing the Michigan State basketball program to where it is today. And similar to Bo, Michigan State basketball was popular before Izzo's coaching tenure, but Izzo has brought this program to an all-time high. They play consistent basketball year in and year out, and remain one of the top basketball programs in the past ten years.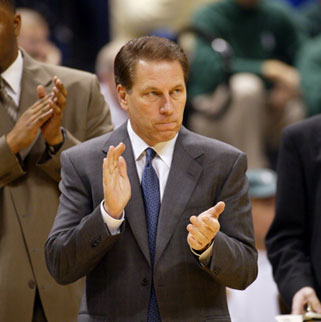 It's very hard to compare success in basketball to success in football. That's why it is difficult to compare these two, great coaches. But no matter what, they've both had tremendous success in their program. Determining who's better is hard, but there are comparisons that can be made.
Getting to the National Championship in basketball and football are both very difficult. But if you think about it, getting to the National Championship in basketball is tougher. How's this? In the NCAA Tournament, a team has to play 5 games in the span of a week and a half in order to find their way into the National Championship. There is no telling who you're going to face, or how tough your schedule will be. The regular season play and the conference tournament determines the seeding in NCAA Tournament. You could either get lucky by facing weak teams or unlucky by having to play higher seeded teams on the quest for the National Championship. When it comes to football, there are plenty of teams who find themselves in the National Championship that had a weak schedule. Maybe two or three games throughout the regular season will give a team trouble, and depending upon which conference, the conference championship. If they finish off the season with a good record, they're liable to find themselves in the National Championship game. It's very different from basketball.
Ad blocker interference detected!
Wikia is a free-to-use site that makes money from advertising. We have a modified experience for viewers using ad blockers

Wikia is not accessible if you've made further modifications. Remove the custom ad blocker rule(s) and the page will load as expected.