The following will be a potentially controversial article about blacks in sports in the US, and some of the great moments involving that. If you are sensitive to this topic, do not continue reading. This is a very serious subject matter to me If you edit this article and put anything stupid in there, I will report to the admins.
Now, this is a three part article, the second part will come next week. I will look at two major moments in sports involving race every article, and tell you some facts you may not remember.
Prelude: Why You Should Celebrate Black History All Year
As you know, February is Black History Month. We look at the past, present, and future of black people in America, and hope that what happened in the past, will be totally gone in the near future. But one thing that ticks me off is that, not only is Black History essentially ignored after February, but Black History Month is placed on the shortest month of the year. That should never happen. Honestly, if you read about what blacks had to go through in the 1700s-1900s, you should not only be recognizing the fact that blacks have gone from slaves to doctors in prestigious hospitals, you should recognize it all year.
The Europeans and Americans took black people from Africa, and made them slaves, tortured them, killed them. These horrible acts went on for hundreds of years. But it never stopped there, you have the Ku Klux Klan, the "Colored" section in all of the southern United States in the 1960s. Even today, racism is still a problem, some people don't want a black President of the United States. Sports organizations, and schools still are uncomfortable hiring a black head coach, or drafting a black quarterback. Racism against blacks has definitely died down and the US has made dramatic improvements, but it is nowhere near where it should be, gone and not a factor in anything.
It's remarkable that despite all of what black people have had to endure over centuries, we still have millions alive. Blacks could be gone from this Earth when you think of it. What they dealt with that modern day folks can't fathom, and everything else, they're still here.
Blacks in Sports: Jackie Robinson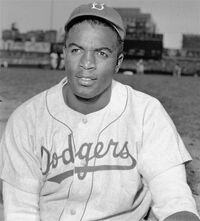 There was a time in which all basketball, football and baseball players were white. Some schools banned blacks from playing any form of sport. In baseball, Babe Ruth was called by his clubhouse teammates as "Nigger Lips". Ruth himself, and some racist remarks in him. Blacks in baseball was severely frowned upon. But on April 15th, 1947, that would be changed forever. Jack Roosevelt Robinson became the first black player in the major leagues. He became one of the greatest to play the game, and made it to the hall of fame only 6 years after he retired. But again, not everyone was accepting to that fact. The players of the Philadelphia Phillies called Robinson a nigger, the St. Louis Cardinals were threatening to strike if Robinson played. But NL commissioner Ford Frick, a white man, was on Robinson's side. If they wanted to act like that, the entire team would be suspended.
What Robinson did not only changed baseball, but it made a national impact that a black man had the courage, had the guts to fight off the racism, and play in a sport dominated by white men. Now in the modern day, you have blacks playing on every team, you have foreigners making up a decent chunk of the population of players.
Blacks in Sports: Texas Western

It was considered the Brown vs. Board of college basketball, the year was 1966. The NCAA College Basketball Championship was played between a Texas Western squad using an all black starting 5, versus Adolph Rupp's powerhouse Kentucky team, all-white. Texas Western stunned Kentucky to win the National Championship. A lost quote of this event was when Adolph Rupp yelled at this team at halftime saying "Are you guys going to lose to a bunch of coons?". Well Mr. Rupp, they did, and in today's college basketball world, you have star black players, all black teams, blacks playing with whites.
You want to know something else? Coach Don Haskins of that Texas Western team (now UTEP), is a white coach. To see a white person in the supposed "Redneck Country", start 5 basketball players, what he considered his best, all happened to be black, made him one of the pioneers of sports today.
What the Texas Western Miners did, not only pulled off an upset of a storied basketball school, but they have changed college basketball forever. Yes, there were black stars before, Bill Russell, Wilt Chamberlain, but none could ever foresee a time when 5 black basketball players would all be starting on the same team.

This has been Part I of a III part series on Blacks in Sports. As mentioned earlier, part II will come February 29th.
I want my series to make you think about how much blacks have suffered throughout the centuries. Slavery, hangings, beatings, torture, rapings. Think about what could've happened if Abraham Lincoln did not abolish slavery. Imagine what would happen to your parents, your siblings, your relatives.
Imagine that 300 years ago from today, blacks were sent on a ship to various parts of Europe and America to work for the white men. Now it's 300 years later, and you have some of the best doctors, lawyers, athletes, teachers, and politicians in this world we live in. Too think that blacks are still here is phenomenal, and now we could have one as President of the United States. Racism may be here forever, but these people certainly helped change how we feel about blacks today.
Ad blocker interference detected!
Wikia is a free-to-use site that makes money from advertising. We have a modified experience for viewers using ad blockers

Wikia is not accessible if you've made further modifications. Remove the custom ad blocker rule(s) and the page will load as expected.