1991-1992 Chicago Bulls v.s. 1984-1985 Boston Celtics
Behbigben15's NBA Playoff Special continues. Boy, we've got a special treat today, as the 1984-84 Boston Celtics (Led by NBA legend Larry Bird) will go face-to-face with the NBA's biggest super-star, Michael "MJ" Jordan, and his sidekick Scottie Pippen. The 1991-92 Bulls have already defeated "The King" and the 2006-2007 Cleveland Cavaliers in just 4 games, and Shaq, and Kobe in 5 games. But, Jordan and Pippen will have their hands full when they stetp on the court with "The Legend".
Get yourself comfortable, because we have exciting Basketball coming right up!
Game 1 (@ CHI):
BOS 122
CHI 121
http://whatifsports.com/NBA/boxscore.asp?GameID=427921&nomenu=1&teamfee=-1
As expected, game 1 was a very close one. Larry Bird led his Celtics with 47 points, as Michael Jordan led the Bulls with 35. MJ's respected teammate, Scottie Pippen, helped the cause with a triple-double (28 points, 11 boards, 11 assists). But Bird and his Celtics got the last word, defeating the Bulls by one point to take game one on the road. Bird was named the player of the game. Surprisingly, Jordan had a shot to win the game, but MISSED a last second 3-point attempt that banged off the front of the rim. Boston takes a 1-0 lead in the series.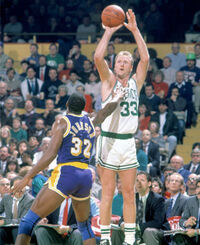 Game 2 (@ CHI):
BOS 119
CHI 111
http://whatifsports.com/NBA/boxscore.asp?GameID=427926&nomenu=1&teamfee=-1
Uh-Oh! Larry Bird once again dominates the Bulls. Bird scores 28, and grabs 18 boards, he was just 3 assists shy of a triple-double. MJ and Horace Grant both go for a double-double (MJ: 32 pts, 10 reb; Grant: 18 pts, 11 reb), but that wasn't enough to beat the streaking Celtics, who had all 5 of their starters in double-digits. Bird's teammate, Robert Parish, also had a double-double, going for 23 points, and 16 rebounds. Bird won Player of the Game award for the second straight night. The pressure is really on MJ & Co. now. Chicago must now go on the road, and win 2 games just to knot the series at 2. I have faith in you MJ!!!
Game 3 (@ BOS):
CHI 130
BOS 110
http://whatifsports.com/NBA/boxscore.asp?GameID=427930&nomenu=1&teamfee=-1
Hold it right there!! No need to get the brooms out just yet. Jordan never gives up til it's over, and it ain't over til the fat lady sings. MJ, and Pippen lead Chicago to a 20-point victory, and absolutely blew the Celtics out of the water. Bird scores just 14 points, and 6 rebounds, while MJ goes for a series-high 37 points, and 12 rebounds, winning himself the Player of the Game award. Chicago has proved that Bird, and the Celts are beatable, so put those brooms away Boston!!!
Game 4 (@ BOS):
CHI 124
BOS 122
http://whatifsports.com/NBA/boxscore.asp?GameID=427934&nomenu=1&teamfee=-1
Once again, Michael Jordan and his Bulls make this an exciting game/series. Jordan shows his leadership skills, as he brings them back from a 2-0 deficit by scoring 45 points, and grabbing 9 rebounds, and 9 assists. Bird scored 33, and Parish records his second double-double (30 points, 16 rebounds). With one second to go, MJ was fouled, and made 1 of 2 FT's, giving Chicago a 2-point lead, and pretty much sealing the win for Chicago. The Bulls now have the momentum going into Chicago, winning two straight. MJ looks to stay on a roll, and keep his win-streak, currently at 2, alive.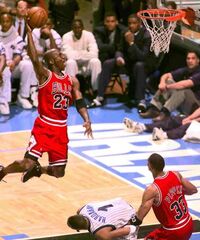 Game 5 (@ CHI):
BOS 117
CHI 128
http://whatifsports.com/NBA/boxscore.asp?GameID=427936&nomenu=1&teamfee=-1
Game 5 here we go. Chicago wins again, making it 3 straight, and giving them a 3-2 series lead. Both Bird, and Jordan go for 39 points, and Bird also had 16 boards, but Pippen, and Grant were on fire as well, both recording double-doubles. Pippen went for 28 points, and 11 boards, while Grant had 16 points, and 12 boards. Chicago is really showing why they are considered one of the best teams in NBA history. MJ just needs to lead Chicago to one more win at home to clinch this series.
Game 6 (@ CHI):
BOS 114
CHI 120
http://whatifsports.com/NBA/boxscore.asp?GameID=427939&nomenu=1&teamfee=-1
This ain't Boston! This is Chicago! MJ outscores Bird 30-28, and clinches the 7-game series in 6. MJ showed his leadership, like I said earlier, and led his team back from a 2-0 deficit, to beat Bird, and the '84-'85 Celtics 4 games to 2. Horace Grant got more rebounds than points (16 boards, 12 points), and MJ won Player of the Game (and the Series), despite Bird recording yet another double-double (28 points, 14 rebounds).
MJ outplays Bird
Don't you worry, I will write another article in the next few days. Who knows, maybe someone will dethrone the 1991-1992 Chicago Bulls.
Ad blocker interference detected!
Wikia is a free-to-use site that makes money from advertising. We have a modified experience for viewers using ad blockers

Wikia is not accessible if you've made further modifications. Remove the custom ad blocker rule(s) and the page will load as expected.