What defines greatness? Is it championships? Statistical dominance? Will? Or a synthesis of these three? The answer is fleeting, kind of like the, "I can't describe it but I know it when I see it" philosophy. True greatness in sport is magical, especially when you get to witness an athlete who possesses that interstellar magic the gets immortalized in print and around the water cooler. So when two greats can combine forces the transcendence reaches mythical proportions, household names linked forever in legend and lore.
Here are the best duos in sports history*…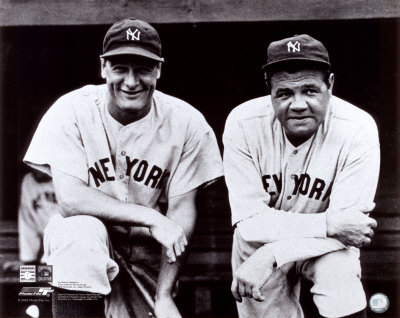 1. Lou Gehrig & Babe Ruth-No pair instilled more fear and awe than Ruth and Gehrig. Individually they were icons, arguably the greatest ever at their sport. Ruth's name spawned adjectives, Gehrig's persona gave name in reverence to the disease that sadly shortened his life & career. Ruth & Gehrig rank #3 and #25 all time in career homeruns, are two of only six players to finish with career totals of at least .320 avg/350hr/1500rbi, and were the heart of a New York Yankees team that won six World Series titles.

2. Wayne Gretzky & Mark Messier-Think about a freakish statistic…Gretzky's assist numbers ALONE would still put him as the leading scorer in NHL history. So if Gretzky had a phobia against shooting the puck he would still be the #1 scorer ever, ahead of only one guy…Messier. But even The Great One never won a Stanley Cup without the presence of Messier. It says something when you're on a team with the greatest offensive force the sport has ever seen and you, not he, wear the beloved captain's C. Messier was one of the greatest and most maniacal leaders in sports and teamed with Gretzky to win four Stanley Cups.

3. Michael Jordan & Scottie Pippen-Jordan exploded into the league in 1983 as part of maybe the best draft in class in league history. Jordan put up god-like offensive numbers, including the legendary 63 points against the Boston Celtics on their home court in 1986. But Jordan never came within a mile of a Finals appearance before Pippen came on board in 1987. Then in 1990-91 the pair embarked on a dynastic run with the Chicago Bulls that would net six championships in eight years, a streak that only Jordan's silly attempt at a baseball could derail. Even Jordan wasn't good enough to win titles without Pippen.

4. Joe Montana/Steve Young & Jerry Rice-The two greatest beneficiaries of Rice's scary dominance were arguably two of the best quarterbacks in NFL history. Montana/Young made Rice, Rice made Montana/Young. If split into two distinct pairs a very legit argument could be made that Montana-Rice and Young-Rice were the best pitch & catch tandems in league history.

5. Josh Gibson & Oscar Charleston-What tragically gets lost in the white-washed shuffle that was Major League Baseball circa 1900-48 was the legacy of some of the best players to ever grab a bat. Gibson & Charleston were Negro League stars and played together on a Pittsburgh Crawfords team that was arguably the best collection of baseball talent ever assembled. Gibson is credited with nearly 800 lifetime HRs, a career .384 average, and a reputation as the greatest power hitter of all time. Charleston finished with a .353 lifetime average and was, along with Gibson, named to The Sporting News list of the 100 Greatest Baseball Players.

6. Magic Johnson & Kareem Abdul-Jabbar-Magic stormed on to the NBA stage as a bright eyed and impossibly talented rookie in 1979 while Kareem manned the fort for a franchise mired in a non-title funk. The two would ultimately combine to win six NBA Championships and forever cement their status as perhaps the best ever at their respective positions.

7. John Stockton & Karl Malone-Though a championship annually eluded their grasp no pair of teammates were as cohesive and as consistently deadly. Their pick & roll was unstoppable…opposing teams knew it was coming, when, and from where but were powerless to against it. Stockton finished his career #1 in career assist and steals while Malone may go down as the best power forward ever.
8. Joe Louis & Max Schmeling-Yes the two were professional rivals. But they were pawns in a global game between two countries and ideologies that would eventually clash in WWII. The two developed a fast friendship in the 1950's and Schmeling helped Louis with numerous medical expenses. When Louis died in 1981 Schmeling was a pallbearer at the funeral and was rumored to have paid for the burial.

9. Peyton Manning & Marvin Harrison-Easily the best QB-WR tandem of their era, and arguably the best ever, Manning & Harrison will both be in the HOF someday. They are so deadly precise you get the distinct feeling they share an almost otherworldly or telepathic connection. Over his twelve year career Harrison has averaged 86 receptions, 1100 yards, and 11 touchdowns per season. Manning is on pace to shatter every passing record in the books; he already has the most 4,000 yard seasons (8), most consecutive 4,000 yard seasons (4), and most seasons with 25+ TD passes (10). Together they own the record for most completions (956), most TDs (109), and yards (12, 931) by a QB & WR.

10. Mike Bossy & Bryan Trottier-The catalysts behind a historic championship streak Bossy and Trottier were as dominant as any duo in NHL history. Bossy blitzed the league for nine consecutive 50+ goal seasons, a feat even the great Gretzky didn't accomplish. Bossy also finished his career with a .762 goal per game average, the highest such ratio in NHL history. Trottier amassed 1425 career points, good enough for 14 th on the All Time list. Both were named by Hockey News as one of the top 100 hockey players ever, Bossy #20, Trottier #30.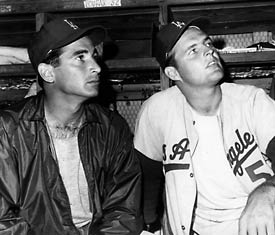 11. Sandy Koufax & Don Drysdale-Imagine being a National League hitter in the late 1950's and early 1960's having to face the nastiest 1-2 pitching duo in major league history. Once you ran the gauntlet of Koufax and his scary 6.79 hits allowed per game, a miniscule .205 opponents batting average, and 9.28 strikeouts a game, you then have to face Drysdale oh ye of the 2.65 lifetime ERA, 2,486 career strikeouts, and reputation as perhaps the meanest headhunter in league history (witness the still record of 154 hit batsman). If you survived a weekend dustup against these two with your confidence and head intact you had the added joy of knowing you'd face them again in about a month. Yogi Berra once said of Koufax, "I can see how he won 25 games. What I don't understand is how he lost five." Of Drysdale, Mike Shannon once said, "Don Drysdale would consider an intentional walk a waste of three pitches. If he wants to put you on base, he can hit you with one pitch."
12. Mario Lemieux & Jaromir Jagr-These two combined for two Stanley Cups, countless points, and a bucket full of highlights. To say these two were dynamic would be a monumental understatement. To say these two were machine-like would be more accurate. To say these two were one of the most lethal 1-2 punches in NHL history would be dead on accurate. Jagr has 1600 career points, six scoring titles, one Hart Trophy, and an iconic mullet that Barry Melrose gets all giddy for. Lemieux was possibly the most talented player in league history and will be thought of along side Mike Bossy as being a transcendent player whose career was cut too short.

13. Jack Ham & Jack Lambert-Few defensive duos inspired the sheer dread Ham and Lambert invoked in opponents. Ham was the scary methodical tackling machine that darted around with blinding quickness. Lambert was the monster up the middle, unleashed upon his enemies to literally strike fear in their psyche. Together they formed a HOF duo that terrorized opposing offenses and set their defensive teams as perhaps the best such units ever. Lambert was immortalized on a Sports Illustrated cover that made him look like the scariest serial killer in human history. Ham is generally considered the greatest outside linebacker in NFL history not named Lawrence Taylor.

14. Oscar Robertson & Kareem Abdul-Jabbar-Robertson was at the end of a career, Jabbar at the beginning. Together they were a formidable pair, though their on court union would be all too short. Robertson is still the only player in history to AVERAGE a triple-double for a season and Jabbar is maybe the best center ever.

15. Bill Russell & Bob Cousy-Russell personified on court intensity. Cousy was a basketball genius. Russell was fury, Cousy was methodical. Russell was intimidation, Cousy was magical. Russell was Attila the Hun, Cousy was Houdini. Russell was fire, Cousy was ice. Together they won six titles and were an unreal offensive-defensive duo. Cousy pioneered modern point guard play and Russell pioneered sullen intensity.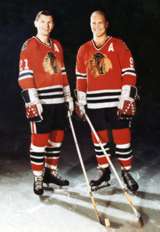 16. Bobby Hull & Stan Mikita-These two were the best tandem in the NHL in the 1960's and were famous for being the first players to curve their stick blades. Hull was a lightning fast skater with a legendary slap shot. Mikita was a pit bull who excelled at being physical. They only won a single Stanley Cup, ironically the Chicago Blackhawks' last, but will remain as the best forward duo of their era.

17. tieJoe Sakic & Peter Forsberg...Bobby Orr & Phil Esposito-Sakic & Forsberg...One was a quiet and unassuming sniper, the other was whirling Dervish with surreal puck handling skills. Sakic was the unquestioned leader of one of the most consistently dominant NHL teams of the late 1990's, early 2000's. Forsberg was a guided missile who had little regard for his own physical well being, a mentality that cost him perhaps 35-40% of his functional career. Together they piloted a Colorado Avalanche team to two Stanley Cups in 1996 and 2001. Sakic was one of the game's true gentlemen. Forsberg may eventually be thought of in the same light as Mike Bossy and Mario Lemieux as supremely talented players whose career was cut short due to injury. Orr & Esposito...Bobby orr was one of the best, if not the best, defensemen in NHL history. Only Gretzky, Lemieux, Gordy Howe, and Bossy had a higher per game scoring average than Orr. Esposito was the first player ever to score over 100 points in a season, had 13 consecutive seasons with 30+ goals, and 8th all time in career points. They paired together to win two Stanley Cups in 1970 and 1972.

18. Greg Maddux & Tom Glavine-The best 1-2 pitching punch of the last 30 years, and part of maybe the best pitching staff ever, Maddux & Glavine were surgeons. Their control set them apart, as did their combined four Cy Young awards while on the same staff, as well as one each individually. Glavine has 305 career wins compared to Maddux's 354. The Atlanta Braves won division titles every year these two played together. Maddux has a lifetime 3.12 ERA while Glavine's is 3.52.

19. Shaquille O'Neal & Kobe Bryant-Their personal blood feud grabbed headlines, their talent won three championships in a row. These two are among the best ever in NBA history and in a star studded town were larger than life. Their inability to peacefully coexist tore the Lakers apart and nearly cost them the services of Phil Jackson. There were an infinite number of other sporting duos who were on more friendly terms but few if any controlled the game of basketball like these tow did.

20. David Robinson & Tim Duncan-The direct antithesis of the O'Neal-Bryant acrimony, Robinson and Duncan had undeniable on-court chemistry. Robinson may have been the most athletic center ever and Duncan is the best power forward of this, or possibly any, era. Paired together between 1997-2003 they won two titles, including a championship sendoff for Robinson after the 02-03 season. They were arguably the best front line pair in basketball history.
UPDATE: As some have rightfully pointed out this list is totally North America centric. So in an effort to acieve maximum sport enlightenment I did a little digging and came up with a few international duos...
Pele & Garrincha-Pele is quite possibly the most gifted and dominant athlete this planet ever produced. But he had company on those epic World Cup winning squads. Garrincha, or Little Bird, was a dazzling forward who was the greatest ball handler international soccer ever saw. He is considered second only to Pele in the storied history of Brazilian soccer. A country that produced Romario, Ronaldo, Ronaldihno, Roberto Carlos, and Bebeto has yet to field a duo with the skill and smarts that Pele and Garrincha possessed. Simply put, these two might be the best 1-2 punch in the history of international soccer.
Thierry Henry & Zinedine Zidane-The straw that stirred the drink for the 1998 World Cup Champions, 2000 Euro Cup, and the runner up World Cup finish in 2006, these two dynamic offensive geniuses were one of the best pairs in WC history. Only Zidane's inexplicable head butt, and Italy's impenetrable backline, kept France from winning a seceond WC in eight years.
Ronaldo & Ronaldihno-They were lightning in a bottle during the 2002 World Cup. They combined for 10 goals and a handful of highlights. They were dynamic.
Ad blocker interference detected!
Wikia is a free-to-use site that makes money from advertising. We have a modified experience for viewers using ad blockers

Wikia is not accessible if you've made further modifications. Remove the custom ad blocker rule(s) and the page will load as expected.