Baseball uniform numbers have come a long way.
They first appeared as small numbers on the sleeves of the 1916 Cleveland Indians, as a way of identifying the players. Perhaps Tris Speaker's .386 batting average that year didn't distinguish him enough from fellow outfielder's Jack Graney and Braggo Roth. Amazingly, the numbers experiment was short lived.
(Warning: somewhat large digression, proceed at your own risk - What has happened to the art of a good nickname? Take the '16 Indians. Braggo Roth was known as The Globetrotter, pitcher Charles Smith was Pop-Boy, 3B Terry Turner was Cotton Top, and pitcher Guy Morton was simply known as Alabama Blossom. Nowadays we have A-Rod, K-Rod, and I-Rod. How unoriginal. Maybe we can start calling Tim McCarver T-Mac. Oh wait, that's already taken in sports. I guess gone are the days of the cool nicknames like The Georgia Peach, the Little Steam Engine, the Human Rain Delay, and the Mad Hungarian. And while I'm digressing did you know that the 1916 Indians home run leader was the aforementioned Graney who hit 5? And 5 of the starting 9 Indians didn't even homer once during the entire season. OK I'm done. Back to the originally scheduled column.)
In 1929, the New York Yankees decided to wear numbers on the backs of their jerseys. The numbers corresponded to each player's general position in the lineup. For example lead off hitter Earle Combs wore #1 right on down to Bill Dickey wearing #10 since he shared batting last. (By the way Combs nickname was the Kentucky Colonel and Dickey was the Man Nobody Knows.)
Visible from afar, the numbers made it easier for fans in attendance to distinguish players, and easier for radio announcers to identify players while they call a game. Other teams soon followed, and by 1932, every one of the major league teams featured numbers on their backs
Since then, there have been countless players to use all of the numbers. But who exactly is the best player to wear each number? Let's take a look.


#0 Al Oliver
One of the most forgotten about ballplayers of his generation, Oliver hit .303 and drove in over 1,300 RBI during his productive major league career .
Runner Up: None
Ozzie Smith
The Wizard of Oz flashed some of the finest glovework ever to appear on a major league diamond. Ozzie was a 14 time All-Star and league MVP in 1985. Not known for his bat, Ozzie won 13 consecutive Gold Gloves at SS.
Runners Up: Pee Wee Reese
#2 Charlie Gehringer
The Mechanical Man hit .320 with 1,427 rbi's. 9 times he finished in the top 14 for MVP. He also sported a .404 lifetime on base percentage and slugged .480.
Runners Up: Derek Jeter
#3 Babe Ruth
The Bambino is arguably the greatest baseball player or all time. If Alex Rodriguez had played his entire career with number 3, this could have become an interesting debate.
Runners Up: Alex Rodriguez (Mariners and Rangers), Jimmie Foxx and Harmon Killebrew
#4 Lou Gehrig
Gehrig is most known for his then record 2,130 consecutive games played. He also hit .340 and finished 5 rbi's shy of 2,000. He also won a triple crown in 1934 along with 2 MVP awards (1927 and 1936).
Runners Up: Paul Molitor, Mel Ott, and Luke Appling
#5 Joe DiMaggio
Joltin Joe won 3 MVP awards. He hit .325 with 361 career home runs (in an extemely spacious Yankee Stadium that featured Death Valley at 490 feet.) He made 13 all star game appearances and had the famous 56 game hitting streak. Bonus points for being married to Marilyn Monroe and being Italian.
Runners Up: Johnny Bench, Albert Pujols, Hank Greenberg, and George Brett
#6 Stan Musial
Perhaps one of the most underrated players of all time, he played in 24 all star games. Musial's career stats include 475 home runs and over 3,600 hits
Runner Up: Al Kaline


#7 Mickey Mantle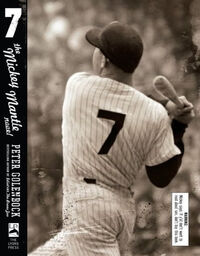 He won his jersey number in World Series rings along with mashing 536 career homers. Bonus point for his liver lasting as long as it did.
Runners Up: Al Simmons and Ivan Rodriguez
#8 Cal Ripken Jr
Ripken was an All star for every one of his 21 big league seasons. He holds the record for most homers by a SS with 431. He is a savior in the state of Maryland. Oh, and there was that little record of 2,632 consecutive games he played.
Runners Up: Yogi Berra, Bill Dickey, Carl Yastrzemski and Joe Morgan
#9 Ted Williams
Williams maybe be the best hitter to ever walk this planet. He broke down hitting to a science. He is remembered for being the last player to bat over .400 in a season and hit .344 for his career.
Runners Up: Reggie Jackson and Roger Maris
#10 Lefty Grove
Robert Moses Grove had a lifetime .680 win percentage (300 wins with 298 complete games), a career 3.06 ERA, and 2,266 strikeouts.
Runners Up: Andre Dawson and Phil Rizzuto
#11 Carl Hubbell
The Meal Ticket sported a sub 3 ERA along with 253 wins. He averaged less than one hit per inning pitched and was a 2 time NL MVP.
Runners Up: Luis Aparicio and Paul Waner

#12 Roberto Alomar
Alomar is one of the very best 5 tool second baseman. He could run (474 stolen bases), hit for power (210 home runs), hit for average (career .300 hitter), field (10 time gold glove winner) and throw. Negative point for spitting on John Hirschbeck's face.
Runner Up: none
#13 Alex Rodriguez
When all is said and done, he may become the greatest player of all time. A couple of postseason hits and a World Series title will surely help his cause as he is well on his way to becoming the all time home run leader.
Runner Up: Dave Concepcion
#14 Ernie Banks
Who would you rather have: Player A with 2, 583 hits, 512 hrs, 1,636 rbis, .500 slg, 2,528 games played or Player B with 4,256 hits, 160 hrs, 1,314 rbis, .409 slg, 3,562 games played. Player A is Mr. Cub and Player B is Charlie Hustle. Its a toss up and I'll take Banks because of character.
Runners Up: Pete Rose
#15 Dick Allen
Allen slugged .534 and hit 351 home runs. He was also a NL Rookie of the Year and MVP. Thurman Munson would have been this if his career wasn't tragically cut short at age 32.
Runner Up: Thurman Munson
#16 Whitey Ford
The Chairman of the Board boasts a .690 win percentage and 236 career wins. He was lights out in World Series play and went to 10 all star games. Had a lifetime 2.75 career era.
Runner Up: Hal Newhouser
#17 Dizzy Dean
Wasn't dominant for very long but was a center piece of the Gang House Gang Cardinals. He collected over 20 wins in 4 straight seasons including 30-7 in 1934. He was league MVP that season. He only won double digit games in 1 other season. Dean was elected into the Hall of Fame in 1953.
Runner Up: Mark Grace
#18 Ted Kluszewski
Big Klu finished his career with a .298 batting average while slugging .498 and hitting 279 home runs.
Runner Up: Mel Harder and Moises Alou
#19 Bob Feller
Feller may be known for his unique nicknames (the Heater from Van Meter and Bullett Bob), but Feller could also pitch. He is also believed to have thrown the fastest fastball on record at 107 mph. Along with the heat he managed to rack up 266 career wins.
Runners Up: Tony Gwynn and Robin Yount

#20 Mike Schmidt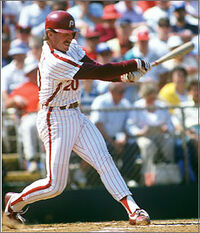 Schmidt is arguably the best third baseman ever and with 548 career home runs it's no wonder. He was one of the most feared batters in the 1980's while he drove in almost 1,600 rbis.
Runners Up: Frank Robinson, Lou Brock and Pie Traynor
#21 Roger Clemens (Red Sox and Blue Jays)
Steroids and current day events aside, Clemens is one of the best pitchers to ever toe the rubber. 4,672 strikeouts, 354 wins and a 3.12 era along with 7 Cy Young Awards.
Runners Up: Roberto Clemente, Warren Spahn, and Sammy Sosa.
#22 Jim Palmer
Palmer collected 3 Cy Young Awards as a prominent member of the Orioles. He won 268 games and had eight 20-win seasons. Fun fact: He was part of the last picthing staff to have 4 20-game winners.
Runners Up: Will Clark
#23 Ryne Sandberg
Ryno batted .285, had 282 career homers and over 1,000 rbi's. He was the 1984 NL MVP and a 10 time all star. He also collected 8 consecutive gold glove awards from 19883-91.
Runner Up: Don Mattingly
#24 Willie Mays
Some call the Say-Hey kid the best all around position player of all time. He won 12 straight Gold Gloves in the OF and went to 20 straight All-Star games. He was also a 2 time NL MVP and hit a then record for an NL player with 660.
Runners Up: Ken Griffey Jr. (Mariners), Manny Ramirez, Rickey Henderson, Tony Perez
#25 Barry Bonds
Just like Clemens, if you put the steroids issue to the side, Bonds is on the short list of best players of all time. Whatever your opinion of him is, it is clear that he was the most dominant player of his generation putting up video game like statistics. He is a 7 time NL MVP, holds the current MLB record with 762 home runs, over 2,500 walks, and is just 4 rbi's shy of 2,000.
Runner Up: Mark McGwire
With help from Baseball-reference for the statistics and Sports Illustrated.
Ad blocker interference detected!
Wikia is a free-to-use site that makes money from advertising. We have a modified experience for viewers using ad blockers

Wikia is not accessible if you've made further modifications. Remove the custom ad blocker rule(s) and the page will load as expected.