Please be sure to check out Best Baseball Players by Uniform Number: 0-25 before reading this.

Numbers define legends. Whether its 23 in basketball or 99 in hockey, greatness can often be described by the use of a single number and some clever adjectives. But no matter the sport, fans can identify these legends but just one look at the stitching on their back. And while many numbers have numerous Hall of Famers, others struggle to have just one All-Star.
So who is the best #27? There are a couple of greats that immediately come to mind. But what about #37? I dare you to even name one relevant #37 ballplayer.
#26 Satchel Paige
Paige was 58 when he threw his last pitch in the Majors! He only had a lifetime 26-31 record in the Bigs but he absolutely dominated the Negro Leagues. He claimed that he won 104 of the 105 games he pitched in 1934. If it wasn't for segregation, Paige might be known as one of the best pitchers of all time. Joe DiMaggio once said of Paige he is "the best and fastest pitcher I have ever faced."
Runners Up: Wade Boggs and Billy Williams
#27 Juan Marichal
The Dominican Dandy was known for his high leg kick and intimidating antics (clubbing Johnny Roseboro with a bat). Marichal was also a dominating pitcher sporting a career 2.89 ERA and winning 263 games. This 10-time All-Star had 52 career shutouts, which ranks him 18th all time.
Runners Up: Carlton Fisk, Catfish Hunter, and Vladimir Guerrero
#28 Bert Blyleven
The first time I ever heard Bert Blyleven's name was on Sportscenter. Chris Berman liked to call him Bert "Be home" Blyleven. That aggravates me to no end because that is basically my only memory of this future Hall of Famer (2008 perhaps?). Blyleven was best known for his nasty curve ball. He collected 287 wins, a 3.31 ERA, and almost 5,000 innings pitched. Interesting aside: He was only a 2 time All-Star.
Runner Up: David Justice


#29 Rod Carew
Carew could beat you with his bat and with his speed. He hit .328 with 3,053 hits. He also stole 353 career bases. He was the AL MVP in 1977 and went to the All-Star game 18 times (9 times as 2B and 9 times as a 1B.)
Runner Up: John Smoltz
#30 Tim Raines
Rock gets the nod here even though Orlando Cepeda was probably slightly better. Raines finished his career with 2,605 hits, 808 stolen bases (90 in 1983), 1,330 walks, and 1571 runs scored. Bonus point for having the wits to always slide head first to protect his cocaine he played with in his back pocket.
Runner Up: Orlando Cepeda, Nolan Ryan (Angels)
#31 Greg Maddux
Mad Dog basically invented how to pitch with a below average fastball and still be dominant. He perfected the 2-seam fastball that comes back over the plate against lefties and is still going strong today after 22 seasons. He has racked up 350 wins, 3,299 strikeouts, and 4 NL Cy Young's. He is also known as one of the best fielding pitchers ever (17 consecutive Gold Gloves and counting).
Runners Up: Mike Piazza, Dave Winfield, and Fergie Jenkins
#32 Sandy Koufax
With a .655 win percentage, many regard Koufax as one of the best lefties to ever pitch. His stats aren't overpowering because he only pitched for 11 seasons but he was dominant posting a 2.54 ERA or less in his last 5 seasons. He pitched over 300 innings in 3 of his 4 final seasons. He also collected 3 Cy Young's and an NL MVP award to go along with a 2.93 to 1 strikeout to walk ratio.
Runners Up: Steve Carlton, Elston Howard
#33 Eddie Murray
Murray was called Steady Eddie for a reason. An average year for Murray consisted of .287/.359/27/103. In 12 of his first 13 seasons he had over 20 home runs but never more than 32. He was the third player to collect 3,000 hits and 500 home runs. He is also the all time RBI leader amongst switch hitters with 1,917. Add that up for 20 seasons and you have a 2003 Hall of Fame inductee.
Runners Up: Mike Scott, Jose Canseco, and Joe Carter


#34 Nolan Ryan
(Houston and Texas)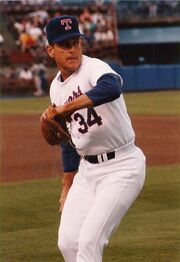 This first ballot Hall of Famer holds the record for most no-hitters (7), most strikeouts (5,714), and hits allowed per 9 innings (6.56). This workhorse started 773 career games (2nd all time) and threw over 5,000. The one knock against him is the 2,795 walks he gave up.
Runners Up: Kirby Puckett, Rollie Fingers, and Trevor Hoffman
#35 Frank Thomas
The Big Hurt has been abusing AL pitching for 18 seasons. He has hit 516 career home runs and drove in 1,695 runs. He is also a .302 lifetime hitter, which makes him a rare hitting breed of power and average. Slugging .557 is also impressive. He was one of the most feared right-handed hitter of the 90s.
Runners Up: Phil Niekro and Mike Mussina
#36 Gaylord Perry
Perry is notorious for doctoring baseballs and for making batters think he was intentionally throwing at them. He has admitted to throwing a "spitter" that led to 3,534 strikeouts and 314 wins. He also pitched over 5,300 innings and collected a Cy Young in both leagues.
Runners Up: Robin Roberts and Jim Kaat
#37 Casey Stengal
While Stengal was not a player with this number, he did manage the Yankees and Mets while wearing 37. The Old Professor had 1,227 wins between both NY ball clubs including 7 World Series titles with the Yankees.
Runner Up: Dave Stieb


#38 Curt Schilling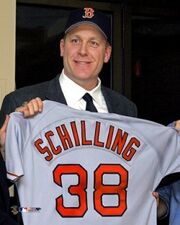 Schilling has 3,116 career strikeouts. He was a six time All-Star and was an MVP of both the NLCS and World Series. Negative point for the whole bloody sock scam.
Runners Up: Carlos Zambrano and Eric Gagne
#39 Roy Campanella
Campy never put up monster numbers because his career was cut short by an automobile accident. He was however, a 3 time NL MVP and hit 242 homers (including a then catcher record 41 in 1953). He had a rifle for an arm and was a master at handling pitching staffs.
Runner Up: Mike Greenwell
#40 Troy Percival
Percival ranks 10th in career saves with 333. He's a 4 time All-Star and a career WHIP of 1.077.
Runner Up: Don Wilson
#41 Eddie Matthews
Eddie Matthews is on the short list of best third baseman. He and teammate Hank Aaron were one of the most feared power hitting combos in history. Matthews slugged 512 home runs while driving in 1,453 runs. He also was a 9 time All-Star and twice finished second in MVP balloting.
Runner Up: Tom Seaver
#42 Jackie Robinson
Robinson transcended the game. Listing statistics here would not do the man justice. He is an American hero. His number 42 was rightfully retired around the major leagues in 1997.
Runners Up: Mariano Rivera and Bruce Sutter


#43 Dennis Eckersley
Eck took an interesting path to the Hall of Fame. He was a starter for half of his 24-year career. He posted over 150 career wins and then turned to his arm towards the bullpen. He then saved 390 games as a closer. He also struck out over 2,400.
Runner Up: None
#44 Hank Aaron
An average year for Hammerin Hank consisted of a .305 average, 37 home runs, and 113. In fact for being such a great power hitter, the Hammer never struck out 100 times in a season (his high was 97). He averaged only 68 k's to go along with the 37 home runs per season. He was a regular on the NL All-Star team 20 times.
Runners Up: Willie McCovey and Reggie Jackson
#45 Pedro Martinez
Martinez was perhaps the smallest dominant pitcher ever. He has posted a 2.81 ERA in the middle of the steroid era. He has 3 Cy Young's and 8 All-Star appearances. He averages 10.19 strikeouts per 9 innings and 3,031 k's for his career. He also has a hefty .692 win percentage and has let to lose his 100th game.
Runner Up: Bob Gibson
#46 Andy Pettite
Whatever you may think of Pettite because of the supposed steroids, he has over 200 career wins and a 3.83 ERA. He has made his mark pitching in the postseason with a 3.95 ERA and 278 strikeouts in 50 games. He also has been to 2 All-Star games and has 4 World Series rings.
Runner Up: Lee Smith
#47 Tom Glavine
Glavine may be the last pitcher of his generation to get to the elusive 300 win plateau. He got there by nibbling on the outside corner for 21 years so far. He also has 2 Cy Young's and 10 All-Star game appearances. Bonus point for a very hot wife.
Runner Up: None


#48 Torii Hunter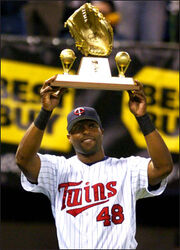 Hunter is more known for his glove work in center field than his bat. He is just 3 home runs shy of 200 however, he has a highlight reel full of spectacular catches he has made in center. He has been to 2 All-Star games (who can forget his robbing Barry Bonds in right center in 2002) and has earned 7 Gold Gloves.
Runner Up: No idea
#49 Ron Guidry
Louisiana Lightning had one of the greatest seasons ever by a pitcher in 1971. He was 25-3 with a 1.74 ERA in 273 innings. He has 5 Gold Gloves and 1 Cy Young on his mantle to go along with 4 All-Star games.
Runners Up: Tim Wakefield and Larry Dierker
#50 Sid Fernandez
OK, guilty as charged. I got really lazy with this last one. There really isn't that many #50s. It was either Sid or Matt Lawton so I'm going with Sid because those Mets pinstripes in 80s made his physique flourish. Surprisingly Fernandez ranks 3rd all time with 6.85 hits allowed per 9 innings.
Runner Up: None
With help from www.baseball-reference.com for the statistics.
Ad blocker interference detected!
Wikia is a free-to-use site that makes money from advertising. We have a modified experience for viewers using ad blockers

Wikia is not accessible if you've made further modifications. Remove the custom ad blocker rule(s) and the page will load as expected.