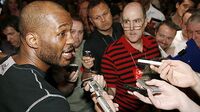 Time and time again Bernard Hopkins shows us why he is the ageless wonder.
He is 43 years old. He is a 'grand-pa' in boxing circles. He is generally regarded as the recognized light heavyweight champion, this after spending more that ten years as the middleweight king and only a year and half as a light heavyweight.
Saturday, Hopkins (48-4-1, 32 KOs) takes Joe Calzaghe (44-0, 32 KOs) for Hopkins Ring magazine light heavyweight championship at the Thomas and Mack center in Las Vegas Nevada.
For Hopkins the Calzaghe battle is a calling he always relishes. Hopkins appetite for destruction is spiced by his showmanship in the public eye. The fighter known as executioner once again gets use mind games to intimidate Calzaghe and then pull Calzaghe out his game plan.
Whether Hopkins achieves his psychological plan on Calzaghe remains to be seen, but that mental approach to not only boxing but to everything he does, has turned a once novice boxer, who lost his last professional bout to Clinton Mitchell in 1988 into a first ballot hall of famer and a partner in one of the most successful and lucrative promotional firms in sports, Golden Boy Promotions.
Addiction is a powerful habit in boxing, and it is no secret Hopkins is addicted to the world of boxing. There are countless elements that lure Hopkins into the ring and around the spectacle of fights. It could be fame, boredom, glory, money, accolades, and motivation but whatever it is defiantly potent when we see Hopkins.
Over the years Hopkins's Spartan-like approach to his profession has kept his body in the kind of physic many men young and old dream to have. Rather than look back on his career with pride, await his hall of fame calling and keep the promise he made to his mother to retire at forty he continues to regroup and prepare his body for his assault on the light heavyweight division.
Hopkins ever-lasting presence in the boxing limelight has not come without its fair share of criticism. Much has been said about his attitude and arrogance. It was not too long ago when many saw him as a bitter, ungrateful boxer who sued every promoter imaginable. In fact in the late 90's it became apparent that the intensely combative fighter viewed himself as the put upon solitary figure who rails against media scribes, announcers, and promoters who wanted him out of the spotlight.
Whatever Hopkins has done to remake his image over the last few years has worked. For starters he has made people believe him. Victories over middleweights Felix Trinidad, Oscar De La Hoya and his recent dominating wins over light heavyweights Winky Wright and Antonio Tarver has silenced doubts about him as fighter and about his character hereby spurring public adulation.
Such praise for Hopkins was evident in his two controversial losses to Jermain Taylor, the first in July of 2005 that brought an end to his twenty consecutive middleweight title defense streak. Hopkins still believes he was cheated in those losses and he has the public support from fans and media scribes that he did not have in the past.
Against Calzaghe, it is no secret that Hopkins wants to put on a show. Since December 2007 Hopkins has verbally taunted Calzaghe with such venom, a cobra would be proud of him.
To Hopkins it does not matter that Calzaghe is the favorite going into the fight. It does not matter that Calzaghe is a super middleweight menace that has held his championship for 11 years. It does not matter that Calzaghe the 36- year- old Welshman, is a faster, younger and more active puncher than him. It does not matter that Calzaghe is a warrior who has disposed great boxers such as Chris Eubanks and Mikkel Kessler.
To Hopkins this is what he lives for. To be a psychological parasite who circles the ring, draws opponents in, and methodologically punches, holds, and clinches the life out of them. Call it boring, call it cowardly but one thing is for sure Hopkins is the ultimate non conformist that no-one be it fans, promoters, fighters, and media scribes takes for granted anymore.
Win or lose, Hopkins the throwback, competitive fighter and compelling promoter remains a man to be admired, no matter how greatly he is despised.
Ad blocker interference detected!
Wikia is a free-to-use site that makes money from advertising. We have a modified experience for viewers using ad blockers

Wikia is not accessible if you've made further modifications. Remove the custom ad blocker rule(s) and the page will load as expected.