Welcome to Celtic Land!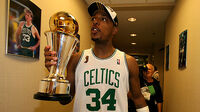 Scalpers were everywhere, but I doubt they were selling many tickets; the asking prices were insane. Some guy in front of us bought a set of tickets for 700 a piece! We heard him say the tickets were for section 308. Our tickets were in 307! My buddy and I gave each other that "should we?" look, but soon determined that the first rule of having tickets to an NBA finals game is that you do not sell tickets to an NBA finals game, and especially not a possible clincher!
Three of the four of us had arrived prior to 7:30 (9:00 clock tip off), and by 7:45 we were getting upset at the friend of ours that wasn't there yet. By eight o' clock, our conversation centered on whether or not we really liked him anyway, and exactly how much we could get for his ticket. He arrived at 8:11 and just in time to save his spot. (8:15 was his cutoff).
We hurried into the building excited to get things going, I had been ready to go for hours. At every other game I had been to this year (including game 2 of the finals), there had always been a few people wearing the other team's jersey. Not tonight! I spotted two guys in Laker jerseys all night. One of them was escorted out of the building shortly after halftime.
As we were standing in front of our seats during the introductions, I heard someone behind me say "the trophy is in the building." Obviously, everybody knew that it was, but just hearing it, and thinking about what that meant sent chills down my spine. They were so close I could feel it, and I spent the next 2 hours on my feet screaming, I had too much energy to sit down, only leaving my seat at halftime to get a $7 bud light. I apologized to the people behind me, but it was the finals; how could I sit down?!
Too Early to Celebrate?
Eddie House had just hit a killer three-pointer. Phil Jackson, perhaps sensing that momentum was slipping, called timeout. The Celtic faithful exploded from there seats and euphoria spread across the Garden. The Lakers stumbled across the court like they had just seen a ghost, and perhaps they had. Was Red Auerbach in the building?
As the Western Conference champions finally got to their bench a video of Boston's game 4 comeback began to play on the jumbotron. This immediately led to the start of the "is there any way we can purchase a DVD of Celtic Jumbo-tron videos" conversation that my buddies and I inevitably have at every game we go to. As always, we agreed that we would gladly pay at least $19.95 for such a video and wondered why the Celtics had yet to release it. As the highlight real was winding down, I looked over at the Lakers' bench and noticed that they were watching the video too. I was shocked! Midway through the biggest game of their lives, the Lakers are staring at a video of the greatest one game collapse in NBA finals history! That would be like Ben Affleck watching Gigli while shooting Good Will Hunting II. Why would he put himself through that?
I also found it interesting that none of the Lakers' bench players were paying attention to what Phil Jackson was saying in the huddle. They were nowhere near the bench! From the nosebleed section, I could clearly make out Roni Turiaf, and what looked like a seven foot tall llama, watching "the comeback" (as I will forever refer to it) from the scorers table. (I think it was Pau Gasol, but I am not sure as the Lakers are the only team in NBA history to have 2 huge white guys on the roster that both look like llamas, Pau Gasol and Chris Mihm). Two other Lakers were in the corner watching the screen, and there was at least one more wandering around by the free throw line. I am not exactly sure what he was doing there. They were all watching their collapse from just a few nights earlier, and worse yet, they did not look phased by it. They all looked like they were watching some show they did not particularly like, but were too lazy to find the remote and change the channel. (Sort of like when I watch That 70's show.)
I pointed this out to my buddy and he pointed out to me that every Celtic player was in the huddle. Even Eddie House's kid looked like he was hanging on every word. We didn't want to jinx the Celtics, so we did not talk about this any further, but it was clear at that point which team wanted to be champions and which team just wanted to go home.
Ray Allen Is Special
That day I found an NBA genie lamp last June and used my wishes to bring Ray Allen and Kevin Garnett to Boston (The Big Ticket cost me 2 wishes!), I had no idea what I was getting. I've heard people in Boston's AAA city explain that in order to truly appreciate KG's greatness, Celtic fans needed to watch him every day. However, I did not hear the people of Seattle crying about losing Ray in the same way. But I knew what the Celtics were getting; after all, not only did I wish him to Boston, but I've seen 'He Got Game' at least 3 times. What I did not know was the electricity that J. Shuttlesworth brings to a crowd every time he shoots the ball (no exaggeration, EVERY SINGLE TIME HE SHOOTS). You cannot feel it watching on TV, but when Ray tees one up, everybody in the stands is ALWAYS on the edge of their seats and if/when it swishes through, everyone always goes crazy, no matter the situation. I cannot explain it; he is unlike any other player I have ever watched.
When Ray showed off his sweet stroke in the fourth quarter, the excitement ramped up past "garden-level" to "so loud no one quite knows what to do-level." The fourth quarter was already perfect, but Ray Allen created a buzz you only hear about in stories; like only he could do.
Nah Nah Nah Nah, Nah Nah Nah Nah, Hey Heyyyyy, GOOOODBYE!!!
Nah Nah Nah Nah, Nah Nah Nah Nah, Hey Heyyyyy, GOOOODBYE!!!
I have no idea who started it, but midway through the fourth quarter, with the Celtics up by 40 (let me say it again, with the Celtics up by 40!!), everybody in the TD Banknorth Garden was singing as loud as they could possibly sing. I cannot speak for anybody else in attendance, but as I sang the victory song two things stood out most:
1) I had goosebumps the size of moon craters. This was a special moment and for the first time in my life I really felt like I was a part of history.
2) This may have been the worst sounding rendition of "kiss him goodbye" ever heard by anyone ever! Every voice in the Garden was hoarse. I lost mine in the first quarter telling Joey Crawford exactly where he could shove his whistle. And as we collectively sang and danced I imagine it sounded something like 17,000 animals dying all around us, and that only added to the experience.  (Note to P.E.T.A.: no animals were harmed in the writing of this article.)
Post Game Party!!!
Confetti is everywhere! Paul Pierce is the MVP! I am dumping water all over my friends heads! Everyone is screaming at the top of their lungs and it is finally time to celebrate! The bathrooms are filled with fans that have been holding it since halftime. Someone screams "what's next?" and an impromptu "REPEAT… REPEAT" chant is under way. The guy in line next to me says he was worried about betting on the Celtics -4! We laugh uncontrollably. We still can not believe they won by 40!
When I finally got outside, the streets were mobbed! The bars were emptying out and the riot police were everywhere! Two of my friends decide to call it a night, but Champ and I decide to join the unruly crowd. (I thought it was fitting that I hang out with a guy nicknamed Champ that night) I had never been a part of one, and Champ wanted to flip a car! (Champ had been drinking.) We made our way towards the Government Center garage where we thought we saw a fire. As we get there, the riot police "escorted" us down the street in an attempt to disband the crowd. Cops are much more intimidating up close. We joined the rest of the mob (for lack of a better word) and made our way down the street. It was impossible to ignore all of the destruction around us, but Champ seemed to love it! I do not know if destroying newspaper dispensers counts as celebration, but to each their own. Champ offered me a "free magazine" that he has just picked up off the ground. Ironically, it was an Improper Bostonian which is given out for free anyway. I declined. We finally made it to Quincy Market and were sufficiently far enough ahead of the police where we could stop moving forward. A crowd was once again forming and someone was up on a tree screaming (he eventually fell off). I am not sure how many of my cohorts were truly Celtic fans, but by then, my blood was pumping and I could not help but scream. "YEAHHHHHHH, WE DID IT!" I looked up to see champ on a turned over bench attempting to lead a cheer. Eventually the police caught up and attempted, once again, to disband the group. This time, we decided to separate from them and head out in search of an open bar.
I remembered having seen a few fans smoking victory cigars inside the garden and I was kicking myself for not having thought of bringing my own. I told Champ and he suggested we find a store 24. We spotted a couple of friendly looking police officers and asked them where it was and they point us in a general direction. Somehow, we found it, and when we got to front of the line, I ask the clerk for "two victory cigars please". He handed me two random cigars and Champ paid. The total came to $3.47. (Note: no victory cigar should ever cost more then $3, the lower quality the cigar, the more you love your team!) When we left the store, we lit them and took a moment to toast Red "these are for you Red, wherever you are" and we mean it. Some random guy ran by and told us he has just helped to flip a Saturn. We laughed, and I gave Champ a hard time for missing it. I told him Saturn were the best types of car to flip. (I had no reasoning behind this, but it did not really matter.) We both laughed and headed out to smoke our cheap cigars. Next time the Celtics win, I told him, "we are hanging out with the real fans, not those fake fans in the mob." He agreed.
Ad blocker interference detected!
Wikia is a free-to-use site that makes money from advertising. We have a modified experience for viewers using ad blockers

Wikia is not accessible if you've made further modifications. Remove the custom ad blocker rule(s) and the page will load as expected.