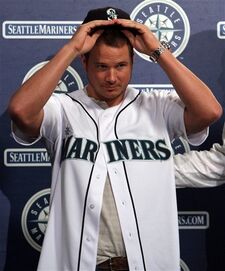 Just last Friday, the Seattle Mariners finally made their big splash this winter by trading for Baltimore Orioles's ace Erik Bedard.
The left-handed pitcher was Baltimore's opening-day starter last season but appeared to be relieved after escaping the Orioles' massive rebuilding project. In return for Bedard, Baltimore received Seattle's top outfielder prospect Adam Jones, left-handed reliever George Sherrill and three minor-league pitchers in the five for one deal.
The 28-year-old Bedard now becomes Seattle's ace for a team that nearly won the A.L. West last season. He will lead a staff consisting of 21-year-old Felix Hernandez, veteran holdovers Miguel Batista and Jarrod Washburn, and recently acquired free agent Carlos Silva. Suddenly, it appears as if the Mariners have a very formidable pitching rotation.
Bedard may not have the name recognition of a Johan Santana, a C.C. Sabathia, or even a Josh Beckett, but he still might be the A.L.'s top pitcher. Last season, Bedard's ERA was 3.16, better than Santana's (3.33), Sebathia's (3.21), and Beckett's (3.27). In fact, only three other A.L. starters with the same amount of innings pitched posted better ERAs than Bedard.
While Bedard is criticized for his poor win-loss record (15-11 in 2007), his overall record is actually better than Santana's 15-13 record. This comes even with Santana pitching for a playoff caliber team and not the last place Orioles.
Six of Bedard's eleven losses in 2007 occurred when he gave up three runs or less. In one game against the Nationals, Bedard actually hit a home run, but still didn't get enough run support. With enough run support, he could have easily won eighteen to twenty games.
Last season, he was also third in strikeouts even with his injury. If he had not been injured, he would have led the majors in strikeouts.
While the Johan Santana deal to New York gets most of the press coverage, Bedard's deal may have an even greater impact. Last season, the Mariners were just a few games away from winning the A.L. West with an average pitching staff. Now, Seattle has one of the top rotations in the entire league with Bedard, Felix, and Silva. With a healthy Bedard, the M's might take the A.L. West crown away from the Los Angeles Angels.
Ad blocker interference detected!
Wikia is a free-to-use site that makes money from advertising. We have a modified experience for viewers using ad blockers

Wikia is not accessible if you've made further modifications. Remove the custom ad blocker rule(s) and the page will load as expected.