Less than one hour before kickoff,
Giants
-
Pats
. For the first time in either recent or distant memory, I am rooting, hard, for the New Jersey Eleven to dethrone or at least derail the Pats' so far perfect season. There are numerous reasons for this, in fact a series of innumerable ones, but this is neither the time nor place to sort these matters out. Suffice it to say I detest everything Boston-related with a passion that borders on the ludicrous. I hate the friggin'
Red Sox
and their annoying Nation, the
Celtics
(it's hard to hate
Kevin Garnett
, but there's nothing wrong with hating on both
Ray Allen
and
Paul Pierce
, trust me). Hell, I might even take the British Redcoats and the over now against the Colonists in the Boston Massacre if they did it all over again.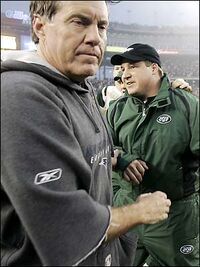 Then there's these Boston Cheatriots, with their paranoid, joyless, Nixonian coach, a confirmed steroid abuser at safety, Rodney Harrison, perhaps the league's dirtiest player, and a star QB who got one model pregnant, ditched her for a newer version, and smirks his way through life to the point where if this was a Hollywood movie, you know this guy would get this big-time comeuppance any time now.
This game featuring the 15-0 Patriots and 10-5 Giants was at first to be shown exclusively on the NFL Network -- ranking in fan popularity right behind Al-Jazeera TV. But somehow over the past few days, it was announced that this game will be broadcast over NBC, CBS, Fox News, Nickelodeon, the History Channel, the Sundance Channel and on both Food Channels. In fact, none other than Rachael Ray and Bill O'Reilly are set to man the booth in an epic battle of dueling loudmouth annoying personalities.
The Giants have two things going for them: a power running game and perhaps the league's best pass rush. With New England missing two starters on offense, their own biggest strength is in danger of being nullified -- that's right, ahead of pretty boy Tom Brady, malcontent Randy Moss, and their front seven on defense, the absolute key to this team's offensive dominance all year long is an alarmingly efficient offensive line. The first 10 games of the year Brady had more time to survey the field than perhaps any QB in the history of the game -- more than even Dan Marino in his prime with the Dolphins, or Troy Aikman with the Cowboys in their Super Bowl years, this guy is guarded more closely than President Bush visiting Iraq.
So let's see history made all right -- the end of history. With a ridiculous four covers under their belt already this season alone, most right-thinking football fans will be rooting for the underdog Giants to pull off the upset. Hopefully the rumors are exaggerated and tens of thousands of Giants season ticket holders did not sell their tickets to this game to New Englanders. But then again, what better way to enjoy this first New England loss than to see it reflected in the disappointed mugs of spoiled Cheatriot fans? Just asking...
Prediction: Giants 24, Patriots 20. www.wardensworld.blogspot.com
Ad blocker interference detected!
Wikia is a free-to-use site that makes money from advertising. We have a modified experience for viewers using ad blockers

Wikia is not accessible if you've made further modifications. Remove the custom ad blocker rule(s) and the page will load as expected.