I was recently (about a year ago) introduced to the Canadian Football League and, as a huge NFL fan, I quickly fell in love with the league.  The rules are a little different from the standard NFL rules, but the concept is basically the same as any other American Football league.  Like the Arena Football League, the CFL is all about offense.  Hence the 20-yard end zone.  It seems as though the league likes to watch the defense suffer, which is good for the average football fan.  One of the things that attracted me to the game is watching former NFL failures get a second shot at glory, including former Denver Broncos quarterback Jarious Jackson who made just one career start with Denver from 2000-2003.  Jackson is now under center for the BC Lions and has been in the league since '05.  In his five CFL seasons Jackson has thrown for 5,500+ yards and 42 TD's while posting a career QB rating of 86.7.
Jackson's Lions are battling for second (1-2; 2 points) in the West Division after their big week three win over Edmonton (1-2; tied with BC for second in Division), 40-22 yesterday.  The story of the season so far has been the two high-powered offenses of Saskatchewan (West) and Montreal (East).  I know it's still very early in the season, but this could be a potential Grey Cup matchup.
Montreal currently has the top scoring offense and defense, outscoring their two opponents thus far (Calgary and Edmonton) 90-43.  The team's offense, led by 36-year old QB Anthony Calvillo, put up 40 in their week one matchup with the Calgary Stampeders and 50 against the Edmonton Eskimos.  Calvillo, a three-time CFL all-star ('02. '03, '08), has been in the league since 1994, combining for a career 58,674 passing yards, 323 TD's and a QB rating of 93.5 in his 15 seasons.  Last season he became the league's second all-time leading passer and later became the fourth player in CFL history to throw for 300+ touchdowns.  Despite his valiant efforts, the Montreal Alouettes lost in the Grey Cup, 22-14.  But, this year marks a new begining for the veteran QB and so far it looks like his team has a great shot at capturing the 97th Grey Cup.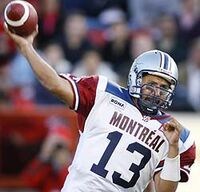 In tomorrow's inevitable offensive-domination, Calvillo will be up against the Saskatchewan's fiesty defense, which managed to hold Jackson's BC Lions to just 24 points in their week one matchup (Friday, July 3).  The Rough Riders have allowed sixty points, good enough for third overall (first in West Division).  The Rough Rider quarterback, Darian Durant, who spent half the pre-season competing for a spot on the Baltimore Ravens roster in 2005, but didn't make the cut and has been in the CFL since '06, is hungry for his first Grey Cup title (won one in '07 with the Rough Riders but he didn't take a single snap all season).  Inexperience in the league will eventually catch up to this youngster though, especially when playing against the league's top defense in Montreal, who have recorded eight sacks in two games (good enough for second most in the league).  Against Calgary, Montreal limited the team to a combined 54 yards on the ground with a forced fumble, and allowed just one total touchdown to Edmonton the following week.
Durant will have to limit turnovers and really air the ball out against the Alouettes, preferrably to the young and durable slot back, Weston Dressler, who managed 154 yards on seven receptions a couple weeks ago.  The former undrafted Minnesota Vikings running back Hugh Charles will add an option out of the backfield for the McNabb-like Durant, who is a threat with his legs as well.
Unfortunately for Saskatchewan, Montreal is just a far more superior team, in my eyes, and will keep head coach Ken Miller and Durant's offense to under thirty points in this offensive overload matchup tomorrow evening.  Game time will be 3 PM ET and, thanks to ESPN360, people like me will actually be able to watch this game while it is happening.  Thank goodness for 21st century technology!
Oh and don't worry, I hope to bring you more CFL coverage as the season continues to unravel..Someone's gotta help SSR out a little with this stuff.
Ad blocker interference detected!
Wikia is a free-to-use site that makes money from advertising. We have a modified experience for viewers using ad blockers

Wikia is not accessible if you've made further modifications. Remove the custom ad blocker rule(s) and the page will load as expected.