Discombobulated Way to Open a Season
The 2008 major league baseball season opens in Japan next Tuesday at 6:05 AM Eastern time when the A's and Red Sox play Tuesday and Wednesday at the same time both days. I understand that the two teams need time to recover from such a long trip before opening the season but can't understand why 75 exhibition games would be played after the opening game of the season.
To me this seems like a very discombobulated way to open a season since after the games on Tuesday and Wednesday there is not another regular season game till Sunday night when the Braves play the Nationals. Despite the long trip the Red Sox and A's will be playing the Dodgers and Giants respectively on Friday in exhibition games so they only get one day off after the games in Japan.
So the season will start on Tuesday and Wednesday but there won't be a full slate of regular season games till Monday of the next week except the Red Sox and A's will be off that day. It also seems strange that the Braves would play only one game in Washington then play again the next day in Atlanta while Washington travels to Philadelphia. Only Bud Selig would approve of this idiotic way to open a season. Selig is supposed to retire in 2012 but with our luck he will change his mind again and we will be stuck for years to come with a commissioner that has no clue what he is doing.
"Balco" Bonds Doesn't Want to Retire: Player's Union Looking Into Collusion
Barry "Balco" Bonds has stated that he isn't ready to retire. He may have no choice in the matter since no team has signed him with the regular season opening in five days. I think it is more than his legal problems keeping him out of baseball so far this spring. He is a one dimensional player now that only has two of the five tools that the best players possess. He still can hit and hit with power but cannot play in the field or run the way he used to.
Don Fehr is investigating to see if the owners have conspired to keep Bonds out of baseball. Only a few teams have even mentioned that they may be interested in Bonds. Tony LaRussa expressed an interest in signing Bonds but the Cardinals front office brought a screeching halt to that idea. Rays were mentioned as a possible team for Bonds but that didn't pan out either.
His goals of reaching 3000 hits and 2000 RBI's probably will never be reached now. His use of steroids probably played a big part in him not reaching 3000 hits. Because the pitchers were terrorized by his home run power they didn't pitch to him and in a four year period from 2001 to 2004 he was walked 755 times. In 2000 he walked 117 times before his 2001 season when he hit 73 home runs. If he had walked 117 times each of those four years he would have walked 468 times.
That would have given him 287 extra at bats over those four years which would have been enough at bats to pick up his 65 hits he now needs to reach 3000. So while the steroids may have helped him pass Hank Aaron they prevented him from reaching 3000 hits because he was walked so often. Last season he walked 132 times in 126 games.
Even as a two tool player Bonds is probably better than a lot of players on major league rosters because of his power but it looks like no team wants to allow Bonds and his media circus into their clubhouse. I still would not be surprised to see a team sign him but for the first time in years they will decide the terms of his contract not Bonds since Bonds has goals he knows he can't reach sitting at home watching baseball on television.
Fehr will have problems proving collusion by the owners. I think it more of a case of teams not wanting a two tool player that has so much baggage he could fill up a Greyhound bus with it all.
Around the Bases
Jim Thome hit his third and fourth home runs of the spring and drove in 6 runs in the 10-10 tie with the Rockies yesterday. He is now leading all spring training players with 15 RBI's....Hunter Pence is having a good spring hitting .352 and slugging .648 and his 13 RBI's places him in a six way tie for second behind Thome.
Josh Hamilton is leading in hitting this spring with a .556 average among players with at least 30 at bats....Bartolo Colon has been sent by the Red Sox to their minor league camp. Colon had a 16.87 ERA and allowed 5 runs, 5 hits and 4 walks in 2 2/3 innings so it was no surprise he was sent down....Mets sent down Fernando Martinez but after hitting .340 this spring he may be back again before too long. They also sent down Tony Armas Jr. who didn't throw a pitch for Mets during exhibition season since he was not even listed among pitchers with spring statistics for the Mets.
It has been a typical spring for Mark Prior with him not even throwing a pitch in a game for the Padres. It seems like we are constantly reading about how Prior is rehabbing. He hasn't even pitched in the majors since 2006 and in those 43 innings that year he walked 28 batters....Now Kerry Wood is experiencing back spasms but it is not considered to be a major problem. It wouldn't be spring without writing about the latest Prior and Wood injuries.
Rich Harden 1-2 pitched well despite taking the loss in the A's 6-1 loss to the Angels. Harden pitched 6 innings and allowed 2 runs in the loss. After Harden left the game Vladimir Guerrero hit a grand slam off of reliever Keith Foulke....Jamie Moyer 1-2 took the loss despite pitching well against the Rays. Moyer only gave up one earned run while pitching 5 2/3 innings but the Phillies could only muster a double and two singles in the contest. Edwin Jackson pitched well also for the Rays and gave up one earned run and three hits in 5 2/3 innings.
Red Sox slipped into last place in AL this spring with a 8-12 record and .389 winning percentage and seven games behind the Rays who are 14-4 with a .778 winning percentage....Brewers and Mets and Marlins lead the NL standings but the Marlins are 15 percentage points behind the Brewers and Mets.
Players From the Past: Rube Waddell
Rube Waddell was probably the wackiest player to ever play baseball. However he was still good enough of a pitcher to be voted into the Hall of Fame. Hall of Famer Walter Johnson has said that Waddell had more sheer pitching ability than any pitcher he had seen so despite his wackiness he was a very good pitcher.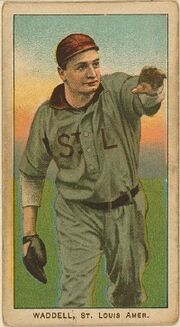 Waddell was born in Bradford, Pennsylvania on October 13, 1876. Waddell was not enamored with money and his manager Connie Mack paid him $2500 in one season and gave Waddell the money in $10 increments.
Waddell would sometimes be late for games because he would be playing marbles with kids. He also had a penchant for chasing fire trucks and sometimes would leave the mound to chase a fire truck. Sometimes he would disappear and not show up till weeks later and give the managers catfish as a peace offering.
During the offseason he would wrestle alligators for a circus. He won 27 games in the 1899 season with GrandRapids-Colombus team in the Western League. He would show up at the games in street clothes minutes before the game and walk through the stands He liked red hots and picking fights with the fans.
When fined for $100 by one manager he asked why he was fined and the manager replied "It was for that disgraceful hotel episode in Detroit" and Waddell said "You're a liar there ain't no Hotel Episode in Detroit."
Waddell was known to pack pistols when traveling on the road to other cities and threatened to shoot his manager full of holes.
Waddell once pitched a 17 inning game which he won by hitting a triple and then pitched the second game of the doubleheader and winning that game too. After saving the lives of two duck hunters he was reported to have saved the lives of thirteen people as he developed an affinity for saving lives. One time after hearing a cry for help he jumped into the water and saved the life of a passing log.
He also dabbled in acting but since he couldn't remember his lines was allowed to improvise during the play using whatever lines he would come up with in his head.
Once Ossie Schreckengost complained to management about Waddell eating crackers in bed so a clause was inserted into his contract that prohibited him from eating crackers in bed. This was back in the day when players shared the same bed.
He was also charged with bigamy because he forgot to divorce his first wife. He was a very heavy drinker and once passed out on the mound after giving up a home run.
Despite all his shenanigans Waddell was one of the best pitchers in the history of baseball. He set the strikeout record for a season in 1904 when he posted 349 strikeouts. Sandy Koufax broke that record with 382 strikeouts in 1965. Since 1900 only Koufax, Nolan Ryan and Randy Johnson have had more strikeouts in a single season.
In 1905 he had an ERA of 1.48. His lifetime ERA of 2.12 places him 10th on the list and surprisingly Babe Ruth is No.14 with his lifetime ERA of 2.28. From 1902 to 1905 he won 97 games. In 1905 he gave up only 231 hits in 328 innings. He won 20 games four times and won 19 games twice.
As a batter he hit 4 home runs and drove in 83 runs and hit 10 triples which is 10 more than Johnny Estrada has hit.
Due to pitching in the deadball era Waddell gave up only 37 home runs in 13 seasons. His drinking didn't affect his pitching but his fielding was terrible if he showed up drunk for a game. He made 15 errors in 1905. He only won 193 games and lost 143 but if anyone who didn't win 300 games deserved to be in the Hall of Fame it was Waddell and he was inducted into the Hall of Fame in 1946 which was 36 years after his last game.
Waddell died in San Antonio, Texas at the age of 37 on April 1, 1914 which was 94 years ago. Waddell may have been the flakiest flake to ever play baseball but he still left behind a legacy of being one of the greatest pitchers in baseball history.
Ad blocker interference detected!
Wikia is a free-to-use site that makes money from advertising. We have a modified experience for viewers using ad blockers

Wikia is not accessible if you've made further modifications. Remove the custom ad blocker rule(s) and the page will load as expected.