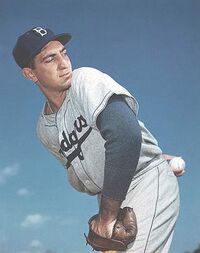 Ralph Branca was born on January 6, 1926 in Mount Vernon, New York. He pitched his first Major League game on June 12, 1944. He played in his last game on September 7, 1956.
Branca had won 21 games in 1947 but he will always be remembered as the pitcher that gave up the game winning home run to Bobby Thomson on October 3, 1951 that sent the San Francisco Giants to the World Series with the three run home run by Thompson in the bottom of the ninth inning. It was a best of three series and Branca had already given up a home run to Thomson in Game 1.
With the Giants winning the game, they erased a 13 1/2 game Brooklyn Dodgers division lead that they had in August, and finished the season tied with the Dodgers compiling a 37-7 record to end the season.
This video shows Thomson hitting the home run that shattered the dreams of the 1951 Dodgers going to the World Series:
http://www.youtube.com/watch?v=lrI7dVj90zs&feature=related
While the Giants were celebrating the game winning home run, Ralph Branca was in agony and extremely depressed. Branca illustrates as well as anyone what the agony of defeat can do to a player.
Recently, there have been some allegations that Thomson knew what the pitch was going to be before Branca threw it. This story from espn.com goes into more detail about whether the Giants were stealing the signs on that fateful day:
http://espn.go.com/classic/s/2001/0201/1054936.html
Branca had won 76 games at the end of the 1951 season but in the ensuing four years he was able to post only 12 more wins which was one less win than he won in the 1951 season.
I remember when he appeared on the Concentration game show on television in 1958 when he won 17 games. He became close friends with Bobby Thomson in later years.
Branca would not have been called into the game, but when Carl Erskine bounced a throw in the bullpen while warming up manager Charlie Dressen called in Branca and the rest is history. Branca is 84 today but doubt if many days have gone by in his life when he doesn't think of that home run heard around the world in 1951 and if he doesn't think about it some member of the media probably does.
It seems logical that Branca should have walked Thomson loading the bases and faced the on deck hitter Willie Mays, who was a rookie that season, and even a walk wouldn't have given up the winning run. It is easy to second guess 57 years later what should have been done that day but those decisions had to be made that day and with not a lot of time to ponder those decisions.
Ad blocker interference detected!
Wikia is a free-to-use site that makes money from advertising. We have a modified experience for viewers using ad blockers

Wikia is not accessible if you've made further modifications. Remove the custom ad blocker rule(s) and the page will load as expected.