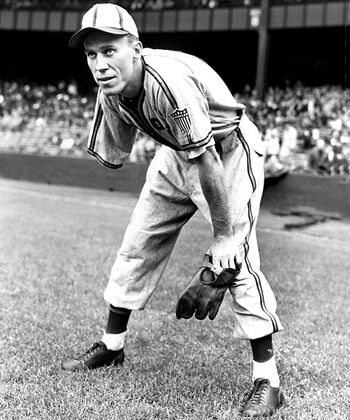 Pete Gray was born on March 6, 1915 in Nanticoke Pennsylvania. He made his Major League debut on April 17, 1945, making him 30 years old when he played his first game. He played his final game on September 30, 1945 and died in Nanticoke at the age of 87 on June 30, 2002.
The thing that distinguished Gray from other players was that he had lost his right arm in an accident when he was a child. He attracted the attention of the St. Louis Browns when he hit 5 home runs, hit .333 while, and stole 68 bases for Memphis of the Southern League in 1944.
The Browns signed him for the 1945 season, and in that season, he hit .218 and hit 13 doubles and 4 triples while stealing 11 bases.
When fielding the baseball, he would be able to move the ball from his glove to his throwing hand in one smooth motion. Being naturally righthanded, he had to learn to hit and throw from his left side.
Hitting became a real problem when pitchers figured out he couldn't adjust his swing in time to hit curve balls so he saw a lot of curveballs. Some of his teammates on the Browns thought the presence of Gray on the team kept the Browns from repeating their AL championship of 1944.
Gray was not a great baseball player by any means, but his courage means more than any meaningless stat. For one major league season, he got to live the dream a lot of us would like to live and nobody could ever take that away from him. To his credit though he was the MVP of the Southern League in 1944.
If not for the loss of his right arm, Gray may have been one of the better players on a major league team.
It has been reported that he became a recluse after finishing his baseball playing days.
In his book Even the Browns his manager Luke Sewell wrote:
"He (Gray) didn't belong in the major leagues and he knew he was being exploited. Just a quiet fellow, and he had an inferiority complex. (They) were trying to get a gate attraction in St. Louis."
Hopefully most people who saw him play didn't think of him as a sideshow but as a 30 year old man who wanted to play major league baseball and put in the work it took to make it if even for only one season because by next season players were streaming back into the majors after VJ Day.
Ad blocker interference detected!
Wikia is a free-to-use site that makes money from advertising. We have a modified experience for viewers using ad blockers

Wikia is not accessible if you've made further modifications. Remove the custom ad blocker rule(s) and the page will load as expected.