The Washington Nationals are the only team in the majors with a 2-0 record right now, after blowing a 6-2 lead and coming back to win 11-6 over the Philadelphia Phillies. Jimmy Rollins tied the game in the seventh with a two run home run showing how little spring training stats mean (having a dreadful spring), as did Chase Utley, who homered in the game. Tom Gordon showed he is not nearly the closer that Brett Myers was last season by giving up 5 runs, 4 hits and a walk in a third of an inning and finished the game with a 135.00 ERA.
Tom Glavine pitched well last night for the Atlanta Braves but didn't get the decision, as the Pittsburgh Pirates won 12-11 in 12 innings. Xavier Nady and Nate McLouth combined to have a 7 for 12 night with 2 home runs and 8 runs batted in during the game. Five of the Braves relievers in the game gave up runs which could be a sign the Braves' bullpen is shaky at best. Those five relievers left the game with an ERA of 5.40 or higher with Manny Acosta having an ERA of 54.00 after the game after giving up two home runs.
The Tampa Bay Rays showed a balanced attack in their 6-2 win over the Baltimore Orioles. Akinori Iwamura was the only Rays starter who failed to get a hit. Dioner Navarro had three hits to lead the Rays. James Shields (1-0) only struck out two, but that made no difference since he pitched well. The Cleveland Indians took an early 7-2 lead, but let the Chicago White Sox come back into the game when they tied it in the seventh inning at 7-7 before winning the game 10-8. Jim Thome hit his 508th and 509th home runs in the game. Thome only has 1927 hits, but his passing the 500 home run mark and adding to it in the next couple of years should help him get enough votes for the Hall of Fame. Both starters were rocked as Mark Buehrle gave up 7 runs and 7 hits in 1 2/3 innings, and C.C. Sabathia gave up 5 runs and 6 hits in 5 1/3 innings.
It was only one game, but Royals fans have to be heartened to see the Kansas City Royals battle the Detroit Tigers until they came away with a 5-4 win. Miguel Cabrera homered in his first game as a Tiger. The Tigers should do better in upcoming games since the leadoff hitter, Edgar Renteria, and the No. 2 hitter Placido Polanco were a combined 1 for 11 in the game. Polanco was 0 for 6 in the game.
The Milwaukee Brewers and Chicago Cubs were scoreless after eight innings, but both teams scored three runs in the ninth inning, including a three run homer by Kosuke Fukudome, another player who hit a home run in his first game on a new team. He reached base every time he batted, having a 3 for 3 day with a walk in his debut in the United States. Derrek Lee and Felix Pie had the only other hits for the Cubs. Ben Sheets and Carlos Zambrano both pitched into the seventh inning without allowing a run. Eric Gagne blew the save when he gave up the three run homer to Fukodome then took the win when Tony Gwynn Jr. hit a sacrifice fly to give the Brewers a 4-3 win.
Brandon Webb (1-0) pitched six innings of three hit baseball as the Arizona Diamondbacks emerged victorious over the Cincinnati Reds by a 4-2 score; the Reds only managing three hits. Aaron Harang and Webb both gave up two earned runs in the six innings they pitched, and both left the game with identical 3.00 ERA's. Johan Santana (1-0) pitched the New York Mets to a 7-2 win over the Florida Marlins as he allowed only two runs in seven innings and struck out eight. David Wright hit two doubles, including one that drove in three during a six run inning for the Mets. Brad Penny (1-0) pitched the Los Angeles Dodgers to a 5-0 win over the San Francisco Giants pitching 6 2/3 innings of scoreless baseball. Barry Zito was rocked when he allowed 4 runs and 8 hits in 5 innings. This looks like a long season for the Giants after their ace was rocked in the first game of the season.
Erik Bedard didn't get the win, but showed that his spring numbers meant nothing, as he allowed only one run and three hits to the Texas Rangers in their 5-2 win. Kevin Millwood pitched well also in a losing cause as gave up no earned runs in six innings. Livan Hernandez (1-0) may have thrown some pitches only 59 MPH, but it didn't matter as he and the Minnesota Twins defeated the Los Angeles Angels 3-2. The Angels had only one double to go with eight singles in the game.
Jake Peavy (1-0) defeated the Houston Astros 4-0, holding them scoreless on 3 hits in 7 innings. Peavy had only one hit in the contest, but he did drive in 2 runs.
Home Runs of March 31, 2008
Today's Games
Kip Wells, who was 7-17 for the St. Louis Cardinals in 2007, is the surprise opening day pitcher for the Colorado Rockies. Kyle Lohse, who (until recently) was a player without a team, will make the start for the Cards; he had a combined 9-12 record last season for the Cincinnati Reds and Philadelphia Phillies, and has not had a winning record since 2003 with the Twins.
Some of the best matchups today will be when Daisuke Matsuzaka and Joe Blanton face each other again in Boston this time instead of Japan. The Toronto Blue Jays will have Roy Halladay on the mound against Chien-Ming Wang this afternoon in Yankee Stadium.
Players From the Past: Ted Kluszewski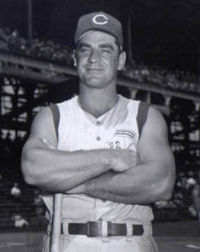 Ted Kluszewski was born in Argo, Illinois on September 10, 1924. He died in Cincinnati, Ohio on March 29, 1988 at the age of 63. His major league debut was April 18, 1947 and his final game was on October 1, 1961.
Big Klu hit 171 of his 279 home runs during the 1953-1956 seasons, hitting 40,49, 47 and 35 during those years. He was one of the few sluggers in baseball history to seldom strike out during his career. He struck out only 365 times in 5929 at bats during his 15 year career.
In 1954, while with the Cincinnati Reds, he led the NL in home runs and runs batted in with 49 home runs and 141 runs batted in. In 1955, he led the league in drawing intentional walks with 25. which Klu was a four time NL All-Star, but mainly because of his power and fielding ability. He was not a speedster, as he had only 20 stolen bases during his career.
He was traded by the Reds to the Pittsburgh Pirates for Dee Fondy in 1957. He hit only 6 home runs for the Pirates before they traded him in August of 1959 to the Chicago White Sox for Harry "Suitcase" Simpson and minor leaguer Bob Sagers. He only hit 2 home runs in the short time he was with the White Sox in 1959, but went on to hit 3 home runs in the 1959 World Series for the White Sox and drove in 10 runs in the six game World Series loss to the Los Angeles Dodgers. He never struck out during the World Series in 23 at bats and hit .391 and slugged .826.
The White Sox defeated the Dodgers 11-0 in Game 1. Klu homered in that game and Sandy Koufax pitched in relief in the fifth inning. Klu homered twice and drove in five runs in the win. The Dodgers won games 2, 3, and 4. The White Sox came back to win Game 5 by a 1-0 score. Bob Shaw outpitched the Dodgers starter Sandy Koufax when Nellie Fox scored when Sherm Lollar hit into a double play. In Game 6 Klu hit another home run in the 9-3 loss to the Dodgers. Klu hit 3 of the 4 White Sox home runs in the 1959 World Series.
Marty Schwab, the Reds groundskeeper, discovered Kluszewski when he saw him hitting balls further than the Reds on the Major League team had hit. The Reds had been forced to train at Indiana University due to wartime travel restrictions so that is how he was using the same field as the Reds.
Klu cut off the sleeves of his uniform because he said his biceps were so big that it restricted his swing. The Reds weren't happy about it, but let him leave the sleeves off. One of his most notable achievements was when he hit 47 home runs and struck out only 40 times in 1955. As stated before, he was no slouch in the field either, leading the NL first basemen in fielding percentage five straight years.
Kluszewski hit two home runs in the first game ever for the Los Angeles Angels. Other highlights of his career include having his No. 18 retired by the Reds, joining other Reds such as Joe Morgan, Johnny Bench, Sparky Anderson, Frank Robinson, Dave Concepcion, Tony Perez, and Fred Hutchinson. He also has been honored with a statue erected at the Great American Ballpark and can be seen with this link:
http://reds.enquirer.com/2003/03/27/klu.html
Kluszewski doesn't have Hall of Fame numbers, but his memory will live on in the hearts of Reds fans everywhere who will remember the big man with biceps too big to fit into an ordinary uniform.
In closing this is a quote from Kluszewski found at baseball-almanac.com:
"How hard is hitting? You ever walk into a pitch-black room full of furniture that you've never been in before and try to walk through it without bumping into anything? Well, it's harder than that." - Ted Kluszewski (1978)
Ad blocker interference detected!
Wikia is a free-to-use site that makes money from advertising. We have a modified experience for viewers using ad blockers

Wikia is not accessible if you've made further modifications. Remove the custom ad blocker rule(s) and the page will load as expected.