Roger Clemens has been caught in one lie after another lately. It started with his denials of using steroids and his misremembering before the steroids committee in Washington. Then he files a defamation suit against his former trainer, Brian McNamee, and since the story broke about his affair with Mindy McCready, he has no more character to defame.
He has defamed his character enough on his own without any help from Brian McNamee. Then as soon as the McCready story breaks out in the open, Angela Moyer and Paulette Dean Daly join the list of women he had affairs with. It makes you wonder how many other women Clemens has hiding in his closet that still have not been discovered.
Clemens needs to do some serious damage control starting with him dropping the defamation suit which he would probably lose now anyway and with these latest allegations it would be a media circus of the first magnitude if it is actually held. Clemens has practically become a recluse since his testimony in Washington, except for a short stint working with Minor Leaguers in Spring Training.
Now Clemens has issued an apology for his mistakes in the past with the other women in his life. I think it was more of an apology because he was caught than actually being repentant. All he has done is make it even more plausible that he did use steroids and try to cover it up with his indignant denials on "60 Minutes".
Ever since Roger Clemens beaned Mike Piazza in 2000, I have had little respect for Clemens. He couldn't stand the fact that Piazza had hit a grand slam off of him a month earlier, so he retaliated. Worst of all, Piazza was hurt enough that he missed the All-Star game because of the beaning.
Then, to top it off, when Clemens sawed off Piazza's bat with a pitch in the 2000 World Series, Clemens threw part of the bat in the direction of Piazza who is running down the first base line. That, to me, showed Clemens had no remorse whatsoever for beaning Piazza and was still in full retaliation mode. I found a video online that shows exactly what happened (from Roger Clemens' perspective, on 60 minutes), and there were also some photos down below.
Here's a link to the video.
Here are some of the pictures I found: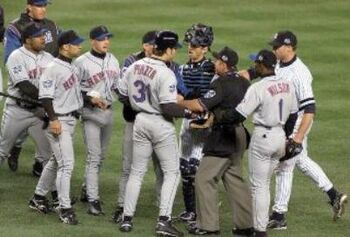 I have a feeling that somewhere out there, Piazza is enjoying the demise of Clemens, but then again, I remember Piazza having so much class that he is probably sympathetic towards the plight of Clemens.
If Clemens let his wife be injected with steroids, then it goes without saying that he was already using them himself. His classic line that Andy Pettitte misremembered what they had discussed about steroids was only another lie by Clemens to cover up his steroids use.
In the coming months, as the FBI investigates Clemens to see if he lied before the congressional committee on steroids, we may see further disintegration of his character. It has reached the point that we can almost say that the only time Clemens isn't lying is when his lips are not moving.
If only Clemens had lived his life by the famous Sir Walter Scott quote "Oh what a tangled web we weave when first we practice to deceive" he could have avoided this whole situation. Clemens has deceived major league baseball, congressional committee, the fans, and his wife and family so his life is a lie of monumental proportions and we may be only touching the surface of deception he has left behind.
Ad blocker interference detected!
Wikia is a free-to-use site that makes money from advertising. We have a modified experience for viewers using ad blockers

Wikia is not accessible if you've made further modifications. Remove the custom ad blocker rule(s) and the page will load as expected.