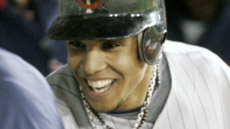 Carlos Gomez started his game with the Chicago White Sox with one homer and 8 RBI's in 111 at bats, but last night he became the first Twin to hit for the cycle since 1986 when Kirby Puckett accomplished the feat 22 years ago. Hitting for the cycle and hitting 3 homers in a game are rare events but both happened today with Joey Votto hitting 3 homers yesterday.
Gomez, obtained from the New York Mets in the Johan Santana trade, hadn't hit that well this season, batting only hitting .261 coming into the game. However, he finished the game with a .282 average. Gomez has only 18 home runs in the Minors in 4 seasons, but has blazing speed. In 2005, he stole 64 bases, and the following season he stole 41 bases. He won't be 23 years old till December. Gomez is tied with Jacoby Ellsbury and Ichiro Suzuki for the AL lead in stolen bases.
The Minnesota Twins won the game behind a 16 hit attack and the pitching of Livan Hernandez (5-1), while Mark Buehrle (1-4) lost his fourth decision in a row, while his ERA ballooned to 5.31.
Below is a link to Hawk Harrelson doing the commentary on this video as Gomez hits for the cycle.
http://mlb.mlb.com/media/video.jsp?mid=200805082661559
Joey Votto Hits Three Homers In Reds Seven Home Run Attack
Joey Votto showed yesterday that the future is now for him with the Cincinnati Reds after homering three times and driving in four runs. With the Reds entrenched in last place and eight games behind the first place St. Louis Cardinals, they needed a game like this as they trounced the Chicago Cubs 9-0.
Not only did Votto hit the three homers, they also got a sterling pitching performance from Edinson Volquez (5-1), who allowed the Cubs four singles in seven innings and lowered his ERA to a microscopic 1.06.
Volquez is the only Reds starter with more than 2 wins, with Johnny Cueto having the 2 wins and Aaron Harang and Bronson Arroyo having a combined record this season of 2 wins and 9 losses. However, Harang has a respectable 3.09 ERA. On the other hand, Arroyo has been hammered this season and has an ERA of 8.63.
Votto and Volquez may become known as the Killer V's if they keep playing this way. Votto was overshadowed by Jay Bruce while in the Minors but Votto is getting it done in the majors while Bruce is still in the Minors.
http://cincinnati.reds.mlb.com/media/video.jsp?mid=200805072656947
Around the Bases
Cliff Lee (6-0) pitched the Indians to a 3-0 win over the New York Yankees, and lowered his ERA to 0.81, while Chien-Ming Wang (6-1) abosorbed his first loss in the 35th game of the season for the Yanks. Lee has allowed only one homer in 44 innings, struck out 39, and walked two batters. Lee, who was 5-8 last season with a 6.29 ERA, didn't win a game last season after July 1st.
The Oakland A's tied the Los Angeles Angels for first place in the AL West with their 6-5 win in 10 innings against the Baltimore Orioles, who have lost five in a row. Mark Ellis hit the game winning walk-off homer in the bottom of the tenth inning. George Sherrill blew his first save of the season for the Orioles.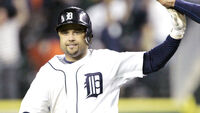 Jonathan Papelbon blew his first save this season, as the Boston Red Sox lost to the Detroit Tigers 10-9. The Tigers had 18 hits in the contest, with 16 of them being singles and two of them being doubles. Placido Polanco had five hits to lead the Tiger attack. Polanco started the game hitting .238, and by the end of the game he was hitting .270. His average has risen 130 points since April 24th when he was hitting .140.
The Toronto Blue Jays defeated the Tampa Bay Rays 6-2 behind the pitching of Shaun Marcum (6-2), despite a good pitching effort from Matt Garza (1-1), who allowed only one run in 6 2/3 innings. Three Rays relievers gave up five runs in the final 1 1/3 innings wasting the good start by Garza.
Zack Greinke (4-1) gave up the most runs in a game this season, allowing three runs in 7 innings, but was still the winning pitcher. In his last start, he gave up two runs in 7 innings and took the loss. The Kansas City Royals won 9-4 yesterday, as Jered Weaver (2-5) allowed 8 runs and 10 hits in 3 1/3 innings. Weaver was thought to be the pitcher they could count on with John Lackey and Kelvim Escobar on the disabled list, but it has been Joe Saunders and Ervin Santana (both with 6 wins each) who have carried the Angels.
Vicente Padilla (5-2) pitched the Texas Rangers to a 2-0 win over the Seattle Mariners, while Erik Bedard (2-2) took the loss despite allowing 2 runs and 2 hits in 7 innings, but the Mariners could only muster 2 singles in the game. Bedard finished the game with a 1.99 ERA.
The New York Mets clobbered the Los Angeles Dodgers 12-1, as John Maine (4-2) took the win and drove in two runs in the 13 hit attack. Brad Penny (5-3) took the loss, allowing 10 runs and 10 hits in 4 2/3 innings. The Dodgers had been scoring over 8 runs a game when Penny pitched but last night that wouldn't have been enough for a win.
The Atlanta Braves defeated the San Diego Padres behind the pitching of Tim Hudson (5-2) by a score of 5-2. Chipper Jones had two hits to raise his average to a major league leading .429.
Barry Zito (0-7) extended his lead over seven Major League pitchers, who have lost 5 games this season, but pitched his second best game of the season in the 3-1 loss to the Pittsburgh Pirates. Phil Dumatrait (1-1) took the win, pitching 5 2/3 scoreless innings. Xavier Nady took over the NL RBI lead with 34 after hitting a 2 run homer.
Burke Badenhop and the Florida Marlins (1-2) defeated the Milwaukee Brewers and Dave Bush (6-2), as the Brewers lost their 5th game in a row, and their 7th in the last 10 games.
Carlos Lee hit a walkoff single to defeat the Washington Nationals 4-3. Lance Berkman hit his 11th homer of the season. Berkman was hitting .303 at the end of April, but after having 14 hits in 21 at-bats in May, he has raised his average to .361. In April, he only had 1 homer and 8 RBI's in the entire month, but he already has 3 homers and 8 RBI's in his first 5 games in May.
The St. Louis Cardinals were ahead of the Colorado Rockies 3-0 entering the 8th inning, but the Rockies scored 4 times in the bottom of the eighth to take a 4-3 win. Rick Ankiel, who had thrown out two runners at third base the day before he was thrown out at second by Willy Taveras.
Micah Owings was 1 for 3, bringing his average down to a (still) phenominal .417 after hitting a double pitched a quality start, but didn't get the loss in the Philadelphia Phillies' 5-4 win over the Arizona Diamondbacks. They remained 5 percentage points behind the Florida Marlins as the top four teams in NL East all won yesterday. Ryan Howard continued to struggle with an 0 for 4 game. He has 3 hits in 24 at bats for an average of .125 in May after hitting .168 in April and is hitting .163 for the season. Howard didn't hit his 6th homer till May 6th last season so with 6 now he is not that far behind the pace of last season but he was hitting .200 on May 6th last season.
Looking at Amateur Drafts of the Past
Matt Bush, the No. 1 pick of the 2004 amateur draft, has hit so bad since being signed by the Padres that he has been converted into being a pitcher. In 722 Minor League at-bats, he has a total of 3 homers, a .219 batting average, a .276 slugging percentage, and an OPS of .570.
Since becoming a pitcher, Bush is 1-0 with a 1.25 ERA and has struck out 16 in 7 2/3 innings. Before Bush ever played a game he was involved in a fight at a nightclub in Arizona not exactly the way to impress the organization.
Bush has thrown 95 MPH, but after one start, he tore a ligament in his pitching elbow and won't pitch again till 2009. He will only be 23 when he returns so he still has a chance to succeed as a pitcher. If he doesn't he will be regarded as one of the worst No. 1 picks ever. He has never played above A level in his four minor league seasons. By picking Bush they missed a chance to sign Justin Verlander, who was chosen as the second pick in 2004 by the Tigers.
In 2002, Bryan Bullington was chosen as the first pick by the Pirates and has an 0-3 record in the Majors with the Pirates in 18 innings this season. He was chosen ahead of No. 2 pick B.J. Upton, No. 6 pick Zack Greinke, and No. 7 pick Prince Fielder, who would have been a huge upgrade at first base over Adam LaRoche. No. 17 was Cole Hamels and Jeff Francoeur was No. 23. No. 44 was Joey Votto and No. 50 was Micah Owings.
Delmon Young was the No. 1 pick in 2003 while No. 29, Carlos Quentin, is currently tied with Mike Napoli for the AL home run lead (8). Napoli incidentally was chosen by the Angels in the 17th round and was the 500th overall pick in 2000. Napoli homered in his first Major League at-bat and has 8 homers in only 66 at bats this season. He has 34 homers in 553 Major League at-bats.
In 2005, Justin Upton was the first pick by the Diamondbacks, and is hitting .347 this year for them. He was the only 17 year old picked in the first round in 2005. Alex Gordon, Jeff Clement, Ryan Zimmerman, and Ryan Braun were picked immediately after Upton.
In 2006, Luke Hochevar was picked first by the Royals. Evan Longoria, now with the Rays, was the No. 3 pick. No. 10 was Tim Lincecum and Max Scherzer, who was recently called up by the Diamondbacks, was No. 11. Joba Chamberlain was No. 41.
In 2007, David Price, was the No. 1 pick chosen by the Rays. The No. 6 pick, Ross Detwiler, has already seen action with the Nationals at the Major League level. Matt LaPorta was the No. 7 pick by the Brewers and should be in the Majors within the next couple of years.
Ad blocker interference detected!
Wikia is a free-to-use site that makes money from advertising. We have a modified experience for viewers using ad blockers

Wikia is not accessible if you've made further modifications. Remove the custom ad blocker rule(s) and the page will load as expected.