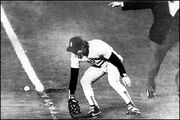 It is time that Bill Buckner be forgiven for his error in the sixth game of the 1986 World Series. He has been trying to live that moment down for 22 years. Baseball is still a game after all. I do understand the pain of the Red Sox fans but if I remember right the Red Sox were ahead in Game 7 so they did have a chance to win but couldn't hold the lead in Game 7.
Maybe someday Cubs fans will forgive Steve Bartman for interfering with Moises Alou's attempt to catch the ball hit into the stands. I wouldn't hold my breath on that one though. It may happen if Cubs win the World Series this year.
Making an error is bad enough without being reminded of it by the media almost everyday for 22 years like Buckner experienced. Buckner was 285 short of 3000 hits when he retired and hit 174 home runs and drove in 1208 runs while hitting .289. In 1982 he struck out only 26 times in 657 at bats but he didn't draw many walks so had a lifetime OBP of .321.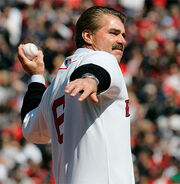 Hopefully Buckner can go on with the rest of his life now without being reminded of that night when Mookie Wilson hit the grounder through him. At the time I think Buckner had a leg injury and wonder if Dave Stapleton should have been playing first at such a crucial time rather than having a hobbled Buckner on the field.
Ad blocker interference detected!
Wikia is a free-to-use site that makes money from advertising. We have a modified experience for viewers using ad blockers

Wikia is not accessible if you've made further modifications. Remove the custom ad blocker rule(s) and the page will load as expected.