Baseball's back!!! This is the very first MLB game recap of 2008 that I have written, and I'm very excited about that. The game I have chosen to write about is the Grapefruit League game between the LA Dodgers and the Atlanta Braves in Florida. I was able to watch the last 3 or so innings when I got home from school, and am very excited for Baseball, YAY:)
Well, anyway, both teams are looking for a fresh start. Especially the LA Dodgers, who signed former NY Yanks skipper, Joe Torre, who is a great coach, and I really think he will do a great job out in LA.
Spring Training games don't tell you much, like NFL/NBA preseason games, but it does give you a chance to watch all the young prospects, and let's you fantasize about your team winning the World Series some 8 months later. Spring Training is the only time you'll see players with numbers in the 80's, and 90's (having a very high number usually means you're gonna get cut). But, usually all I'm thinking of while watching MLB Spring Training games in Florida, and Arizona is, Baseball's Baccccck:)
Although he didn't play, Andruw Jones did, in fact, watch his old team put a beating to his new, and improved team of LA. Atlanta put up 10 runs, with the help of catcher Javy Lopez, who is back with the Braves after playing with Boston, and Colordo in '06 (Javy was a Brave for 12 years from '92-'03). Larry Bowa also returned to the field as a 3rd base coach with the Dodgers, who wore a plastic catcher's helmet while coaching the bases, which he did NOT want to wear for anything. Hiroki Kuroda started the game at pitcher for the LA Dodgers, while Jair Jurrjens started on the hill for Atlanta, and faced just 9 batters. Both teams used 6 pitchers total, so they can get reps in for the younger guys. Of the many relievers who made an appearance, was former Baltimore O, Matt Riley, who I haven't seen in years. Riley faced six batters, gave up 2 hits, 2 earned runs, and walked 2 batters.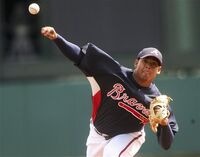 There really isn't much to say about this Spring Training game, other than the Braves youngsters look pretty good, and shutdown the Dodgers, giving up just 5 hits, and 3 runs. The big thing, to me, is that Javy Lopez hit a HR. Do you think he's back??? Can Javy Lopez make an impact as a Brave???
Ok, so the real reason I wrote this is because I am excited about Baseball getting underway, woooh!! Oh, and the Arena Football League is kicking off tonight too. New Orleans at LA, tonight at 10:30, but it's not on TV:( So, anyway, here's the game stats for those that even keep track of shit like this during Spring Training. Knock yourselves out:)
LAD: 3 R, 5 H, 0 E
ATL: 10 R, 10 H, 3 E
WP: B Carlyle (1-0)
LP: Esteban Loaiza (0-1)
Los Angeles:
2B: Adam LaRoche (1), J Griffin (1)
RBI: Adam LaRoche (1), A Chavez (1)
2-out RBI: Adam LaRoche, A Chavez
Runners left in scoring position: M Kemp (1), J Repko (2), T Tiffee (1), X Paul (1)
Team LOB: 8
Stolen Bases: M Kemp (1), Rafael Furcal (1), X Paul (1)
Atlanta:
2B: Kelly Johnson (1), J Borchard (1)
HR: Javy Lopez (1)
RBI: Javy Lopez (3), Jeff Francoeur (1), Kelly Johnson (2), Yunel Escobar (1), J Anderson (1), J Borchard (2)
2-out RBI: - -
Runners left in scoring position: M Prado (1)
Team LOB: 3
Can't wait for th regular season (when it actually counts!).
Ad blocker interference detected!
Wikia is a free-to-use site that makes money from advertising. We have a modified experience for viewers using ad blockers

Wikia is not accessible if you've made further modifications. Remove the custom ad blocker rule(s) and the page will load as expected.