When you think of Barry Sanders, you think of breathtaking runs and with good reason, Sanders is the product of some of the most breathtaking NFL clips of all time. Never big enough to run through people, Sanders would get around you another way: breaking your ankles. No other athlete that I have had the pleasure to watch has made me unconsciously drop my jaw like Barry Sanders. Even with some of the clips I've already seen, I will doubt that he'll get through the swarm of defensive players. But he always does and it always amazes me. It certainly says something when you can wow people with a clip that they've already seen.
Born on July 16th,1968, in Wichita, Kansas, Barry David Sanders was the seventh of eleven children. You could even say he was the runt of the pack, his height never exceeding 5 feet 8 inches. None the less, he didn't let his size dictate what sports he played, participating in basketball and football from a young age.
Because of his size, not many big time colleges wanted to take a chance with Barry, even though he had a very impressive (albeit short) running career his senior year. Barry would eventually select Oklahoma State University as his school of choice. Little did the Oklahoma State brass know at the time, but they were getting what would turn out to be one of the greatest college football running backs players of all time.
After sitting and watching Thurman Thomas his first two years at OSU, Barry finally got his chance to start his junior year when Thomas left to enter the NFL Draft. Not one to let an opportunity pass him by, Sanders had a season for the ages, racking up 2,628 rushing yards (3,249 total yards), 37 rushing touchdowns and a Heisman trophy. It was at this time that many people began to take notice of this up and coming young running back, yet there were still many doubters -- their main gripe with him being his small stature.

No one really knows why Barry left after just one year in Oklahoma State but it was perhaps because he felt he had nothing else to accomplish in college. The NFL was where the pros were and although the young Sanders was humble, he was never one to doubt his own skills. It would foreshadow his retirement a decade later, which would surprise everyone -- mainly because of the fact that it was so obvious that he still had miles left on his odometer. But Barry would do what Barry thought was the best for him and it is one of the reasons why he is one of the most respected NFL players of all time.
The Detroit Lions scouts apparently felt that Barry's upside far outweighed the fact that he was so small, and they picked him with the number three overall pick in the 1989 NFL Draft. If only the Dallas Cowboys had decided to take Sanders with the number one overall selection, it would have changed the Emmitt Smith/Barry Sanders debate forever. But that's neither here nor there -- the Detroit Lions selected Barry Sanders and he will likely go down as the best player in the franchises rocky history.
It was evident from Barry's first year in Detroit that they had struck gold with their first round selection. Lions fans must have thought they were having flashbacks; in 1980 running back Billy Sims had an equally impressive rookie season, rushing for 1,303 yards and 13 touchdowns. It is there however, that the comparisons between the two cease. Barry's rookie year, complete with nearly 1500 yards rushing and 14 touchdowns, would only prove as a launching point for what is perhaps the best running back career the NFL has ever seen.
Sanders would rush for at least 1,000 yards in each of his ten seasons in the league. Besides his injury plagued 1993 season (1,115 yards on 243 attempts, 3 TD's in 11 games) his lowest season rushing total was 1,352 yards. He was named to the Pro Bowl in each of his 10 seasons in the NFL and participated in all of them except 1993 because of an injury. He was also named 1st Team All-Pro in 6 of his 10 seasons in the league.
While Sanders' 1997 season is often talked about because of his absolute dominance (he rushed for 2,000 yards in 14 games) he had some other equally impressive years. The 1994 season saw him rush for 1,883 yards on 331 attempts for 7 TD's. That equals out to be about 5.7 yards per rush, which is amazing when you consider the offensive line that he had blocking for him that (and arguably every single) year.
The Lions made the playoffs 5 of the 10 years that Sanders was playing. That is certainly saying something when you take a look at the talent (or lack thereof) that he had around him during that period of time. The offensive line was never any good and that much is common knowledge. One of the reasons he is said to have retired so early is because he was never given a decent blocking unit.
Although it is a disgrace to the likes of Herman Moore to say that Barry never had any other talented offensive players on the field with him. Many gifted players gave their all along with him to get the Lions a Super Bowl title. Unfortunately, they just never seemed to be good enough.
Barry also never had a legitimate threat at quarterback to force defenses to drop a couple of extra people back in case the Lions decided to pass. It's absolutely amazing when you look at Barry Sanders' numbers and take into account his lack of a competent quarterback and skilled offensive line. This was the case for nearly his entire career.
Rushing Stats
year
team
league
games
ATT
YDS
AVG
TD
LNG
1989
DET
NFL
15
280
1470
5.3
14
34
1990
DET
NFL
16
255
1304
5.1
13
45t
1991
DET
NFL
15
342
1548
4.5
16
69t
1992
DET
NFL
16
312
1352
4.3
9
55t
1993
DET
NFL
11
243
1115
4.6
3
42
1994
DET
NFL
16
331
1883
5.7
7
85
1995
DET
NFL
16
314
1500
4.8
11
75t
1996
DET
NFL
16
307
1553
5.1
11
54t
1997
DET
NFL
16
335
2053
6.1
11
82t
1998
DET
NFL
16
343
1491
4.3
4
73t
10 year NFL career
153
3062
15269
5
99
0

Barry Sanders' retirement was caused by his disgust at his teams ownerships ability to surround him with competent players. Even Emmitt Smith has gone on record to say something on the matter:

"Obviously I had a great quarterback with Troy Aikman and I had Michael Irvin and and Jay Novacek and so forth. But when you looked at the Detroit Lions, and as I look at it and evaluate what Barry Sanders meant to that organization, he meant everything in the entire world to that organization. And for him not to have had a championship run is kind of disappointing and I think a person can only go through that for so long before they get enough."

With the exception of a few talented offensive players that graced the field along with Barry during his career, Barry Sanders was the entire Detroit Lions' offense. It is difficult to argue otherwise.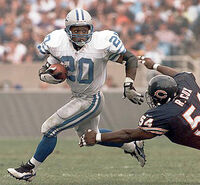 A couple of months prior to the 1999 season, just a year or so removed from one of the greatest single season performances in NFL history, Barry Sanders announced his retirement by faxing a letter to his hometown newspaper in Wichita, Kansas.
Opinions vary on why he retired so suddenly, especially when he was so close to breaking the all time NFL rushing record. Was it his disgust with the Detroit Lions organization? Did he merely have no desire to play the game of football anymore? Barry has gone on record himself to say that he was sick of losing in Detroit and that it had robbed him of his competitive nature, the same nature that had rocketed him to the top of the NFL record books.
Although the timing was a surprise, the way it was done and perhaps the reasons it were done for echoed the characteristics Barry had exemplified his whole career. Classiness. Humbleness. Is it so surprising that the man who never celebrated a touchdown his entire career didn't put much stake into a record? He just did not have the competitive drive anymore and because of that, he decided he could no longer play the game of football.
Just as he had come out of college early, he decided to retire early. His retirement has caused constant speculation on what would have been should he have played a couple of more years. By all accounts, barring injury, he would have shattered the career rushing yards record as well as many others. It also wouldn't have made the case for the number one running back of all time a debate, it would have written in the name Barry Sanders and sealed the book shut for good.
Sources: http://pro-football-reference.com
http://en.wikipedia.org/wiki/Barry_Sanders
Ad blocker interference detected!
Wikia is a free-to-use site that makes money from advertising. We have a modified experience for viewers using ad blockers

Wikia is not accessible if you've made further modifications. Remove the custom ad blocker rule(s) and the page will load as expected.