According to the Green Bay Packers' Head Coach Mike McCarthy, starting middle linebacker Nick Barnett is out for the season with a torn knee ligament.  Barnett injured his knee on the opening series of the second half of the game against teh Minnesota Vikings on 09Nov08 and did not return.
McCarthy further stated that surgery will be required, but has not yet been scheduled.
A first round pick from Oregon State in 2003, the steady Barnett had only missed two games as a Packer.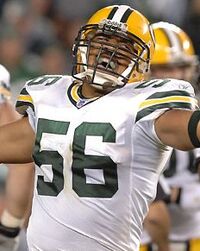 Not to add insult to injury, but Barnett has not had a very good season.  He was on pace for 72 tackles, 16 assists, and 2 passes defensed.  This is down from 102 tackles, 29 assists, 4 passes defensed and 2 interceptions last season.  He seemed disheartened over the last four games of last season and throughout this season since he was passed over for the 2007 Pro-Bowl.  Numerous times, this writer saw him a step out of position or giving up on pursuit.
Unfortunately, he was still the best man on the roster for the job.  Barnett's replacement, Desmond Bishop was immediately torched for a 47 yard touchdown on his first play in the game.
Green Bay's suspect run defense will apparently be even worse as the facts are that Minnesota Vikings' running back Adrian Peterson had 124 of his 225 total yards from scrimmage after Barnett left the game.


Sources: JSOnline, Packers.com, NFL.com, Pro-Football-Reference.com


Photo Credit: Jim Biever, Packers.com
Ad blocker interference detected!
Wikia is a free-to-use site that makes money from advertising. We have a modified experience for viewers using ad blockers

Wikia is not accessible if you've made further modifications. Remove the custom ad blocker rule(s) and the page will load as expected.