By David J. Cohen
Week One: 1-0, +0.8 units (Jets -3 @ Miami)
The opening week was as topsy-turvy as always, with a nine and ten point underdog winning. It also was marred by huge injuries, including Tom Brady, Vince Young, Marques Colston, and both Jaguars offensive lineman. For once, developments in week one will have a huge bearing on the rest of the season.
Now to parlay week one into some more success.
49ers (+8) @ Seahawks – I locked this one up earlier in the week. The Seahawks are usually a great team at home but are absolutely torn up by injuries. The starting quarterback has a disc sticking out of his back, and he's the healthy one.
The Seahawks will likely be without their top four receivers, leaving their top receiving option as a backup quarterback in Seneca Wallace. Now I like Seneca but right now he's a raw deep threat and an unpolished slot receiver.
Also, their top running back, Maurice Morris, is out. The leader of their defense, Lofa Tatupu, is dinged. One of the starting guards is gone.
With all of these players active the 49ers have the defense to have kept it within the point range. Without all of these players, the 49ers become an attractive money line play. They have a solid chance of winning this game outright. They turned the ball over five times last week against a great passing attack and still only lost by ten. Look for them to attack Hasselbeck all day. He might need a cane by the end of the game.
The 49ers should do enough on offense to keep it within a touchdown. The Seahawks are loud at home, but those new defensive headsets will take a lot out of that advantage.
The Play : 49ers +8 -110 for .8 units; to get back 1.55 units.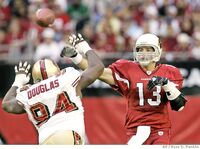 Dolphins @ Cardinals (-5.5) – Being a Jets fan, I watched their entire game last week. The Dolphins definitely have some bright spots, but also make elementary mistakes. If the Jets didn't shut it down in the fourth quarter and didn't make a lot of silly mistakes, they could've won by 20.
The Dolphins were interesting in how they covered the Jets receivers. They played a lot of aggressive man coverage with their corners. This type of play will get them killed if they try it against Fitzgerald and Boldin.
Chad Pennington played well, but he doesn't have any weapons to throw to, and the Cardinals have one of the most talented secondaries in the league. The Dolphins will have to run the ball, which they can in this one. The problem is they are going to get behind and have to abandon the running game.
The Cardinals just match up great against Miami. The receivers will do whatever they want and the Cardinals should get enough of a running game to keep the pressure off Kurt Warner. They are the better defensive team and in reality should blow Miami out. But even if they don't, they'll win by a touchdown.
The Play : Cardinals (-5.5) -130 for 1.4 units, to get back 2.05 units
Other lines and why I'm passing
Patriots @ Jets (-1.5) – this line is begging for a play on the Jets with Tom Brady being out. And that's why this line scares me. The Jets are still gelling together with all the new pieces and weren't as sharp as they need to be against one of the weakest teams in the NFL. The Patriots are without their signal caller but have a great array of other players.
Matt Cassel isn't going to scare the Jets. They'll blitz him as often as they can. Linebacker Calvin Pace looked like a good investment in week one and will need to be the pressure man again in this game. Despite this, he's not the key player in this one.
That's Darrelle Revis. If he does the same cover job on Moss that he did in their last meeting, the Jets will win. If Cassel has easy throws down the field, the Jets will fall.
If there's anything I've learned from Vegas, it's that if a line is too good to be true, it probably is. I have a funny feeling the Jets will drop this game and win at Foxboro later in the year. This game has enough uncertainty to stay away.
Packers (-3) @ Lions – The Packers on paper should win this easily, but they have an inexperienced quarterback in his first game on the road.
Saints @ Redskins (-1) – You can't bank the Redskins right now but this reeks of a sucker bet on New Orleans. The Redskins couldn't have played any worse and still had a chance when the fourth quarter started. They are not as bad as they looked.
Titans @ Bengals (-1) – The Titans are clearly better defensively but Albert Haynesworth suffered a concussion and the Titans may not have the receivers to exploit the Bengals. But you can't count on Cincinnati, so this is a no play.
Bears @ Panthers (-3) – The Bears defense is really tough and the Panthers could use a go to receiver in this one. They have been inconsistent over the last few years but showed a glimpse of the past against the Chargers. If they handle Chicago easily, then perhaps they are finally coming around on their potential.
This is a judgment game for both teams. Let's see what happens.
Giants (-8.5) @ Rams – The Giants cannot be trusted to score enough points to cover this large a spread. The Rams can't be trusted to do anything. A classic no play.
Bills @ Jaguars (-5.5) – The Bills could score an upset here, but we don't know for sure how they'll come out in this one. The Jaguars are a tough team to read with the injuries to their offensive line. Again, a wait and see approach is appropriate for evaluating these two teams down the road.
Raiders @ Chiefs (-3.5) – If you're playing this game, please call Gambler's Anonymous at (213) 386-8789.
Falcons @ Bucs (-7) – The Falcons are not as good as they looked in week one. The Bucs will force him to throw in this one.
However, the Bucs might be without Derrick Brooks for the first time in forever and are starting Brian Griese. Reports are he is now the Bucs starter for the rest of the year and that Jeff Garcia is being shopped. Bucs fans, waive goodbye to the playoffs.
The Falcons can't be trusted on the road and the Bucs can't ever be trusted with large spreads.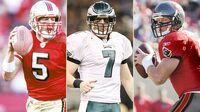 Colts (-1.5) @ Vikings – The Colts should rebound and win here, but like I said in the first article of this series, if you're not 100% sure about a road favorite, you don't play them.
The Colts couldn't stop Matt Forte last week. If they can't stop the Vikings ultimate rushing attack, they'll be in another dog fight.
As for the Vikings, Tarvaris Jackson continues to hold them back. If Garcia is truly available, the Vikings should be first in line to get him. He has a great track record with Head Coach Brad Childress, as he saved the Eagles in Childress's last year in Philadelphia.
They could make it to Tampa for the Super Bowl if they do business with Tampa right now. If that move happens, the Vikings will be an attractive play for many games this year.
Chargers (-1) @ Broncos – The Chargers should win this game but the Broncos look great right now. Cutler looks like the real deal. This is another judgment game for both teams.
Steelers (-6) @ Browns – The Browns should play better in this one, but the Steelers own them. And they should dominate this one. It's just that I feel there are better lines available then relying on a road favorite to win by a touchdown when they are going to look to control the clock.
Eagles @ Cowboys (-7) – The line in this game is absurd, but when the Cowboys beat the Eagles, they tend to win big. The Eagles didn't play anyone last week. They have the secondary to match the Cowboys offense but don't have the receivers to take advantage of the Cowboys secondary.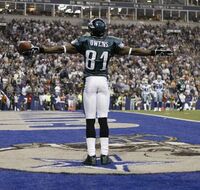 This game might drive home the point that the Eagles have yet to replace T.O.
Ravens @ Texans (-4.5) – Honestly, odds are the Texans are going to bounce back and cover this. But there are better lines available, so there's no reason to put your neck out there on this one, especially with the distraction surrounding Hurricane Ike. The game has already been rescheduled for Monday night.
It seems like week two is as tough as it is every year. Hopefully I've found the two gems amongst all the landmines.
For a look at how I did reading all of Week One's action, you can find it here:
Evaluating the NFL For Profit: Week One
Ad blocker interference detected!
Wikia is a free-to-use site that makes money from advertising. We have a modified experience for viewers using ad blockers

Wikia is not accessible if you've made further modifications. Remove the custom ad blocker rule(s) and the page will load as expected.