The first interleague series is now in the books, and the Baltimore Orioles took advantage of it. The Washington Nationals, who are just a little ways from Baltimore, came to town this weekend, but were sent home packing. The O's outscored the Nats by just one run in the 3-game series, but was able to take 2 of the 3 series games.
WAS 3, BAL 5
The first game of the series was on Friday the 16th, and unbeaten Garrett Olson was on the mound for the O's, taking on the Nats Shawn Hill, who was winless. The O's batters took advantage of the struggling Hill, getting 8 hits, and 5 runs (4 earned) in 5 IP. Brian Roberts did his job, getting on base 2 of the 4 times he stepped up to bat, as he came around to score both those times. Young, and promising LFer, Luke Scott hit his third round-tripper of the season coming in the 4th inning off Hill, tying the game at 3. The following inning Baltimore took the lead with an RBI double by third baseman, Melvin Mora (scoring Roberts), and a Kevin Millar RBI single (scoring Aubrey Huff). Baltimore didn't look back after that, as middle relievers, Matt Albers, and Jim Johnson pitched 3 scoreless innings, striking out 6, which set-up the save oppurtunity for closer George Sherrill. Sherrill recorded his 16th save of the season with a 3 up, 3 down ninth to close the deal, and take the 1-0 series lead.
WAS 5, BAL 6
Game 2 was on Saturday afternoon, and yet again, Washington pitchers struggled. Starter Oliver Perez went just 5 innings, and gave up 6 earned runs on 11 hits (and 2 HR's). The starting pitching is what lost Washington games 1 & 2, relievers Joel Hanrahan, and Saul Rivera pitched 3 scoreless innings after Perez was pulled in the 6th. Baltimore starter, Brian Burres, picked up the win, getting back up to .500 (4-4 on the season). Burres struck out 3, and gave up just 2 ER in 6.2 IP. Baltimore's 2 HR's by Nick Markakis (8), and Jay Payton (4) accounted for 4 of the O's 6 runs. Markakis was the player of the game, going 2 for 4, with a HR, and 3 RBI's. Baltimore extended their win streak to 4 games, and has won 7 of the last 10.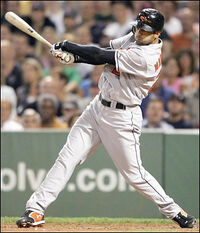 WAS 2, BAL 1
Baltimore's offense cooled off a bit, as their 4-game win streak was cut off. But, most importantly, perhaps, is that Washington's starter went more than just 5 IP, and gave up just 1 ER. John Lannan had a fine outing for Washington, and picked up win number 4 in the process. Baltimore's Jeremy Guthrie had a pretty good outing himself, going 7 IP, 5 hits, and 1 ER given up. So, the rubber match proved to be a pretty good game, pitching-wise. Guthrie's HR given up in the 3rd inning to Cristian Guzman proved to be the key to the game, and proves that one little mistake can cost a team the win. Baltmore's only run came on an 8th inning sac fly off the bat of Roberts, which scored Adam Jones. Baltimore's attempt at a comeback fell short, as Washington's Jon Rauch held off Baltimore's hitters in the bottom half of the ninth for his 10th save on the season.
Baltimore will open up a 3-game series against the New York Yankees, in New York, tomorrow. Gametime is set for 7:05 PM ET.
Washington is currently playing the Philadelphia Phillies, and beating them 4-0 in the top of the 7th inning, in Washington.
Ad blocker interference detected!
Wikia is a free-to-use site that makes money from advertising. We have a modified experience for viewers using ad blockers

Wikia is not accessible if you've made further modifications. Remove the custom ad blocker rule(s) and the page will load as expected.