This actually has nothing to do with Lance Armstrong.  In fact, I wasn't even planning on writing an article until I thought of that title, but to me it was so funny I had to use it.  I've been busy and haven't actually written anything sports related for quite some time now, so I figure what better way to shake the rust off than with a good old fashioned random thoughts article.
Fantasy football season is upon us.  I'm a little late on the uptake this year with settling into college and everything, but I've got a real life pen and paper draft tomorrow and the Armchair draft whenever everyone decides to show up.  But of course this means that the annual cheat sheet making ceremony is going on, in which I unceremoniously take a list from ESPN, maybe read a Matthew Berry or Brandon Funston article, move up some of the players I like and move down some I don't like and bingo!  I now have my cheat sheet.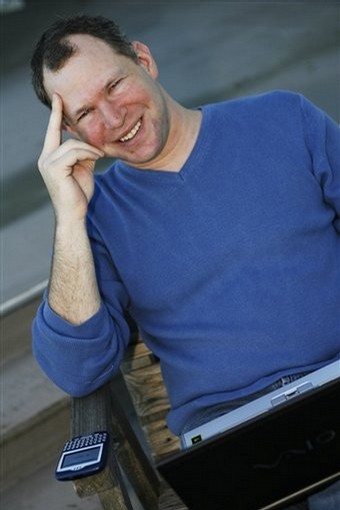 What's that?  You want some expert tips?  Okay, pick LT over AP every time, pick BW over AP every time, Randy Moss should never go in the first round, ever, unless you're in my league, Marshawn Lynch will be a top 4 or 5 back, and you may have heard that this is the year to end the RB-RB first two round picks.  Well that's shitty advice. 
The reasoning for this unfounded horseshit tip is that there are more running backs by committee than ever and there are very few really reliable backs.  Well it is a scientific fact that there are 15 running backs who you can count on to contribute for your team in 2008: LaDanian Tomlinson, Brian Westbrook, Adrian Peterson, Joseph Addai, Steven Jackson, Clinton Portis, Marshawn Lynch, Marion Barber III, Frank Gore, Larry Johnson, Ryan Grant, Maurice Jones-Drew, Willis McGahee, Jamal Lewis, and Michael Turner, in that order.  The fact that there are only 15 sure fire backs makes it a no-brainer to me that you should have two of them.  Then you can grab a stud quarterback like Peyton Manning, Drew Brees, or Carson Palmer in round 3.  Or if you'd like you can go for the star wideout like Andre Johnsan, TJ Houseman-d, or Marques Colston, then take Palmer or Big Ben or McNabb in round 4.  Secure those two running backs first because after that first tier it's a bunch of question marks.
Yeah, I've been thinking about that a lot. Probably more than anything else I've been thinking about, but luckily, they call me the Hiphopopotamus, cuz my lyrics are bottomless.
Baseball seems pretty cool.  I haven't been following it, but I think it's pretty interesting to see the Devil Rays on top.  I mean, it's too bad it will all come crashing down when they have to face Boston in the playoffs, but it's a nice story.  It's also nice to see the Yankees waste their season away.  Maybe Hank will take his dad's money and invest it into the economy instead of a terrible baseball team and a new stadium for them to suck in.  It really would be doing something good for everyone in the country.  I've sure most Yankees fans would rather watch Mets games at this point anyway.
The Olympic Games, starring Michael Phelps were fun.  Funny though how the US won all the events where there was a clear winner and loser, and the Chinese managed to win all the judged events.  I have no statistics to support this observation and no motivation to find clear support.  I also realize that you can't have a judge from your country judge your event, but somehow the Chinese managed to be simply exceptional in these judged "sports".
Basketball was also exciting, especially if you're like Cosmo Kramer and you like to watch grown men challenge 8 year old boys in a karate fight.  It was great to watch those guys play as a team, and to watch just how beastly LeBron has become.  He's developed into a leader and a great player and his career will be very exciting.  I can't imagine him on the market… I have this feeling that Cleveland will keep him.  You just don't see a player like that move in his prime.  It would completely destroy the Cavs forever, no matter what they got back, if anything.  Not to mention the people of Cleveland would probably jump off the Cleveland Bridge (I'm not sure if that's a real bridge or not, but I'm sure there are bridges in Cleveland so you get the picture).  They might also shoot themselves with real life Cleveland handguns, or eat Big Greasy Cleveland Burgers until they die of obesity, or they might use Cleveland style poison to end the suffering (why did I just write that?).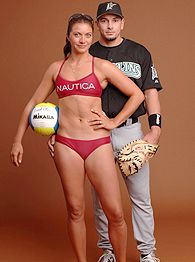 I like beach volleyball, and seriously, there's no way Matt Treanor wears the pants in that relationship.  Just look at Misty May… she's hot and could kick your ass with one boob flex, or she could ring your neck with her Cleve… land.
So basically I've turned into a fairly uninformed sports fan who doesn't know anything about the city of Cleveland, but I'm here to make a comeback.  Football will get me back into the swing of things, then hopefully basketball will keep me going stronger.  I'm at college now and I'm ready to learn.  I want to stay here… I want to stay as long as I can, for the love of God!
Well, we'll chalk this one up to the rust factor.  Thanks for not banning me for such incomprehensible blabber.  Hey, at least you just spent 5 minutes reading this instead of listening to Darren Lyn's exciting and professional report on why he sucks so much at reporting things.
And if anyone can tell me where the hiphopopotamus comes from without looking it up, I won't give you any sort of prize or reward, but I will be quite impressed.
Ad blocker interference detected!
Wikia is a free-to-use site that makes money from advertising. We have a modified experience for viewers using ad blockers

Wikia is not accessible if you've made further modifications. Remove the custom ad blocker rule(s) and the page will load as expected.