If we've learned anything about the NBA this season it's that good management is extremely important, and that there's a very fine line between a good management and bad management. It wasn't long ago that Danny Ainge of the Boston Celtics was rumored to be on the hot seat. He had tried to build the team with draft picks, but that's rarely successful in the free agency era. The Celtics had been a bad team under Ainge's watch and their future looked bleak.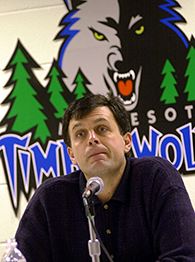 Then, the
Minnesota Timberwolves' Kevin McHale
, a Celtics legend and former teammate of Ainge, handed Kevin Garnett to his former team for peanuts.
The Los Angeles Times
reported that
McHale rejected an offer of Lamar Odom and Andrew Bynum for Garnett
, taking the Celtics offer instead. Now, Ainge is a candidate for Executive of the Year, the Celtics are title contenders, and McHale owes everyone in Minnesota an apology. That's the reality of management. You need to have a solid plan and an eye for talent, but it also helps if you can benefit from another executive's incompetence. Ainge isn't any smarter now than he was a year ago, but McHale did everything possible to make Ainge look like a genius.
The Los Angeles Lakers were another team in trouble recently. They hadn't been competitive since getting whipped by the Detroit Pistons in 2003-04 NBA finals, the roster was uninspiring except for Kobe Bryant, and Bryant was publicly blaming General Manager Mitch Kupchak for failing to acquire talent while also insisting he'd like to play elsewhere. Kupchak reacted by … doing nothing. It appeared as though Kupchak was a dead man walking in Los Angeles. The star player ridiculed him, the local media called for him to be fired, and excitable radio hosts filled the sports-talk airwaves with rumors that he'd soon be replaced with his former mentor, Jerry West. Things were going poorly for Mitch Kupchak. Fortunately for him the Memphis Grizzlies owner Michael Heisley had decided that selling the team was more important than winning (he still hasn't found buyer, however). He ordered his General Manager Chris Wallace to dump as much salary as possible, hoping that a prospective buyer would be more interested if he the team didn't owe huge contracts that he'd be responsible for. Kupchak got word of the Grizzlies plan and was able to get Pau Gasol, a 7'0 All-Star, for Kwame Brown, a former #1 draft pick turned bust with an expiring contract. The deal was so uneven that few people can even think of such a lopsided trade ever happening in the NBA before. Heck, Minnesota at least got the talented young Al Jefferson for Garnett. The Grizzlies got nothing, the Lakers got a chance to return to the finals, and Kupchak got his dignity back.
It is strongly rumored that that West, a former Lakers player, coach, and general manager who then worked as the General Manager of the Grizzlies actually convinced the Grizzlies to make this trade as one final favor for to him for his service. West denies this happened, but to admit that would undermine Kupchak, who is very close with West. So, whether Kupchak actually outsmarted the Grizzlies or if he just answered the telephone is unclear, but he went from being known as a bad executive to a good executive overnight.
Not every executive is as lucky as Ainge and Kupchak, however. Some GM's are consistently bad at their jobs and never get better. Billy Knight has overseen the failures of the Atlanta Hawks since 2003. During his tenure he's had a handful of lottery picks, including the selection of the mediocre Marvin Williams over the very impressive Chris Paul and Deron Williams. He's also had the rights to Pau Gasol, Rasheed Wallace, Jason Terry, and Boris Diaw, but none of these talented players are still with the team, even though that would make one hell of good roster. The Hawks qualified for the playoffs this season despite winning only 37 games and they nearly defeated the Boston Celtics. This will provide Knight with undeserving job security for at least another season. The NBA is the only place where a losing record can be considered successful. Somehow, Knight just doesn't get fired and his team doesn't get better because of it.
Another executive that has overseen years of failure is Elgin Baylor of the Los Angeles Clippers. He's seen a parade of talented players come and go, he's blamed a bunch of coaches for not turning the team around, and he's botched numerous drafts. Michael Olowokandi, Darius Miles, and Yaroslav Korolev were very high draft picks that Baylor somehow thought were good choices. He really doesn't have that many excuses for all of the futility under his watch. It's not very difficult to convince free agents to come to sunny Los Angeles, and if you have a lottery pick in the draft every year it's reasonable to think that at least a few would have star potential and the team would get better, but it never happens for the Clippers and that's Baylor's responsibility. He manages a team in a huge market that has nowhere to go but up and yet they are just awful. Eventually, the Clippers are going to have to make a good decision and fire Baylor for all of his bad decisions.
There are a few truly fantastic executives in the NBA. The bad ones would be wise to follow the management philosophies of the San Antonio Spurs' Greg Popovich and the Detroit Pistons' Joe Dumars, two men that have made their teams great with an emphasis on chemistry, unselfishness, and experienced players. It's good management and it beats waiting for a former team employee to send you his talent and make you look smart.

*UPDATE: Billy Knight has announced he will resign as Hawks GM.
Ad blocker interference detected!
Wikia is a free-to-use site that makes money from advertising. We have a modified experience for viewers using ad blockers

Wikia is not accessible if you've made further modifications. Remove the custom ad blocker rule(s) and the page will load as expected.