According to
SI.com
, Boston College Nosetackle BJ Raji had a positive drug test at the February 2009 NFL combine.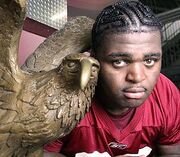 Many people, PackerBackers among them, had Raji projected to go to the Green Bay Packers as the ninth overall selection.  This was until his draft rose even higher and he moved into the top five on many projections.
Raji is also significantly faster than Rich Eisen.
It is unknown how this will affect Raji's draft position because the exact drug is undisclosed at this time.  The SI story also reports that Warren Sapp tested positive before the 1995 draft.  He went on to be selected 12th and had a pretty good career.
EDIT
The author regrets being a party to this misinformation. Further reports are that Raji passed all drug and steroid screenings administered at the NFL Combine.
Sources: www.si.com