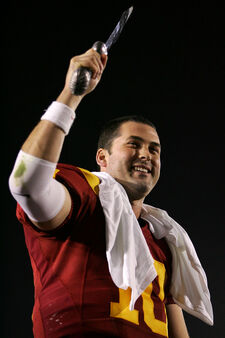 As a USC fan, I certainly enjoyed the Rose Bowl, but sadly, I found most of the other BCS games this year to be pretty boring. There was no Boise State sequel as Hawaii was completely dominated by SEC power Georgia. Oklahoma proved to be an overrated number three team as they were destroyed by the Rich Rodriguez-less West Virginia Mountaineers. The only semi-interesting game was the Kansas-Virginia Tech defensive battle. Sorry, I found the Iowa Caucuses to be a little more interesting. But anyways, here are my thoughts from the games.
USC 49, Illinois 17 - Is there any doubt that USC is the number one team in the country after thrashing this Big Ten team. The Trojan defense had their way with the next Dennis Dixon, Juice Williams, who was sacked and threw a few interceptions. The Illini had four turnovers in the game and the Trojans capitalized on every single one for 28 points. John David Booty (pictured) showed that he is a legitimate pro prospect by throwing for nearly three hundred yards and three touchdowns. However, it wasn't just Booty. The Trojan offense racked up an astonishing 633 yards of total offense. This was the rout everyone expected came and it will only fed fuel that the BCS selection committee screwed it up once again.
Georgia 41, Hawaii 10 - It makes perfect sense that this bizarre College Football season would end with no unbeaten teams. However, I was hoping for a better game. To be honest with you, this game seemed like an exact clone of the earlier Rose Bowl blowout with Georgia playing the part of USC and Hawaii looking like the Fighting Zooks. If either Ohio State or LSU doesn't show up to play next Monday night, I am going to be pretty upset that Georgia got shafted just because they didn't win their conference. The Dawgs absolutely dominated a pretty good, Hawaii team. Warriors quarterback Colt Brennan was on his back for most of the night, as Georgia's defense sacked him eight times and rushed him into poor throws. At 12-0, Hawaii deserved to be in the BCS bowls but not against Georgia, who should have been in the BCS title game against USC.
West Virginia 48, Oklahoma 28 - I guess I was wrong here for I was sure that Oklahoma was going to destroy the Rich Rodriguezless West Virginia Mountaineers. Clearly the better team was West Virginia, as they owned the highlight reel on Sportscenter after the game. Fullback Owen Schmitt had the longest run in Fiesta Bowl history for 57 yards and fellow rusher Noel Devine looked like an SEC players on a 65-yard score in the fourth quarter. It wasn't a total blowout like the previous two BCS bowls for it was 20-6 at the half. Bob Stoops once again proved that he is lousy in BCS bowls after calling for an unsuccessful two point conversion and then on-side kick in just the third quarter. However, Stoops' stupidity should not take anything away from the well played game by West Virginia, who will be even better next year with the return of dual threat quarterback Pat White and his dual-threat rushing-receiving yardage, Noel Devine. Heck, maybe even Steve Slaton will stick around.
Kansas 24, Virginia Tech 21 - After hearing about how Kansas really didn't deserve a BCS bowl, can we all finally admit that the Jayhawks are pretty good football team after all? Maybe the problem is a BCS rule that allows only two teams from one conference to take part in the BCS. Then, Missouri could have played in the BCS instead of the overmatched Illinois Fighting Illini. I am not even a Jayhawks fan but I think that they are on the cusp of something big, and they definitely deserve a top five finish this season. They return just about everybody next year, including quarterback Todd Reesing. Watch out for the Jayhawks!
Ad blocker interference detected!
Wikia is a free-to-use site that makes money from advertising. We have a modified experience for viewers using ad blockers

Wikia is not accessible if you've made further modifications. Remove the custom ad blocker rule(s) and the page will load as expected.